Denmark's Vestager to Replace EU Antitrust Chief Almunia
Gaspard Sebag, Peter Levring and Aoife White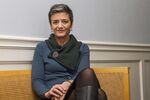 Margrethe Vestager, Denmark's former economy minister who rode her bicycle to meet the Queen when entering government in 2011, is set to become the European Union's next competition commissioner. She will inherit a logjam of high-profile antitrust cases.
European Commission President Designate Jean-Claude Juncker chose Vestager to take over from Joaquin Almunia, the EU said. The Spaniard, whose term ends Oct. 31, didn't manage to tie up cases involving Google Inc. and OAO Gazprom as well as JPMorgan Chase & Co. and HSBC Holdings Plc. Vestager will also be responsible for policing illegal state subsidies and reviewing mergers.
"The most important is that cases are treated with fairness and transparency," Vestager told Bloomberg News in Copenhagen. "No matter if you're from Spain, Germany or somewhere else, it's crucial that you feel that your case is dealt with in a fair and equal matter."
Vestager, 46, left the Danish government this month to become her country's next commissioner. As Denmark's economy minister and deputy prime minister for the past three years, she worked closely with Juncker to salvage Europe's financial sector and forge a European Banking Union. She headed the EU finance ministers meetings for six months during Denmark's 2012 EU presidency.
Vestager backed Denmark's bail-in bank resolution system in 2010, the first in Europe to have bondholders share the burden of banks failing with shareholders. She succeeded in adopting bail-ins to the EU's banking union as well as Denmark's model of having banks pay into funds to finance banking resolution.
Three Daughters
The designated successor of Almunia is married and has three daughters. She graduated from the University of Copenhagen's master of economics program in 1993 before working as an economist in the Danish finance ministry. Vestager was first elected to parliament in 2001 and became political leader of the Social Liberal party in 2007. She served as minister of education from 1998 to 2001.
Vestager will have to get the green light from European Parliament lawmakers before she begins her five-year term.
Christian Riis-Madsen, a Danish antitrust lawyer for O'Melveny & Myers LLP in Brussels, expects Vestager to have a different approach than her predecessor.
"I would expect her to be less influenced by political considerations," he said in an interview. "She's known to be thorough, hard-working, getting things done."
Protracted Settlement
The new antitrust chief will have to deal with a protracted settlement bid with Google, derailed after "very, very negative" feedback from complainants including Microsoft Corp., the current competition commissioner, Joaquin Almunia, said Sept. 6. She will have to weigh whether new concessions from Google could satisfy concerns that it discriminates against rivals in search results or whether regulators should take a more aggressive approach that could lead to fines.
The EU is also wrestling with a probe into credit derivatives trading by 13 of the world's biggest banks that Almunia said earlier this year he would be unable to finalize.
"Don't make any mistake about getting a Scandinavian woman who may pull out her knitting at meetings," said Marlene Wind, a professor of political science at the University of Copenhagen. "She's tough and will take a hard stance and strike down on those she needs to strike. She will not shy away from what that needs to be done."
Before it's here, it's on the Bloomberg Terminal.
LEARN MORE