Snapchat Reaches Settlement With Its Disappearing Co-Founder
By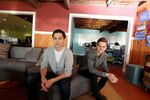 It took longer than 10 seconds but Snapchat is finally making a potentially mortifying lawsuit against its co-founders disappear.
On Tuesday afternoon, while almost every tech-obsessed person on the planet was largely distracted elsewhere, Snapchat co-founders Evan Spiegel and Bobby Murphy announced that they had reached a settlement with their former Stanford fraternity brother Reggie Brown, ending a long-simmering legal dispute over the origins of the fast-growing company. The terms of the settlement were not revealed.
Last year, Brown filed a lawsuit in Los Angeles Superior Court in which he claimed to have come up with the original idea behind Snapchat's self-destructing photos and alleged that Murphy and Spiegel had unfairly pushed him out. News of the lawsuit quickly inspired countless comparisons between Brown and the Winklevoss twins, of Facebook-lawsuit fame.
Brown's lawsuit turned up a handful of messages appearing to show Spiegel acknowledging Brown's central role in the origin of the company. "I want to make sure you feel like you are given credit for the idea of disappearing messages because it sounds like that means a lot to you," Spiegel wrote to Brown in a text message in August 2011, according to documents filed in the suit.
On Tuesday, Snapchat formally credited Brown with the original idea. "Reggie Brown originally came up with the idea of creating an application for sending disappearing picture messages while he was a student at Stanford University," read a statement from the company. "We acknowledge Reggie's contribution to the creation of Snapchat and appreciate his work in getting the application off the ground," said Spiegel.
Despite a murky business model, Snapchat recently hit a lofty valuation of close to $10 billion. How much Brown will get is not immediately clear. But it's likely that whatever financial problems the former English major may have faced since graduating from Stanford in 2012 just disappeared completely.
Before it's here, it's on the Bloomberg Terminal.
LEARN MORE