Justice Department's Tony West Said Headed for PepsiCo
Greg Farrell and Tom Schoenberg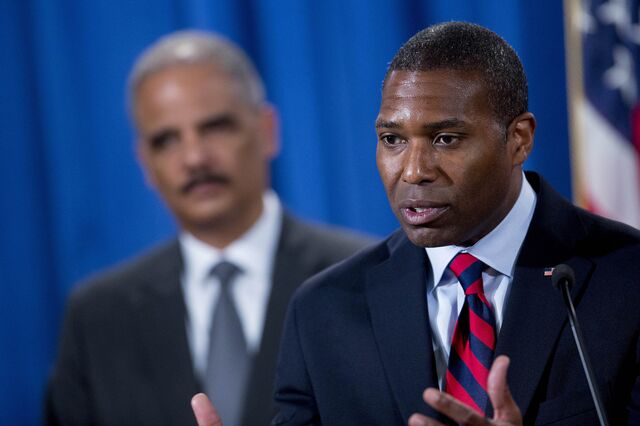 Associate Attorney General Tony West is heading for a job at PepsiCo Inc. after he resigns from the government next week, according to two people familiar with the matter.
West, who negotiated almost $37 billion in settlements with Wall Street banks over shoddy mortgage practices, will become general counsel of the Purchase, New York-based soft drink and snack company, said one of the people, who asked not to be named because the move hasn't been announced.
Jon Banner, a spokesman for PepsiCo, declined to comment. Wyn Hornbuckle, a spokesman for the Justice Department, wasn't immediately able to comment.
West, the No. 3 official at the Justice Department after Attorney General Eric Holder and Deputy Attorney General James Cole, championed a task force created by President Barack Obama aimed at holding banks accountable for practices leading to the 2008 financial crisis. His efforts during his five-year tenure helped blunt criticism that prosecutors failed to punish Wall Street after the housing market collapsed.
Last month, Bank of America Corp. agreed to pay almost $16.7 billion, a record amount, for misrepresenting the quality of bonds backed by home loans. Citigroup Inc. agreed to pay $7 billion in July while JPMorgan Chase & Co. struck a $13 billion accord in November over similar claims.
Snack Maker
West will join the largest U.S. snack maker as it fights off criticism by activist Nelson Peltz's Trian Fund Management LP, which wants the company to split its snacks and beverage businesses into two companies to boost shareholder value. PepsiCo, along with its rivals, also faces greater scrutiny from regulators and lawmakers concerned with issues such as obesity and caffeine in energy drinks.
At PepsiCo, West will join another former Justice Department official, Larry Thompson, who is the soft drink maker's executive vice president of government affairs, general counsel and corporate secretary. Thompson served as deputy attorney general during former president George W. Bush's first term.
In negotiating mortgage bond settlements with banks, West said he pushed for resolutions that would offer debt relief to consumers and admissions of wrongdoing by banks. He also helped bring a $5 billion civil lawsuit against Standard & Poor's, the credit-rating firm owned by McGraw-Hill Cos. The department and several state attorneys general claimed the company knowingly inflated credit ratings for securities backed by residential mortgages.
Political Aspirations
West first moved to Washington in 1993 after Bill Clinton was elected president and worked as an attorney at the Justice Department before taking a job as a federal prosecutor in San Francisco. In five years as an assistant U.S. attorney, he brought cases ranging from child-trafficking offenses to high-technology crime.
In 1999, West joined the California attorney general's office as a senior adviser. It was from that post that he took two shots at political office. He failed both times, first in a bid for the San Jose city council and then for the state assembly.
In 2001, West joined Morrison & Foerster LLP in San Francisco as a partner. While there, he was on the team defending John Walker Lindh, the so-called "American Taliban" captured in Afghanistan.
West flew to Springfield, Illinois, in 2007 when Obama announced his candidacy for president and eventually became co-chairman of Obama's California finance team, where he helped raise more than $75 million for the campaign. After winning the election, Obama picked West to lead the civil division in 2009.
West is married to Maya Harris, a senior fellow at the Center for American Progress and the sister of California Attorney General Kamala Harris.
Before it's here, it's on the Bloomberg Terminal.
LEARN MORE