Toxic Stew of New Technology, Old Hatreds in World Crises
Nicole Gaouette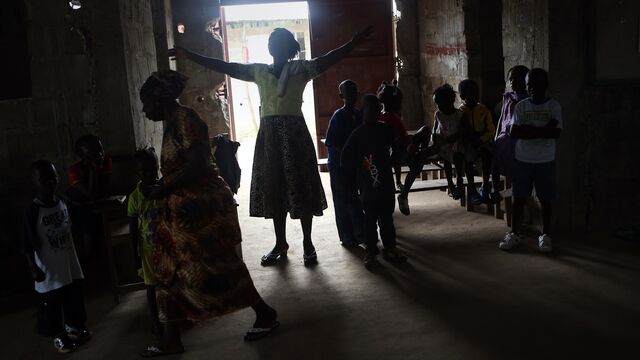 The crises that dominate today's news -- Ukraine, Islamic State, Libya, Ebola, Gaza, cyber-attacks -- are symptoms of the most profound revolution in world affairs in almost four centuries.
A toxic stew of new technologies, old hatreds, eroding boundaries, tattered alliances, environmental dangers and independent groups are making the world more interconnected and less stable at an accelerating rate, forcing the U.S. and other nations to re-invent their approaches to defending their borders, populations and economies.
"We need to look at the world as it is, not as it used to be," said Barry Pavel, director of the Brent Scowcroft Center on International Security at the Atlantic Council, a Washington policy group. "There are lots of networks that cut across state borders where information and goods and people flow. We still look at these structures as nation-states, but they're not as meaningful; they're very porous."
While leaders from former U.S. Secretary of State Henry Kissinger to President Barack Obama advocate attacking threats to peace and prosperity in a more coherent and holistic way, that remains a hard sell. As the debate over how to deal with Islamic State extremists in Iraq and Syria indicates, building coalitions and battling poverty lack the popular and political appeal of speaking loudly and wielding a big stick.
Obama said over the weekend that he plans to meet with congressional leaders tomorrow and deliver an address the next day on what he called his "game plan" to take on the terrorist group.
Romney's Critique
Spurning Obama's call for a "new order" that's "based on a sense of common humanity," Republican Mitt Romney, who lost to Obama in the 2012 election, wrote in the Washington Post that "the first rule of wing-walking is to not let go with one hand until the other hand has a firm grip. So, too, before we jettison our reliance on U.S. strength, there must be something effective in its place -- if such a thing is even possible."
Epochal events of the past century, from two world wars and the Holocaust to the rise and fall of the Soviet Union and China's emergence on the world stage, all have taken place within the architecture of nation-states.
Kissinger and others say that swelling urban populations, masses of underemployed youth, dwindling food and water supplies and social media's quicksilver connections are eroding the western European, state-based system that was ushered in 366 years ago next month by the Peace of Westphalia.
"When you look at the world today, there are whole countries where there are 60 percent of the population under the age of 30, 50 percent under the age of 21, and 40 percent under the age of 18," Secretary of State John Kerry said at the State Department in Washington on Sept. 3.
Smartphone World
"We know that all of these young people in today's interconnected globalized world, with the media that's available to them -- just look at the numbers in sub-Sahara Africa of young people walking around with smartphones -- they don't have a job, they don't have an education, but they're connected," Kerry said.
Fifty-five percent of the world's 2.3 billion mobile broadband subscriptions will be in the developing world by the end of this year, and Asia and Africa are the fastest-growing regions, according to the Geneva-based International Telecommunications Union.
Connectedness without opportunity can be destabilizing, Kerry said.
'Dead End'
"We know that all of them are, as a result, demanding opportunity and dignity," he said. "We also know that a cadre of extremists -- nihilists, people like ISIL -- are just waiting to seduce these people into accepting the dead end." ISIL, the Islamic State in Syria and the Levant, is another name for Islamic State.
At the same time, a resentful Russia and a resurgent China are testing alliances and allegiances. For Russia the confrontations have played out in Georgia and now Ukraine; for China they're unfolding in the South China Sea. As the debate over imposing tougher economic sanctions on Russia suggests, economic globalization is straining international cooperation.
"The economic system has become global, while the political structure of the world remains based on the nation-state," Kissinger wrote in the Wall Street Journal in a preview of his new book, "World Order," that's being released tomorrow. "Economic globalization, in its essence, ignores national frontiers."
Al-Qaeda in India
Finally, ungoverned and contested areas -- from the lawless stretch where Iraq meets Syria to Africa's Sahel, Pakistan's tribal areas and eastern Ukraine -- metastasize and incubate crime and terrorism. Matthew Olsen, director of the U.S. National Counterterrorism Center, counts about 11 countries in the Islamic world where terrorist groups are taking advantage of insurgencies and the absence of effective governments to operate.
Al-Qaeda announced Sept. 4 that it's expanding into India in an effort to impose Islamic law on the Asian subcontinent, a move interpreted as an effort to compete with Islamic State's rise.
Afghanistan presents a clear and present danger as its first democratic transfer of power falters and U.S. and North Atlantic Treaty Organization troops prepare to leave. James Dobbins, a former U.S. special representative for Afghanistan and Pakistan, told Congress in December that al-Qaeda rebuilding its sanctuary there is "a real possibility if the Taliban were to come back to power."
Somalia, Yemen
"We don't need another ungoverned space, another country like Somalia, like Yemen, like Syria that has no capacity to control its own territory," said Dobbins. That, he said, "attracts every extremist in the world to plant their flag, to recruit, to fund-raise and use that conflict as a basis for wider action."
Obama, speaking at the U.S. Military Academy in West Point, New York, in May, told graduating cadets that the smaller, more connected world that empowers groups such as al-Qaeda and Islamic State is creating new security concerns as "technology and globalization has put power once reserved for states in the hands of individuals, raising the capacity of terrorists to do harm."
Taken together, these developments will produce a "radically transformed" world within 20 years, according to projections by the U.S. intelligence community, and they've already raised concern among current and former government officials that the U.S., with its institutions, assumptions and outlook still rooted in the 20th Century, must make rapid and dramatic changes to keep pace.
Old World Order
The U.S., though, still operates in a system that Pavel, a member of the National Security Council under both Obama and former president George W. Bush, calls the "Westphalian-plus world."
"There are nation-states from the Westphalian world," Pavel said, "but there are a lot of other actors that are cutting across those boundaries, and we're missing them if we're not applying a broader way of looking to see these other actors."
The U.S., argues Kissinger, needs to pair its universal principles "with recognition of the reality of other regions' histories, cultures and views of their security."
That view from President Richard Nixon's national security adviser and secretary of state is consistent with Obama's quest for regional alliances to confront Islamic State terrorism, Chinese muscle-flexing and a revanchist Russia. The president and his aides advocate less reliance on military power and more emphasis on integrating muscle, diplomacy, and economic development to combat splinter groups and cope with extreme weather events and epidemics that can destabilize regions.
No Borders
"Today many of our highest priorities are regional and global in scope," Linda Thomas-Greenfield, assistant secretary for Africa at the U.S. State Department, said at the Africa Summit in Washington in August. She listed violent extremism, climate change, health threats, economic insecurity, and the trafficking of arms, narcotics, people and wildlife, "to name a few that have no regard for national borders or are too big for one nation to resolve."
At the end of the summit, Obama announced a new security partnership intended to target transnational groups such as Boko Haram, al-Shabaab, and al-Qaeda in the Islamic Mahgreb. The initiative would draw some funding from a proposed $5 billion Counterterrorism Partnerships Fund he'd announced at West Point to build "a network of partnerships from South Asia to the Sahel."
Ungoverned Areas
Amanda Dory, a deputy assistant U.S. secretary of defense for African affairs, described the extremism that can fester in these ungoverned areas as a concern that's "pretty high on the list," a threat to diplomats, tourists in the wrong place at the wrong time, and businesses, particularly those that manage international supply chains or work in unstable areas.
Members of a terrorist group affiliated with al-Qaeda underscored that point in January 2013, when about 40 of them drove from Mali and Libya into Algeria and seized control of an oil facility run partly by London-based BP Plc and Stavanger, Norway-based Statoil ASA that produces 10 percent of Algeria's gasoline. The aftermath left at least 39 foreign hostages dead and exposed corporate and state vulnerabilities.
The U.S. has been searching for ways to combat the threats from lawless areas since the Sept. 11, 2001, attacks. In their wake, Defense Department officials presented a three-year "Ungoverned Areas Project" that recommended the U.S. focus on governance in vulnerable areas, build regional partnerships, and develop better collaboration among U.S. government agencies, an approach known by the shorthand "whole of government."
Military Focus
The administration says it has acted on at least two-thirds of those conclusions, promoting better governance and trying to assemble coalitions.
The focus still has largely remained on security. Although Dory, at the Pentagon, said there's a consensus that more interagency cooperation "is how we'll need to work going forward," former Defense Department officials warn that the U.S. isn't moving quickly enough to do so.
Retired Marine Corps General James Jones, a former national security adviser to Obama, issued an Atlantic Council report in July that echoed calls by former CIA director Robert Gates and Defense Secretary Chuck Hagel for a broader approach to transnational threats that includes a better-funded and more empowered State Department.
Drone Wars
"The United States faces increased risks and missed opportunities to advance U.S. interests if it continues to focus on the military as the primary government instrument working with allies and partners on a regional scale," Jones wrote.
The Obama administration, though, has continued to rely heavily on drones to deal with militants in ungoverned areas in Afghanistan, Pakistan, Iraq and Yemen, and as it did in a Sept. 1 attack that killed the head of the Somali Islamist insurgent group al-Shabaab.
"Drones have a limited effectiveness," said Angel Rabasa, a senior political scientist in the Alexandria, Virginia, office of the Rand Corp., a policy group based in Santa Monica, California. "By themselves, I think they can be an ancillary tool in these situations, but drones are not the answer for several reasons."
Killing a leader seldom decapitates the group, said Rabasa, who worked on the Defense Department project on ungoverned areas. Moreover, he said, "if you kill people, you can't interrogate them," and drone strikes alienate local populations.
Bolstering Diplomacy
Jones, who consulted former State, Pentagon and National Security Council officials for his report, recommended that the State Department get enhanced funding and capacity in key regions, that its regional assistant secretaries be empowered to set and coordinate foreign policy within their areas, that the Pentagon's regional commanders work with civilian deputies to oversee and integrate security cooperation with partners, and the creation of "Interagency Regional Centers."
The imbalance in different agencies' resources often means the Pentagon takes the lead in countries even when the State Department's tools might be better-suited to the job, Jones said. The department's structure, which supports country-by-country execution of foreign policy by ambassadors, an arrangement created decades ago, also may be creating blind spots between nations and regions.
Islamic State
As Islamic State rose in Syria and then blitzed into Iraq, Pavel of the Atlantic Council said, a combined use of civilian and military instruments might have made a difference in preparing and responding.
"If you took a more comprehensive approach, you might not have been behind the curve as much," he said. A U.S. ambassador in Iraq who was part of a regional, multi-agency structure that shared information and executed in a coordinated fashion "may have had a broader view of the threat if he or she had been briefed and coordinated on Syria issues on a sustained basis," Pavel said. "You could have had a better framework for developing problems and developing opportunities."
The biggest obstacles to adapting U.S. policy to a rapidly changing world lie closer to home than Pakistan's tribal regions, northwestern Iraq or Ukraine.
Entrenched Bureaucracy
Trying to change a massive, entrenched bureaucracy is one of the challenges. "It's one thing to say we need an integrated policy or strategy," said Erin Simpson, chief executive officer of Caerus Associates LLC, an Arlington, Virginia-based policy group focused on complex environments, "but it's quite different to think about what a whole-of-government approach actually requires with people on the ground."
It's also easier to muster public opinion and congressional support for military action and defense spending than it is for a broader approach that attempts to address the sources as well as the symptoms of new threats.
Territorial attitudes and political paralysis in Congress are another reason it's hard to empower the State Department, bolster aid agencies and attack the underlying causes of unrest, current and former government officials said. Lawmakers are loath to embrace any change that reduces their committees' resources and their own power.
Without change, though, said Pavel, "You're going to see more of what's happened in the last year, the worst-case outcomes on steroids, where you have a lot of crises getting out of control because prevention efforts haven't been very effective."
Before it's here, it's on the Bloomberg Terminal.
LEARN MORE