Suh Switches to Jay Z's Roc Nation to Negotiate NFL Contract
Michael Buteau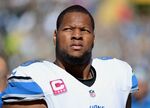 Ndamukong Suh signed with sports agency Roc Nation Sports, which will handle contract talks for the defensive tackle who is in the final year of his rookie deal with the Detroit Lions.
Suh, taken with the second overall pick by the Lions in the 2010 National Football League draft, is set to become a free agent at the end of the season.
Roc Nation, founded by hip-hop artist Jay Z, will be negotiating a deal to rival the $100 million, six-year extension defensive end J.J. Watt got from the Houston Texans. That deal, through the 2021 season, makes 25-year-old Watt the highest-paid defensive player in NFL history, the Houston Chronicle reported Sept. 2. Watt's accord includes $51.9 million guaranteed.
With pay this year of $12.6 million, Suh is already the NFL's best-paid defensive tackle, according to the Detroit Free Press.
A three-time Pro-Bowl selection, Suh was fined $31,500 by the NFL for a hit on Cleveland Browns quarterback Brandon Weeden last season, his seventh fine in his four-year career. Suh was also ordered to pay $100,000 for an illegal block on Minnesota Vikings center John Sullivan.
Suh had been represented by Roosevelt Barnes of Relativity Football since leaving the University of Nebraska. Barnes, who has three decades of experience as an agent, was a former player with the Lions. The two parted ways this year.
Roc Nation started working with pro athletes last year and also has agreements with New York Giants receiver Victor Cruz, New York Yankees pitcher CC Sabathia and New York Jets quarterback Geno Smith.
Before it's here, it's on the Bloomberg Terminal.
LEARN MORE