Activists Mount 'Necessity' Defense for Anti-Coal Action
By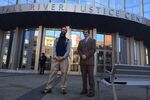 This morning, a jury in Fall River, Mass., is hearing the curious case of two men, a lobster boat, a load of coal, and whether Earth, in the eyes of the law, is a jailhouse on fire.
On May 15, 2013, Ken Ward, of Corbett, Ore., and Jay O'Hara, a Cape Cod native, took a little white boat—they rechristened it the Henry David T. for the occasion—and anchored it in the path of an incoming freighter, interrupting the scheduled delivery of 40,000 tons of West Virginia coal to a power plant in Brayton Point, Mass. They did this, they write on a website about their brief naval blockade, because carbon from burning coal is overheating the planet and "bold action is required to achieve the deep emissions reductions the science says we need for a stable planet."
None were hurt. No property was damaged. One day later the coal was delivered. And yet, according to the charges against them, they succeeded in disturbing the peace, operating a motor vessel negligently, failing to act to avoid a collision, and perpetrating a conspiracy. Some of these are serious charges; they could face prison time. Ward and O'Hara nonetheless seem excited to go to trial and don't plan to contest the facts of their action. Yes, they dropped anchor in the shipping channel. Yes, they knew exactly what they were doing. Instead, for what is considered the first time in the U.S., they're mounting a "necessity" defense for climate activism, that they were justified in breaking the law to prevent a greater harm—burning coal.

The common-law necessity defense goes back centuries. In an essay for the Boston Globe about the case, Harvard legal scholar Joseph Hamilton notes that "in 1551, an English merchant successfully argued that he was justified in throwing precious cargo off his ship to avoid capsizing during a severe storm. In 1853, the mayor of San Francisco was found not liable for destroying a number of homes to halt the spread of an enormous fire." A standard—and perhaps more relevant example—is a prisoner escaping from a jail that's ablaze. Ward, O'Hara, and their attorney, Matt Pawa, will argue that the planet faces just such an emergency.
Though the defendants and Pawa declined to comment further ahead of today's trial, they've posted a video about their aims, and list three conditions they must meet if their defense is to succeed. "First: That the defendant was faced with a clear and imminent danger, not one that was debatable or speculative; Second: That the defendant reasonably expected that his (her) actions would be effective in directly reducing or eliminating the danger; and Third: That there was no legal alternative which would have been effective to reduce or eliminate the danger."
To establish these, they're calling a number of expert witnesses, including NASA climatologist Dr. James Hansen and the author, Middlebury College professor, and 350.org founder Bill McKibben. They've also received some counsel, tea, and sympathy from Tim DeChristopher. In December 2008, DeChristopher disrupted a Bureau of Land Management oil and gas lease auction by bidding on 14 Utah parcels he could not afford to buy—because, he contended, they had been put on the block in haste, without the proper environmental reviews. (The U.S. Department of Interior canceled many of the leases later, but DeChristopher still served 21 months in prison.) DeChristopher and his attorney considered the necessity defense, too, but his judge wouldn't hear of it, DeChristopher recalls, complaining that "any talk of the government breaking laws would just confuse the jury."
Ward and O'Hara, DeChristopher says, are reconciled to the fact that they may also do time, but he notes there is a precedent for the necessity defense working, and specifically as a climate activist defense. In 2008, the Kingsnorth Six—a half-dozen Greenpeace activists—were acquitted of criminal damages after they broke into a 2,000-megawatt coal power plant in Kent, England, and painted on one of its smokestacks.
As the trial opens, it's difficult to say what the case will prove beyond grist for legal mavens. The case history, as Hamilton noted in the Globe, is deep and includes plenty of civil disobedience. According to United States v. Schoon (1991), it is the second of the three conditions listed above that will be the crux. In Schoon, three activists who invoked the necessity defense were convicted of spilling blood on the floor of an Internal Revenue Service office to protest U.S. policy in El Salvador, and the judge said that no matter how moral their cause—or, by inference, immoral the U.S. policy they objected to—their theatrical blood bath wasn't going to stop any further harm. Could Ward and O'Hara have really hoped, for example, to shut down Brayton Point? Ward, in the video on their website, raises this very question rhetorically, and shrugs, maybe. You never know when you take a bold action, he goes on to say, who might join you.
UPDATE: Well, that was fast. As of 11:30 A.M., the case is over. The charges were dropped, with some restitution required from Ward and O'Hara for the police who responded to their blockade. But the real surprise was the District Attorney in the case, Sam Sutter. In remarks he gave outside the courthouse immediately afterward, Sutter revealed he endorsed Ward and O'Hara's protest action; climate change, and the lack of a serious response by government, he finds, justify civil disobedience. He indicated he plans to join the People's Climate March in New York on September 21. Only in Massachusetts, you might say. But an even more curious precedent than anticipated.
(
Updates with prosecutors' decision to drop charges
)
Before it's here, it's on the Bloomberg Terminal.
LEARN MORE