Xi Postpones $34 Billion Pakistan Trip Amid Protests
Faseeh Mangi and Kamran Haider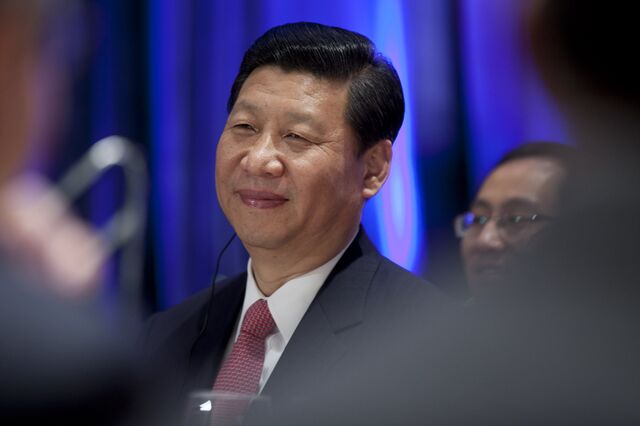 Chinese President Xi Jinping postponed his visit to Pakistan, where $34 billion of deals were scheduled to be signed, after three weeks of anti-government protests in the capital of the South Asian nation.
"In view of the current political situation in Pakistan" the two governments agreed to postpone the visit, the Pakistan foreign ministry said in by e-mail in Islamabad today. The visit is to be rescheduled "at an early date," it said.
China is a key ally of Pakistan's and also its largest trading partner, with total trade in 2013 valued at $15.3 billion, according to data compiled by Bloomberg. If the Chinese contract signings are delayed, it will be a blow to Prime Minister Nawaz Sharif at a moment when the demonstrations already risk stalling an economic overhaul that's necessary to fulfill conditions for an International Monetary Fund loan.
"Chinese investment not coming through can be a serious setback for projects including coal power plants," Umair Naseer, economist at Global Securities Pakistan Ltd., said by phone from Karachi. "We are close with China, and this can just be a delay, but all depends on the situation in the capital improving."
Pakistan's history of coups and its "fragile" democracy increase the challenge of carrying out the measures essential to qualify for the IMF loan disbursements, Moody's Investors Service said yesterday. Xi is scheduled to visit India this month -- Pakistan's traditional rival -- as the Chinese leader looks to counterbalance India's deepening relationship with Japan.
Talks to Continue
Protesters led by opposition party leader Imran Khan and cleric Tahir-ul-Qadri have been camping in Islamabad since mid-August, alleging that last year's general elections were rigged and demanding Sharif's resignation. Clashes with police that began Aug. 30 killed three people and injured about 500 when demonstrators tried to move toward Sharif's residence, prompting the military to ask politicians to end the strife.
Representatives of Khan and the government were scheduled to meet again today for talks after negotiators for the two sides late yesterday said they were making progress.
Late yesterday, Khan also said he was moving the site of the demonstration to its previous location in front of the nation's parliament, the so-called D-Chowk, and away from the road near Sharif's house.
The KSE100 Index rose 3.3 percent in the past week, the most in three months, on indications the talks may resolve the standoff. The gauge tumbled about 6 percent last month, the biggest drop in three years.
"China hopes there will be efforts in Pakistan to ensure domestic stability," Chinese foreign ministry spokesman Qin Gang told reporters in Beijing yesterday.
Xi will probably visit India in the third week of September and exact dates will be announced when both countries are ready, Indian foreign ministry spokesman Syed Akbaruddin said last month. Prime Minister Narendra Modi traveled to Japan in August to boost ties, with both nations embroiled in territorial disputes with an increasingly assertive China.
Before it's here, it's on the Bloomberg Terminal.
LEARN MORE