pursuits
Mexico Gets Ready for a 'Sustainable' $9 Billion Mega-Airport
By
Mexico Gets Ready for a 'Sustainable' $9 Billion Mega-Airport
By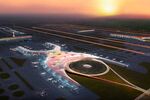 Building an international airport can be a fraught undertaking. Botch the planning and squander billions, as happened in Berlin, and the mayor can wind up stepping down. Let's hope things go better in Mexico City, where work will soon begin on a $9.2 billion international airport billed as one of the world's biggest and "most sustainable."

Designed by Pritzker Prize-winning British architect Norman Foster and Mexican architect Fernando Romero, a son-in-law of Mexican tycoon Carlos Slim, the structure will collect its own energy and water. Environmental sustainability is a major concern in Mexico City, where air pollution has been blamed by some for birds dropping dead in midflight.
The new X-shaped airport, to be built east of the city center, will have six runways and one gigantic dome-like terminal with 95 gates. The structure, which will be easily walkable, will function like a giant solar farm with rainwater collection. Built-in ventilation will use outside air alone "for a large part of the year," according to a Foster + Partners press release, "with little or no additional heating or cooling required."
As for the cultural significance of the design, Jude Webber in the Financial Times sees nods to Mexico's ancient pyramids and the eagle-on-a-cactus-eating-a-snake image on the national seal:
"The lower half of the 'X' will contain a circular cactus garden: passengers approach the airport on a route around the garden that symbolizes the snake, while the soaring roof denotes the eagle with its wings spread."
The new airport is expected to shuttle almost 120 million passengers a year, quadrupling the capacity of the city's current airport, Benito Juárez International, which handled a record 31.5 million passengers in 2013.