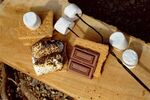 Last week, in honor of National Marshmallow Day (Aug. 30), the U.S. Department of Agriculture published a guide on how to make s'mores.
As you might expect, it was brief. After all, the recipe is pretty simple: Find stick, attach marshmallow, roast over campfire, combine with chocolate and graham crackers, enjoy. Nonetheless, the USDA managed nearly 700 words on the topic, noting that "there is more than one way to roast a marshmallow."
On Thursday, House Majority Leader Kevin McCarthy took issue with the s'mores guide, saying it "perfectly captures what is wrong with our government."
"Hard-earned tax dollars supporting bureaucrats who can't pass up an opportunity to tell us how to live our lives," McCarthy wrote in a memo on the September agenda sent to House Republicans and spotted by Politico. "For the things that the government is supposed to do—like confront terrorist groups—we don't have a strategy. But for the things Americans are supposed to be able to do themselves—like figuring out the best ingredients for s'mores—government bureaucrats have figured that out."
Entitled, "US Forest Service asks: How Does Your Marshmallow Roast?", the guidelines include a bit of history (s'mores were first found in the 1927 Girl Scout Handbook), some fire safety tips (keep campfire at least 15 feet from trees and tents), and some marshmallow basics:
"Use a roasting stick at least 30 inches in length," the USDA says. "The degree a marshmallow is roasted runs the gamut, from the barely cooked, light caramel-colored outer layer to the flaming marshmallow that contains a gooey interior wrapped by a crispy, blackened shell."
Noting the high sugar content of marshmallows, the federal agency suggests alternatives for roasting, like fruit or marshmallow crème, "a spreadable version of marshmallows that helps you more easily regulate portions."
No word on what the USDA is planning for National Peanut Butter Day, but perhaps it can finally weigh in on whether the peanut butter goes on both slices or only one.
Before it's here, it's on the Bloomberg Terminal.
LEARN MORE