Family Dollar Rejects Sweetened $9.1 Billion Bid From Rival
Craig Giammona and Matt Townsend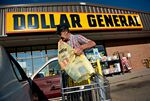 Family Dollar Stores Inc. spurned a sweetened $9.1 billion bid from Dollar General Corp., saying it would be harder to get past antitrust regulators than a lower offer from Dollar Tree Inc.
Family Dollar's board unanimously rejected Dollar General's bid, which was announced on Sept. 2, and reaffirmed the agreement with Dollar Tree, according to a statement today. The move marks the second time the Matthews, North Carolina-based company has used antitrust concerns to turn down the unsolicited offer. Dollar General, the top U.S. dollar-store chain, said in a statement that it remained committed to pursuing a deal.
"There is a very real and material risk that the transaction proposed by Dollar General would fail to close, after a lengthy and disruptive review process," Family Dollar Chief Executive Officer Howard Levine said in the statement. The Dollar Tree merger, he said, offers "closing certainty."
The takeover fight for Family Dollar began in July, when the company agreed to be acquired by Dollar Tree for $8.5 billion, or $74.50 a share. That deal would merge the market's No. 2 and No. 3 companies, potentially unseating Dollar General as the leader. Dollar General then stepped in with an unsolicited bid of $78.50 in August, aiming to maintain its perch atop the industry.
Higher Price
After that offer was rejected because of antitrust concerns, Dollar General increased its price this week to $80 a share in cash. Along with the sweetened bid, Dollar General said it would sell as many as 1,500 locations to placate regulators, up from 700 in its earlier offer. It also would pay Family Dollar $500 million if the deal failed to garner approval.
Family Dollar's stock fell 1.2 percent to $79.11, while Dollar General dropped 2.3 percent to $63.01. Shares of Chesapeake, Virginia-based Dollar Tree rose 1.1 percent to $55.61.
In snubbing the higher bid, Family Dollar said its experience with Federal Trade Commission regulators reviewing the Dollar Tree deal has led it to believe a Dollar General merger would have a harder time getting clearance. A transaction between Dollar General and Family Dollar would create a chain with almost 20,000 locations and plenty of overlap, meaning the FTC would struggle to review the proposal in a timely manner, according to today's statement.
State Official
Family Dollar's board deliberations have another wrinkle. Sharon Decker, North Carolina's secretary of commerce, has served as one of its directors since 1999 and owns 7,439 shares of Family Dollar stock. Voting for either offer would mean allowing a North Carolina company to be taken over by an out-of-state business.
"In my role at Family Dollar, I am a board member and have fiduciary responsibilities to the shareholders," she said in a statement this week. "As a commerce secretary, I work every day to create jobs and help North Carolina thrive. I can perform both roles and meet my responsibilities."
Dollar General, based in Goodlettsville, Tennessee, now has to regroup for a second time in the past two weeks. The company could take its offer directly to shareholders -- something it threatened to do earlier this week if the bid was rejected again. Dollar General also could come back with a higher offer, though it may be more crucial to assure Family Dollar it will do whatever it takes to overcome regulatory hurdles.
'Blanket Statement'
"The only way this deal happens is if they give a blanket statement saying we'll do what the FTC says, or if they go directly to shareholders and shareholders decide if they themselves want to take the risk of the deal going through or not," said Poonam Goyal, an analyst at Bloomberg Intelligence in New York.
The FTC has already seen evidence that Dollar General's prices are driven lower by Family Dollar and may take the position that such a deal would immediately lead to higher costs for shoppers, Family Dollar said.
The 1,500 stores that Dollar General is willing to divest may not be enough because there are "far more" areas where pricing is based solely on both chains having locations near one another, according to the statement. There are 6,000 Family Dollar stores within three miles of a Dollar General location, the company said.
Family Dollar declined to comment on how many store divestitures Dollar General would need to make before it would consider a deal.
Similar Businesses
Family Dollar and Dollar General have a similar business model, with the chains selling products at multiple prices and mostly catering to low-income shoppers. Dollar Tree, in contrast, attracts more middle-class consumers and sells most of its items at $1.
"If the FTC is questioning the Dollar Tree bid, they're definitely going to question the Dollar General bid," said Brian Yarbrough, an analyst at Edward Jones in St. Louis.
Separately, Dollar Tree said it was ready to close as many stores as necessary to complete its merger with Family Dollar. The companies expect to receive a second request for information on the transaction from the FTC next week, though the deal could be closed as soon as November -- earlier than originally expected.
"Unlike Dollar General, we expect to be required to divest few, if any, stores because our business model is significantly different from Family Dollar's model," Dollar Tree CEO Bob Sasser said in a statement. "Our product assortment and pricing is not driven by local competition, and we have very limited store overlap."
CEO's Role
The takeover contest has inflamed tensions between Family Dollar and Dollar General, which have traded barbs in recent weeks. Family Dollar has suggested that Dollar General was an unserious suitor that only decided to bid after the Dollar Tree offer was announced. Dollar General, meanwhile, complained that it was misled during earlier merger talks and said Levine's desire to maintain a management role may have led him to favor the Dollar Tree deal.
Under the terms of the Dollar Tree agreement, Levine would stay on as Family Dollar's CEO. He would still report to Dollar Tree's CEO, though.
Activist investor Carl Icahn, who has been selling shares in Family Dollar since the Dollar Tree deal was announced, also suggested that Levine's management role promised by the Dollar Tree deal may have kept him from trying to entice other bidders.
"It seems obvious that in a Dollar General/Family Dollar merger, Levine would not have any future role," Icahn said on his blog in August.
Yarbrough said today it was unlikely Family Dollar rejected the higher bid out of concern for Levine's future.
"He owns enough shares that he doesn't have to work another day in his life," Yarbrough said. "You have to know a board cannot block a deal because of those issues. The board's duty is to shareholders."
Before it's here, it's on the Bloomberg Terminal.
LEARN MORE