Doves Coming Home to Roost at Fed as Yellen Gets Suppport
Simon Kennedy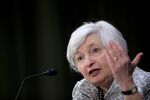 Janet Yellen will be getting a little more help from her friends next year -- or at least her allies at the Federal Reserve.
The annual rotation of voting members of the policy-setting Federal Open Market Committee will result in a 50-percent bloc of central bankers with dovish leanings, backing the chair's views, up from 40 percent now, reckons Scott Minerd, chief investment officer at Guggenheim Partners LLC, which manages more than $210 billion in assets.
"This suggests that the risk lies with later rate increases, not earlier," he wrote in a report this week. "Stock and bond markets appear well positioned to benefit from all this easy money."
Headed off the FOMC at year-end are Philadelphia Fed President Charles Plosser and Dallas Fed President Richard Fisher, both of whom have emphasized the inflation risks of maintaining zero rates for too long.
Yellen has cautioned against a premature increase, saying the labor market remains too slack to absorb higher borrowing costs. It's an argument that may be harder to sustain as the U.S. economy gains momentum.
Plosser objected in July to the Fed's policy statement, saying it doesn't reflect "considerable economic progress." Fisher told CNBC last month that he believes the timing has moved up for the first rate increase.
The good news for Chair Yellen is that she may find greater support next year in holding off the first increase in the Fed's benchmark rate since 2006.
Short Slots
The FOMC has 12 members, yet currently is two short because the Washington-based board of governors, which fills seven of the seats, has open slots. With the exception of the New York Fed president, who has a permanent say on policy, the remaining 11 regional Fed bank chiefs rotate the rest on an annual basis.
Chicago Fed President Charles Evans and Atlanta Fed President Dennis Lockhart get votes in 2015. Minerd describes both as doves. Lockhart last month called himself "one of those who's thinking in terms of the middle of next year" for the first rate increase, while Evans said in July that there are still "pressures" containing inflation.
They'll outnumber Richmond President Jeffrey Lacker, who said Aug. 1 that investors may be underestimating the pace at which the Fed tightens monetary policy.
Of the current 10 voters, Minerd says two are hawks, four are neutral and four are doves, including Yellen. Next year, he sees Lacker as the lone hawk, with four neutral policy makers and five doves.
"If there is a risk, it is that the Fed will keep monetary policy at a high level of accommodation for longer than previously anticipated," said Minerd.
Before it's here, it's on the Bloomberg Terminal.
LEARN MORE