Ebola Fight Gets $250 Million U.S., Europe Funding Boost
Simeon Bennett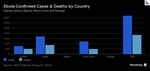 U.S. and European officials kicked more than $250 million in additional funding into the fight against the worst Ebola outbreak in history after the World Health Organization said budget cuts were hampering its efforts.
The European Commission will commit 140 million euros ($181 million) to help strengthen medical systems in the affected countries, provide mobile diagnostic laboratories and help fund public services, it said in a statement today. The $75 million contribution from the U.S. will be used to add health workers and provide equipment and supplies in West Africa, the U.S. Agency for International Development said yesterday.
"The situation is going from bad to worse," Kristalina Georgieva, the EU commissioner for international cooperation, humanitarian aid and crisis response, said in the statement. "We are helping make a difference on the ground, but the needs are outpacing the international community's capacity to react."
The WHO Director-General Margaret Chan and United Nations Ebola coordinator David Nabarro met yesterday with U.S. health officials and the State Department to seek help. WHO officials have said beating back Ebola could cost at least $600 million at a time when the agency has a much smaller response staff than during the 2009 flu pandemic. Chan and Nabarro also plan talks next week to corral support in London and Paris.
Staffing Cuts
"Responding to outbreaks and infectious disease emergencies means that you want to have a core program, a core group of people that are able to move as quickly as possible," Keiji Fukuda, the WHO's assistant director-general for health security, said in an interview in Washington. "One of the impacts of the budget cuts was to reduce that ability to move that quickly because of decreases in staffing."
Ebola has killed more than 1,900 people in Liberia, Sierra Leone, Guinea and Nigeria, and is accelerating with 40 percent of cases reported in the past three weeks. The WHO has been facing growing criticism for not responding more quickly with greater resources to help beat back the virus.
The West Africa outbreak has exposed a "huge vacuum in leadership" that the WHO should be filling, Jason Cone, communications director for Doctors Without Borders in New York, said in a telephone interview.
There are also "numerous questions" about who is going to implement the organization's road map, he said.
Unprecedented Outbreak
"Back in June we said this was an unprecedented outbreak," Cone said. "We were quite loudly on record, and WHO questioned our analysis. That doesn't have anything to do with operational capacity, it's to do with analysis."
In its most recent budget, the WHO cut the funds available for responding to health-related crises by more than half, to $228 million for 2014 and 2015. The agency's total budget was reduced to $4 billion for 2012 to 2013 from $4.5 billion in 2010 and 2011, in response to "the new reality of financial austerity," according to the budget.
The WHO, which receives 77 percent of its income in voluntary contributions, is also hampered because most of that money is earmarked by donors for specified purposes, effectively meaning the agency isn't in control of its budget.
Borrowing Money
The WHO, along with the United Nations Children's Fund and the World Food Programme, has funded its response so far by borrowing from internal programs in anticipation that donations received later would allow it to replenish those sources, Fukuda said. The agency has reached the limit of how much it can do that, he said.
"We have to fill the coffers with new money because this is an event no one planned for," he said in the interview. "That now means we have to spend a lot of time and effort finding the money. That time and effort could be better spent on the outbreak itself."
Chan said in an interview that her agency had underestimated the magnitude, the complexity and the challenges of the outbreak. Still, she said, the agency's role is to support and advise governments to respond to health crises, not to be a first responder.
Sovereignty Issue
"There is a lot of expectation, everybody wants the outbreak to be brought under control," she said. "They look around and say, can we take over? Not even the weakest, poorest country would say that, 'I'm going to surrender my sovereignty, you take over.' This is not the way we operate. Tell me which country would like to be taken over by a UN agency?"
Chan, Fukuda and Nabarro met yesterday with Lisa Monaco, an assistant to President Barack Obama for homeland security and counterterrorism, and Gayle Smith, special assistant and senior director for development and democracy, according to an administration official who asked not to be identified because the information isn't public.
Chan, who battled the 2003 SARS outbreak as Hong Kong's director of health, and has since tackled the H5N1 bird flu threat and the H1N1 flu pandemic as head of the WHO, said West Africa's Ebola epidemic is the most challenging of her career.
"There is a disproportionate level of fear and anxiety which I did not see in the others," she said of the previous epidemics. "With any new disease there is a certain level of anxiety, but this is extremely high. This is happening in countries that just came out of 10 years of war and conflict, with very little capacity by way of health systems."
Flight cancellations to the affected countries, and ships refusing to dock at their ports, have effectively isolated them, hampering the response, Chan said.
"With the other outbreaks there was no such level of isolation and stigmatization," she said. "These three countries are completely isolated now."
Before it's here, it's on the Bloomberg Terminal.
LEARN MORE