Putin Seen Playing for Time in Sign Bond Rally to Fade
Vladimir Kuznetsov and Andras Gergely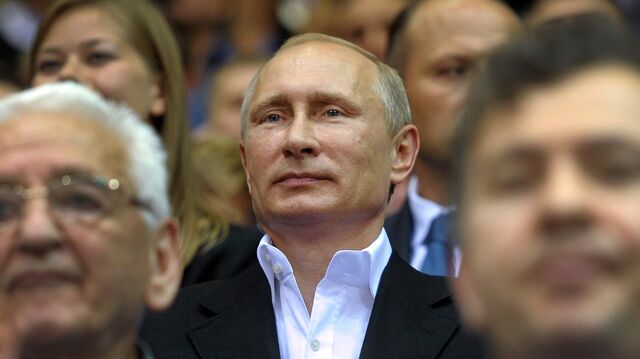 Russia's support for a cease-fire in Ukraine, which sparked the biggest plunge in bond yields in four months, is aimed at dodging deeper sanctions and the rally is at risk of evaporating, Aberdeen Asset Management Plc said.
The ruble and stocks posted the steepest gains in the world and local-currency bonds topped returns in emerging markets yesterday as President Vladimir Putin and his Ukrainian counterpart Petro Poroshenko said they agreed on steps toward a truce. The accord came as the European Union prepared to expand penalties on Russia that have driven the economy toward recession, while NATO leaders gather at a summit in Wales.
"This move aims to avert the sanctions Russia has been threatened with," Viktor Szabo, a money manager who helps oversee more than $13 billion in emerging-market debt at Aberdeen in London, said by e-mail yesterday. "The situation will escalate again after the NATO summit. Russia is really hard to gauge from an investment point of view. It looks cheap in its own right, but there is huge uncertainty."
Yields on Russia's dollar-denominated securities due in March 2030 tumbled 26 basis points, the most since May 7, to 4.80 percent yesterday. Five-year credit default swaps insuring the nation's debt against non-payment slid 29 basis points, the biggest drop in four months.
Rebel Offensive
A permanent agreement is unlikely in the near future and the latest pledges are part of "Russian tactics," Peter Duronelly, a strategist and money manager who helps oversee 2.5 billion euros ($3.3 billion) at Aegon NV's Hungarian fund-management unit, said by e-mail yesterday.
A cease-fire would allow Russia to avoid further penalties, a German government official, who asked not to be named discussing internal policy matters, said yesterday. The U.S. and EU curtailed the access of Russia's biggest banks to their bond markets in July as the crisis escalated.
While markets rallied on the truce yesterday, the European Commission planned to continue preparations on the next round of economic penalties to punish Russia for aiding the insurrection in eastern Ukraine that's escalated since Putin annexed the Crimea region in March.
Fragile Rally
The ruble slumped to successive record lows in the past week as the U.S. also threatened to broaden sanctions, accusing Putin of deploying troops to help buoy the insurgency. The currency slid 0.3 percent to 36.9810 versus the dollar as of 7:14 p.m. in Moscow today.
"The 'sanctions race' is resulting in a protracted isolation of Russian borrowers from global capital markets, and is hurting sentiment and growth," Tatiana Orlova, a London-based economist at Royal Bank of Scotland Group Plc, said in an e-mailed note yesterday. RBS is keeping its underweight recommendation on Russian Eurobonds as the sanctions threat makes a downgrade to junk "increasingly likely," she said.
Putin outlined a seven-point peace plan yesterday and said a final agreement may be reached at a Sept. 5 meeting. U.S. President Barack Obama, in Estonia to reassure eastern European NATO members of their security before heading to the alliance's summit in the U.K., expressed skepticism over the truce announcement.
TKB BNP Paribas was "busy buying" ruble assets yesterday according to Vladimir Tsuprov, the St. Petersburg-based chief investment officer of TKB. Putin's backing of the truce helped remove risks of further escalation, Vladimir Osakovskiy, an economist at Bank of America Corp. in Moscow, said.
Sanctions 'Fear'
The ruble surged 1.6 percent against the dollar yesterday, its biggest gain in five months and the most among more than 170 currencies worldwide monitored by Bloomberg. Russia's domestic bonds were the best performers among 31 developing markets in the Bloomberg Emerging Market Local Sovereign Index.
The 2022 Eurobonds of OAO Sberbank, Russia's biggest lender which was named in the last round of EU sanctions, rallied the most since they were sold in 2012, sending the yield tumbling 55 basis points to 6.93 percent.
"I suspect Russia does fear this intensification of sanctions," Charlie Robertson, the chief economist at Renaissance Capital Ltd., said by e-mail yesterday. "If it can provoke division within the EU and NATO so that sanctions are watered down, this is to Russia's benefit."
Before it's here, it's on the Bloomberg Terminal.
LEARN MORE