Home Buyers Lose as U.S. Bond Rally Skips Mortgage Rates
Jody Shenn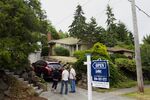 Potential home buyers watching this year's plunge in 10-year Treasury yields can be forgiven for wondering why their borrowing costs aren't falling at the same pace.
The last time the benchmark Treasury rate fell as low as the 2.34 percent level reached last week, in June 2013, interest rates on typical mortgages were almost 0.2 percentage point less than they are now. There are a number of explanations: Yields on five-year Treasuries, which also help determine loan rates, have actually increased. And lenders that cut staff aren't competing as aggressively by adjusting their pricing.
No matter the cause, the effect is that a potential catalyst to get the faltering U.S. housing recovery back on track is failing to materialize. With home-loan rates stagnating at about 4.1 percent during the past three months, a renewed boom in refinancing also sits just out of reach.
"People that had an optimistic bent about housing are certainly disappointed here," Joshua Shapiro, chief U.S. economist at Maria Fiorini Ramirez Inc. in New York, said yesterday in a telephone interview. "Obviously it couldn't hurt" to have rates even lower, "though it's not going to be a magic bullet."
Sales Slump
After soaring 12 percent in the first seven months of 2013 from the previous year, the seasonally adjusted pace of existing home sales was down 5.4 percent in the same stretch of 2014, according to National Association of Realtors data. New home sales ran 1.8 percent below last year's level, Commerce Department data show.
Mortgage refinancing, which puts more money into consumers' pockets and generates fees for banks, saw an even bigger slump, with the pace of applications this year hovering at about the slowest since 2008, according to the Mortgage Bankers Association.
While mortgage bonds that guide borrowing costs are typically backed by 30-year loans, their yields aren't tied to Treasuries of similar maturity because most homeowners refinance or move well before then. Fannie Mae's 3.5 percent securities, a benchmark for lenders that package new loans into bonds, have a forecasted weighted average life of 8.4 years, according to data compiled by Bloomberg.
Defying Forecasts
With housing failing to power enough economic growth to fuel a surge in wages and inflation, yields on 10-year Treasuries have retreated from as high as 3 percent in December, defying economists' forecasts and ending yesterday at 2.42 percent.
At the same time, yields on five-year Treasuries have risen to 1.68 percent from as low as 1.37 percent in December, a reflection of investors girding for increases in the Federal Reserve's benchmark for short-term rates, which has less of an impact on longer-term notes.
If mortgage rates were at the 3.93 percent level they were the last time 10-year Treasury yields were so low, a borrower with $1,450 to spend on monthly payments could afford a $306,500 loan, instead of $300,000 based on current borrowing costs.
Even with the lag behind Treasuries, the average rate on typical mortgages has fallen from a two-year high of 4.58 percent in late August 2013 and remains below the mean of 5.12 percent over the past decade, Freddie Mac surveys show. Members of the Fed's policy-setting board at their most recent meeting saw mortgage rates that are "still low" as a positive for housing, minutes showed.
Competition Muted
The decline hasn't been enough to revive refinancing as lenders avoided dropping their rates relative to bond yields to win business, according to JPMorgan Chase & Co. analysts led by Matt Jozoff and Brian Ye.
"When competitive pressures mount and lending volumes shrink, banks will typically respond by easing lending standards and lowering rates in an attempt to maintain market share at the cost of profit margins," they wrote last month in a report. "Curiously, there has been little movement in pricing."
Instead, the difference between rates on mortgages and yields on home-loan bonds has recently widened while applications stayed low, climbing to about 1 percentage point last week, from about 0.9 percentage point at the start of the year, according to data compiled by Bloomberg.
'Very Sticky'
That's resulted in "very sticky" mortgage rates that may reflect lenders cutting staff in response to a drop in volumes, meaning they're not fighting to create more demand, said Scott Buchta, the head of fixed-income strategy at Brean Capital LLC.
The irony is that "there certainly are a lot of mortgages that could be refinanced just below where we are," he said.
Measures of employment in the industry suggest a drop of about 8 percent between April 2013 and March 2014, and little change since, according to Goldman Sachs Group Inc. analysts Hui Shan and Spencer Rogers.
"This suggests that mortgage lenders do not see today's lower mortgage rates as justifying an expansion in production capacity," they wrote yesterday in a report. The lenders may "expect the recent rates rally to be short-lived and interest rates to move higher soon."
With the shift in loan demand away from refinancing, lenders may also see offering lower rates as doing little to boost volumes because "home purchasing decisions depend on many other factors such as income prospects and house prices," they said.
'Just Reluctant'
For refinancing to really pick up, mortgage rates will need to fall to 3.8 percent, which "is not straightforward" and probably will require a 10-year Treasury yield below 2 percent, according to Bank of America Corp. analysts including Satish Mansukhani. That's because lenders may move more slowly and yield spreads on mortgage bonds may widen in anticipation of more supply, they wrote last month in a report.
Shapiro, the Maria Fiorini economist, said that a recovery in the labor market that's been particularly soft for middle-income jobs, along with a jump in home prices, pose challenges that can't cured by mortgage rates. Even amid slowing appreciation, values in June had climbed 28 percent from a 2012 trough, according to S&P/Case-Shiller index data.
"People are just reluctant to chase the prices created by the speculative demand," he said.
Before it's here, it's on the Bloomberg Terminal.
LEARN MORE