Airlines Need You (and Your Gadgets) to Kill Those Seat-Back Screens
By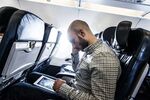 With a wireless gadget inside the carry-on bag or pocket of almost every passenger, airlines see a big opportunity in the near future: ditch seat-back screens and stream in-flight entertainment over the plane's Wi-Fi network. For the first time regional jets would be able to offer real entertainment, and other carriers could ditch those expensive, grimy, fragile flatscreens.
Since the end of the seat-back screen era could mean better movie choices and huge savings, Delta, United, and Southwest are now encouraging the bring-your-own device ethos, with some airlines even offering free TV and movies as an incentive. A report this month by Osurv, a mobile survey firm, found that 87 percent of travelers consider the BYOD pitch a cost-saving effort by airlines—and yet many still prefer using their own gadgets to jabbing a seat-back screen. "Superficially, BYOD is a cost-cutting initiative," says Jad Meouchy, Osurv's founder and chief executive. "However, the long-term vision is Netflix in the sky."
The firm polled 1,300 travelers at three major airports in Atlanta, Los Angeles, and New York. An even higher number—94 percent—thought they should benefit personally from such savings, be it from lower fares or baggage fees or access to more free entertainment content. These are hilarious notions to an airline executive or anyone familiar with the steady march of ancillary fees.
Bad news, U.S. airline passengers: BYOD won't lead to lower fares or bag fees. Even the hope for free movies is a stretch, given that airlines must pay for the Hollywood fare they screen onboard. An introductory period of free entertainment can always give way to charges for movies. But at least airlines have not yet required travelers to buy Wi-Fi before accessing the video stream.
United has streaming available on more than 140 planes so far, a service paired with Wi-Fi installation across its fleet. The world's largest carrier, American, offers streaming on some of its planes, although the video entertainment isn't free.
Gogo, one of the largest aviation Wi-Fi providers, pitches its media server to airlines as a cost-saving measure, noting that the product adds "no more weight than a can of ginger ale" when installed. That's far less than the combined weight of all those seat-back screens, and shedding valuable pounds is a major focus as airlines worry about long-term fuel prices.
Not every carrier appears to be in a rush to get rid of seat-back screens. Delta Air Lines says its new "Delta Studio" streaming service isn't about shaving costs because it's still spending money to add screens to 156 single-aisle planes through 2018. The idea, says spokesman Paul Skrbec, is "to offer our customers the choice of platform and content when they travel." Delta is also taking its new Airbus and Boeing airplanes with seat-back screens, the entrenched in-flight entertainment champion on airlines worldwide.
Budget carriers such as Southwest and Singapore's Scoot, meanwhile, have never had seat-back screens on their planes and probably never will now that they can tout in-flight tablet use. "You'll never again have to twist your neck to get a view of your in-flight entertainment," Scoot tells passengers it hopes will buy access to the streamed entertainment.
Before it's here, it's on the Bloomberg Terminal.
LEARN MORE