Larry King's High-Interest Small-Business Loans
By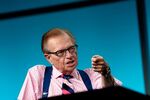 Larry King would like to help you get a small-business loan. "Go online, complete a simple application, and you can get pre-approved for up to $250,000 in minutes," he says in television commercials that have been airing on cable networks since June. The company he's promoting, LendVantage, doesn't actually make loans. Based in Henderson, Nev., it collects information from would-be borrowers and sells the names to lenders who specialize in funding merchants that banks consider too risky.
Those loans often come at a high cost. The LendVantage website includes the example of a business called Sally's Friendly Cafe, which gets a $25,000 advance to build an outdoor patio. Sally's agrees to repay $33,500 by diverting a portion of daily sales to the lender. LendVantage projects the business will pay $225 each weekday for about 30 weeks. Based on those terms, the cost of capital is equivalent to a loan with an annual interest rate north of 100 percent. The average APR for a business credit card is 16 percent.
King, 80, said he didn't look up the rates that borrowers pay for loans they find through LendVantage. "When you're a spokesman, you have to have some faith," he says. He says businesses have had a tough time getting bank loans since the financial crisis and calls LendVantage a good solution, especially for companies that need cash fast. He declined to say how much he was paid for the LendVantage commercials.
Bank consolidation, the financial crisis, and the ensuing recession made it harder for small-business owners to get credit, as the former CNN host suggests. A new breed of high-cost lenders including OnDeck Capital and Merchant Cash & Capital, to name two listed on the LendVantage site, have rushed to fill the Main Street credit gap. These upstarts don't have the national brands or marketing heft that helps big banks attract customers. Instead, they rely on brokers and middlemen such as LendVantage to find takers for their loans.
Selling leads to small-business lenders can be lucrative. Lenders will pay as much as $200 for an exclusive lead on a small-business owner who's expressed interest in a loan, says Sean Murray, managing partner at Daily Funder, an online forum where lead-generation companies sometimes market their information.
Charles Benard, who started LendVantage with Corey Owens about a year ago, says the service expects to reach $100 million in annual revenue in three to five years. The two employ 35 people and expect to add staff. Benard says his private equity backers at London Bay Capital want LendVantage "to be a substantial part of their portfolio. The directive is to grow this as fast as we can."
Tapping a high-profile spokesman is part of that plan, and King isn't the first TV talk show host to pitch high-cost financial services. MoneyMutual, a website that funnels potential borrowers to payday lenders, has employed Montel Williams as a paid endorser since 2010—a strategy that's helped the company net millions in profit, and attracted attention from state and federal regulators. MoneyMutual's parent company, SellingSource, is facing a lawsuit filed by the Illinois attorney general and investigations by the Consumer Financial Protection Bureau and New York's Department of Financial Services. Brad Norton, general counsel for Selling Source, didn't respond to a voicemail requesting comment.
Benard and Owens have ties to MoneyMutual. Benard says he was a contractor there; Owens was an executive at a marketing company owned by MoneyMutual's parent, Las Vegas-based Selling Source, according to press releases from the company. And the private equity firm that owns Selling Source, San Francisco-based London Bay Capital, is an investor in LendVantage, Benard says. London Bay didn't respond to voice messages and e-mails requesting comment.
Despite the lineage that LendVantage and MoneyMutual share, high-cost small-business financing has some important differences from payday lending. While alternative loans are expensive compared with bank credit, they don't carry terms as severe as payday loan terms. Small-business lender OnDeck, a New York company that packaged some of its loans for a $175 million bond offering earlier this year, offers the best available proxy for the alternative lending industry. The average annual interest rate for loans in that pool was 54 percent, and the average repayment amount was $46,733.
Benard declined to say how much LendVantage charges lenders for leads on potential borrowers. Lenders pay to talk to businesses whether or not they close a deal, and many leads will go cold after a single phone call. Low success rates lead to a persistent need for fresh leads, driving up borrowing costs. "I'm convinced that as public awareness of bank loan alternatives increases, acquisition costs will drop and alternative lenders will be able to charge less," says Daily Funder's Murray in an e-mail.
Benard says the lenders offer "a terrific product," but stresses that LendVantage is merely a middleman. It's not his company's place to decide what rates business owners should pay for loans, he says. "These are business people, they should understand what's right for the business," he says. LendVantage is more concerned with making sure that lenders properly disclose the rates they charge.
King likewise says it's up to business owners to assess whether the costs of loans makes sense. "I don't like usurious interest rates, but if I need the money, and you tell me what the rates are and you're honest about it, I don't have a problem with that."