Dollar Gains as Bonds Fall on U.S. Data; Gold, Oil Tumble
Joseph Ciolli and Claudia Carpenter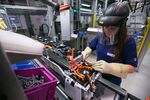 The dollar strengthened to a seven-month high against the yen and Treasuries fell as data showed U.S. manufacturing expanded. Commodities tumbled as oil and gold sank, while energy companies led U.S. stocks lower.
The dollar climbed 0.7 percent to 105.10 yen at 4 p.m. in New York and gained 0.8 percent to $1.6472 per British pound. Yields on 10-year Treasury notes increased seven basis points, the most in more than a month, to 2.42 percent. The Standard & Poor's 500 Index lost less than 0.1 percent after the biggest monthly rally since February, as energy companies tumbled 1.3 percent. Gold slid 1.7 percent and Brent crude slumped to a 16-month low.
U.S. manufacturing expanded in August at the fastest pace in three years as orders grew by the most in a decade, bolstering the case for the Federal Reserve to raise interest rates sooner than anticipated. Gauges of factory output in Europe and China signal slower growth, boosting speculation that policy makers will need to boost stimulus measures. European money markets are pricing in about a 50 percent probability that the European Central Bank will cut interest rates by 10 basis points this week, according to BNP Paribas SA.
"In the U.S. across the board we have had strong data,"said Niels Christensen, chief currency strategist at Nordea Bank AB in Copenhagen. "That will keep growth momentum going. We have had a positive dollar trend for the past two months. I find it difficult to see this trend is going to disappear in the short term."
U.S. Reports
The Institute for Supply Management's index unexpectedly climbed to 59, the highest level since March 2011, from July's 57.1, the Tempe, Arizona-based group reported today. Readings greater than 50 indicate growth. The median forecast in a Bloomberg survey of economists was 57. Reports yesterday signaled manufacturing slowed in China, the U.K. and the euro area.
The S&P 500 jumped 3.8 percent in August, climbing above 2,000 for the first time, amid speculation central bank officials will continue to spur growth even as the economy shows signs of strengthening.
Data last week showed gross domestic product expanded more than previously forecast in the second quarter, propelled by the biggest gain in business investment in more than two years. A Labor Department report on Sept. 5 will show payrolls rose by more than 200,000 in August for a seventh-straight month, a Bloomberg survey of economists showed.
"The 2,000 area is still in play, and we've yet to move past it convincingly," Joe Bell, senior equity analyst at Cincinnati-based Schaeffer's Investment Research Inc., said by phone. "The manufacturing index was better than expected, but after that strong rally we had through much of August, the market is taking a bit of a breather."
50 Percent
The S&P 500 rally isn't over and the gauge could jump 50 percent more by 2020 as the U.S. economic recovery heads for a record winning streak, according to Morgan Stanley.
A slower though sustained period of growth could help the equity benchmark gauge peak near 3,000, according to a report dated today. The world's largest economy, which began recovering in July 2009, may continue growing for five years or more, making it the longest period of expansion, Morgan Stanley said. The S&P 500 closed at a record 2,003.37 last week.
Newfield Exploration Co. slid 2.1 percent as energy producers dropped 1.6 percent as a group today. West Texas Intermediate fell amid speculation that weakening manufacturing from Germany to China will cap global oil demand. Crude dropped 3.2 percent to $92.88 a barrel. Brent retreated 2.4 percent.
Staples Inc. jumped 8.1 percent after Credit Suisse Group AG raised its rating on the stock. Dollar General Corp. rose 0.6 percent after boosting its offer for Family Dollar Stores Inc.
Facebook, Yahoo
While the S&P 500 and Dow Jones Industrial Average dropped, the Nasdaq Composite Index added 0.4 percent, boosted by gains of more than 1.9 percent in Facebook Inc. and Yahoo! Inc.
The Bloomberg Dollar Spot Index, which tracks the U.S. currency against 10 major peers, climbed 0.4 percent to the strongest since January.
"The dollar is just slowly, quietly chipping away at every currency," Greg Anderson, head of global foreign-exchange strategy in New York at Bank of Montreal, said in a phone interview. "This time around, the FX market has said, 'we are right. All the fundamentals are there for a stronger dollar. We're going to buy it.'"
Fed Policy
There's about a 44 percent chance Fed policy makers will raise the benchmark interest-rate target by June 2015, futures data compiled by Bloomberg showed today. A 36 percent likelihood was seen on Aug. 18.
The yen fell to its lowest level against the dollar since Jan. 10 on bets that Japan Prime Minister Shinzo Abe will appoint an ally to head the ministry in charge of reforming the Government Pension Investment Fund, potentially boosting investment overseas.
The pound weakened after a YouGov Plc poll showed growing support for Scottish independence before this month's referendum. One-month implied volatility on sterling versus the dollar jumped by the most in almost six years.
Government Bonds
European government bonds fell as Germany's 10-year yield increased five basis points to 0.93 percent and the U.K.'s rose six basis points to 2.44 percent.
Corporate borrowing costs fell to a record in Europe, with the average yield demanded to hold investment-grade bonds in euros dropping to 1.28 percent, according to Bank of America Merrill Lynch index data. The gauge declined 19 basis points in the past month on stimulus speculation.
U.S. government debt posted the biggest rally in seven months in August amid geopolitical tensions from Ukraine to the Middle East, and speculation that the ECB will expand monetary stimulus to revive inflation.
Bond yields across the euro area have tumbled, enhancing the appeal of payments available from Treasuries, since ECB President Mario Draghi said at the Federal Reserve Bank of Kansas City's annual conference in Jackson Hole, Wyoming, on Aug. 22 that the central bank will use "all the available instruments needed to ensure price stability."
The ECB will hold a policy meeting on Sept. 4. It will embark on purchasing bonds under the quantitative-easing stimulus strategy this year or next, according to 44 percent of respondents in a Bloomberg survey last month.
European Stocks
The Stoxx 600 index of European shares lost less than 0.1 percent after increasing 0.5 percent in the past two days.
Vallourec SA climbed 5.1 percent after UBS AG advised investors to buy shares of the French producer of steel pipes for the oil and gas industry. Weir Group Plc gained 2.5 percent after Credit Suisse Group AG raised its recommendation on the British supplier of pressure pumps to outperform from neutral.
The MSCI Emerging Market Index fell for the first time in three days, losing 0.3 percent. Taiwan's Taiex slid 1.2 percent, the most in a month, and South Korea's Kospi dropped 0.8 percent.
Samsung Electronics Co. led a decline in technology shares, falling 2.6 percent to a two-year low. Shinhan Investment Corp. predicted the company's profit will drop 17 percent in the third quarter from the previous three-month period. Taiwan Semiconductor Manufacturing Co. retreated 2 percent.
China Data
The Shanghai Composite Index gained 1.4 percent, the most in three weeks to the highest close in almost a year. The Hang Seng China Enterprises Index of mainland companies listed in Hong Kong rose less than 0.1 percent. China will report services data tomorrow after an official gauge yesterday showed manufacturing slowed.
The ruble weakened 0.3 percent to 37.45 per dollar after falling to a record 37.51 yesterday.
Ukraine warned of an escalating conflict in its easternmost regions, with U.S. President Barack Obama set to arrive today in eastern Europe. Ukraine's army will take on Russia's "full-scale invasion," Defense Minister Valeriy Geletey said on Facebook, a shift away from the government's earlier communication that focused on battling insurgents.
The Bloomberg Commodity Index slid 1 percent, the most since July 7.
Gold dropped for a third day to $1,265 an ounce as the stronger dollar curbed demand for a protection of wealth. Silver slipped 1.7 percent, and palladium slid 2.9 percent, the most since June, after reaching a 13-year high yesterday.
Natural gas futures dropped 4.3 percent, retreating from a six-week high, as forecasts for cooler U.S. weather signaled reduced demand from power plants.
Before it's here, it's on the Bloomberg Terminal.
LEARN MORE