Professional baseball is an insular business, so when Jeff Luhnow showed up for his first day of work as the St. Louis Cardinals' vice president for baseball development, he already had two strikes against him: He was a former management consultant at McKinsey, brought in to shake up the organization. And the sum total of his baseball experience was the McKinsey fantasy league and a business school paper he'd written on how the Chicago Cubs could win the World Series.
It was the fall of 2003. Michael Lewis's book Moneyball, about the statistics-driven approach of Billy Beane's Oakland A's, sat atop the bestseller list. It caused a number of owners to rethink their own approach, which provided Luhnow entry into a game that otherwise wouldn't have had a place for him. "I wanted to make sure we were cutting-edge on all fronts and thought having someone from the outside would give us a fresh look," says Bill DeWitt Jr., the Cardinals' owner.
Depending on whom you asked, this was either an odd or an inspired idea, since the Cardinals had made the playoffs three years running and didn't appear to need help. But DeWitt worried the team wasn't built to last. The farm system was weak, and because his club was a midmarket franchise, he couldn't afford to replenish it with pricey free agents. So DeWitt asked his son-in-law, a McKinsey vet, if he knew any consultants with a passion for baseball. He replied, "I've got the perfect guy for you"—Luhnow.
DeWitt wanted Luhnow to design a better system for evaluating players. Luhnow hired a NASA engineer to help him make sense of all the new data that were becoming available for assessing ballplayers. "We talked a lot about how we could gain a competitive edge," DeWitt says. But the people running the Cardinals' old system resented the bespectacled interloper with his MBA and ideas about how they could do their jobs better. Behind his back, they referred to Luhnow as "Harry Potter" and "the accountant."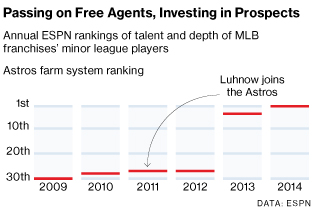 To a management consultant, this is familiar territory. "When you arrive, you're always met with a lot of skepticism from people inside the organization," says Michael Farello, a friend from Luhnow's consulting days. Once, during a client engagement (as McKinsey calls them), Luhnow's boss had his tires slashed. "McKinsey trains you how to build bridges to garner support," says Farello. On draft day, Luhnow tried to lighten the mood by showing up with the magic wand from his son's Harry Potter Halloween costume.
Although he never quite won over his critics, Luhnow impressed DeWitt. The owner eventually made him head of the Cardinals' scouting department—a real baseball job—which caused a rift in the organization that prompted the departure of the general manager, Walt Jocketty. "Putting Jeff in that role was more than a little atypical and therefore controversial," says DeWitt, "but I thought the work he'd done and his insights would lead to success in that role."
Sure enough, Luhnow proved a wizard at the draft. During the seven years he ran amateur scouting, no team had more draft picks make it to the big leagues than the Cardinals. Last October, when St. Louis faced off against the Boston Red Sox in the World Series, 16 of the 25 players on the Cardinals' roster had been drafted during his tenure. By then, Luhnow was long gone.
 
 
When Jim Crane bought the Houston Astros in 2011, he tapped Luhnow to become general manager and revitalize a woeful franchise—the Astros had just finished the season with 56 wins and 106 losses, their worst record ever. A good ol' boy with an industrial safety degree from Central Missouri State University, Crane had twice been an All-American pitcher. He went on to make a fortune in the logistics business, which had taught him the value of superior data. "If you have better information, faster than your competitors, you can run 'em ragged," he says.
Crane had one overriding goal for the Astros, and that was to turn them into the St. Louis Cardinals. And he wanted to do it as quickly as possible. Luhnow's pitch was what you might get if you put McKinsey in charge of a major league team: He wanted to go even further than the Cardinals or A's in using data to guide the team's decisions. So long as it yielded a winner, Crane was willing to go along. "If it takes more money, more computers, more horsepower, I'm ready to do it," he says. Together, he and Luhnow have embarked on a project unlike anything baseball has seen before. Luhnow has done to the Houston Astros what Mitt Romney used to do to steel companies while at Bain Capital: stripped them down with ruthless efficiency to build them back up again, stronger and better than before.
Crane agreed that the Astros would go where the numbers told them to go. The numbers told them to lose. The Astros were so bad that, financially speaking, it didn't make sense to spend millions of dollars fielding a team whose best hope was mediocrity. If Crane could withstand the criticism that comes with losing for a couple of seasons, Luhnow told him, then that money could be allotted to the farm system, the analytics staff, and the new baseball academies in the Dominican Republic that Luhnow's staff had determined were an especially cost-efficient source of talent. Crane bought into this vision knowing it wouldn't be pretty. "You get beat up on ESPN," he says. "Everyone's an expert who will give you their opinion. But I can take the heat."
In 2013 the Astros began the season with the lowest payroll in the league, $27 million. But Luhnow didn't stop there. He traded away much of the Astros' major league roster for prospects, making a bad team even worse (the Astros ended the 2013 season with an active payroll of just $13 million). Someday, if their talents ripen, these youngsters may form the nucleus of a winning franchise. In the meantime, Luhnow's plan all but assured a terrible team—which the Astros have been. While other clubs were trying to reach the World Series, Houston seemed to be galloping in the other direction, toward the worst record in the league and the top draft pick that distinction confers. "The perception in the industry is that they tanked," says Buster Olney, ESPN's national baseball columnist and a critic of the Astros' approach. "When you run out a team with a $27 million payroll, you're essentially designing your team to fail. There's no chance you avoid colossal, record-setting losses, which is exactly what they got." From 2011 to 2013, Houston was worse than any team since the 1962-64 New York Mets.
Most teams couldn't even contemplate the Astros' experiment. "In places like Boston or New York, you could never do what the Astros are doing because the fans wouldn't accept it," says Ben Cherington, general manager of the Boston Red Sox. Other owners might consider it unsportsmanlike or worry about becoming pariahs. In May, the Houston Chronicle's beat reporter, Evan Drellich, wrote a much-discussed article about exactly this phenomenon ("Radical Methods Paint Astros as 'Outcast' ") in which Bud Norris, a veteran pitcher Luhnow had flipped for prospects, was quoted as saying, "They are definitely the outcast of Major League Baseball right now, and it's kind of frustrating for everyone else to have to watch it." The Astros' front office takes exception to this, likening the criticism of Luhnow to that directed at any disruptive force. "He's an agent of change in an industry that, to be quite frank, didn't want him," says Sig Mejdal, the ex-NASA engineer brought over from St. Louis who is the Astros' director for decision sciences.

The hostility Luhnow's faced isn't surprising. Being baseball's Mitt Romney has exposed the raw economic calculus of winning, shattering the romance and mystery that's supposed to lie at the heart of the game. If Luhnow succeeds, other teams are sure to follow him—as Beane and the Oakland A's can attest. "I joke with Billy," says Olney, "that this is the spawn of Moneyball. It's the most pure, numbers-driven experiment baseball has ever seen."
 
 
One of the first things you notice when visiting the Astros' front office is how much it resembles a consulting firm—full of bright, eager, impressively credentialed Ivy Leaguers, confidently at ease. The tension between old ways and new that divided the Cardinals is not evident. Luhnow has surrounded himself with a flock of adherents, including engineers, consultants, data scientists, and a physicist—people who, like Luhnow, wouldn't have had a place in baseball until recently. "These sorts of skills were not valued 10 or 15 years ago—or really valuable—because the data that you can use today to help you make decisions wasn't available," he says. Many of them occupy a room, dubbed the Nerd Cave, that's lined with whiteboards covered with algebraic formulas. Last summer, when Luhnow hired a Barclays economist whose last job was valuing credit-default obligations, the team had to christen Nerd Cave Two. In Houston's front office, the motto is "In God we trust—all others must bring data." Calling someone Harry Potter would register as a compliment.
All this expertise is geared toward trying to master new data sources that have suddenly become available. Major league stadiums are wired with systems such as Pitch f/x and TrackMan that use Doppler radar to track the ball in three dimensions. "For every single pitch thrown in every game," says Mejdal, "we now know the location, acceleration, movement, velocity, and the axis of rotation of the ball. If you believe, as we do, that this data has predictive ability, then you're in an arms race to learn it and take advantage of it."
One person who clearly believes this is Mr. Moneyball himself, Beane. In the Wall Street Journal recently, he wrote an essay heralding the approach of "technology-based roster-building and algorithm-driven decision-making" as Big Data courses through baseball. MLB teams, he suggested, like certain hedge funds, will soon differentiate themselves according to how well they are able to exploit this information. (Adding credence to that analogy, the Economist reported in June that an unnamed major league team had purchased a Cray supercomputer of the sort hedge funds use to run market simulations.)
Luhnow's appreciation of the predictive power of data grew out of his experience selling designer jeans. In the early 2000s, with a former president of Levi Strauss, he co-founded an online custom apparel company that made jeans for Lands' End shoppers. "You're taking self-reported inputs from a human being," he says, "and then trying to figure out exactly what pair of pants to make them. Are they being honest with themselves? Is there vanity sizing involved? How do they perceive themselves relative to how they actually are?"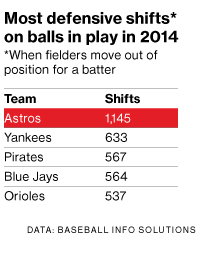 These were critical questions because if wishful thinking led customers to order jeans that didn't fit, they would send them back. Over time the company amassed enough data to anticipate and correct for these tendencies. "We used neural nets and other artificial-intelligence technology to develop algorithms to predict these patterns," says Luhnow, who still holds two U.S. patents for custom-fitted apparel. "When I got to the Cardinals, I thought, this is probably something that can be applied over here."
He found a kindred spirit in Mejdal, whose NASA research had uncovered similar examples of the limits of human intuition in predicting performance. For example, Mejdal showed that a drunken astronaut was a better pilot than a sober one flying four hours after his normal bedtime. After reading Moneyball, he sent unsolicited reports to each major league team outlining how they could improve their draft. Years later, when the Cardinals' drafts were the envy of the league, other teams tried to emulate their strategy. "If they'd just hung on to their junk mail," Mejdal says, "it would have been right there."
Over the last three years, the Astros have examined conventional baseball wisdom to see what holds up to statistical rigor and what doesn't. "We'll have brainstorming lunches and just ask, why do teams throw good money after bad?" Mejdal says. "Why aren't the minor leagues a meritocracy? Why does the first-round pick get treated differently than the 40th-round pick if, at some point, the 40th-round pick looks like a better prospect?"
This exercise, backed by the Nerd Cave's regression analysis, has persuaded the team to do things on the diamond that look strange to the casual fan. The Astros lead the league in defensive shifts, the practice of moving the shortstop to the right side of second base against left-handed pull hitters, which looks odd but lowers the batting average on ground balls by about 30 points by forcing the hitter to face three defenders (shortstop, second baseman, first baseman) instead of the usual two on the right side of the infield.
To uncover starting pitching talent, baseball's costliest commodity, the Astros' minor league teams instituted a tandem rotation. In a traditional five-man rotation, a starter goes as deep into the game as he can. In a tandem system, every game features two "starters" who throw four or five innings in succession. This increases the number of pitchers given an opportunity to prove they can start and reduces the chance that human subjectivity will cause the team to miss hidden talent. (It's also thought to prevent injury.) Luhnow cites a soft-tossing lefty named Tommy Shirley as a diamond this system unearthed. "He would have been pegged as a lefty specialist [relief pitcher]," he says. Instead, Shirley emerged as an All-Star starter in Double-A and was promoted to the club's Triple-A team in July.
Beyond any specific strategy, Luhnow boasts that the data-driven process the Astros have devised is their true achievement. He offers the hypothetical example of a college draft prospect. "Let's say he's played two summers in a wood-bat league," he says. "He's got hundreds of Division I at-bats with a composite bat but against a wide variety of competition. You've got scouts' input on his potential. Your video analyst says his swing is in the top quartile of swings he's seen that lead to success in the major leagues. Your area scout says his character is in the top 10 percent of players. But he's a C-minus student. Not academic, doesn't learn well. Your doctor says he's got a slightly above-average risk of sustaining an injury. I've just given you nine pieces of information. How do you weight them? I can't do that in my mind. It's overload for any human being. But we have a thousand players on the draft board we're trying to rank in order."
Luhnow wanders over to his computer to show off what the Astros' process has yielded: a program called Ground Control that takes all these variables and weights them according to the values determined by the team's statisticians, physicist, doctors, scouts, and coaches. It's the repository of the organization's collective baseball knowledge—the Astros' brain. "Let me show you," he says. He scrolls through screen after screen listing every player in the organization. Along with statistics and notes, Ground Control displays the team's projected performance for each player alongside the real thing.
Some players have green tabs next to their names. This is a signal, generated by an algorithm, that the player is ready to be promoted. It's also evidence that the algorithm-driven decision-making Beane predicted has already arrived. (A gray tab indicates that a player should be demoted, black that he should be cut.) "I look at this all the time," says Luhnow. He clicks on José Veras, a reliever in Triple-A. Veras has a green tab. "The tool says his skill percentile is 97. He's produced so far at 75 percent, so he's producing in the top quarter of the league. His pressure to promote is extreme." The next day, Veras is called up to the majors.
In late June, Luhnow and his brain trust gathered in the general manager's box at Minute Maid Park in Houston to watch a 27-year-old pitcher whom they consider an indicator of what their process can yield. Collin McHugh was plucked from the scrap heap last December after bouncing between the Colorado Rockies and their Triple-A affiliate. The Rockies had been intrigued by McHugh's sinker, which the team thought would play well in hitter-friendly Coors Field. It didn't. When they waived him, McHugh's career earned run average was 8.94.
The Astros' analysts noticed that McHugh had a world-class curveball. Most curves spin at about 1,500 times per minute; McHugh's spins 2,000 times. The more spin, the more the ball moves during the pitch—and the more likely batters are to miss it. Houston snapped him up. "We identified him as someone whose surface statistics might not indicate his true value," says David Stearns, the team's 29-year-old assistant general manager.
After consulting with the analytics staff, pitching coach Brent Strom altered McHugh's repertoire. Gone was the sinker. In its place, McHugh began throwing more four-seam fastballs. And he started throwing them high in the strike zone. This defied the standard wisdom that pitching up is dangerous, since good hitters can crush fastballs. "Everybody says, 'Keep the ball down, keep the ball down,' " says Strom. Major league teams have long favored ground-ball pitchers, since grounders tend not to result in doubles, triples, or home runs.
But here again, advanced data yielded a useful insight: Major league hitters had become so adept at hitting low pitches that they were vulnerable to high ones. Beane had discovered a particularly clever countermove. "Beane stayed ahead of the curve," says Strom, "by finding hitters with a steep upward swing path to counter the sinking action of pitchers trying to induce ground balls." It worked: The A's hit the fewest ground balls and into the fewest double plays in the league. So the Astros began teaching their pitchers how to adapt. "To counteract the upward swing," says Strom, "you elevate the ball—the hitter can't get on top of it."
In his first start of the season, McHugh struck out 12 batters and walked none, beating the Seattle Mariners. "He was open to [instruction]," says Stearns, "and it's led to a significant amount of success." McHugh won a spot in the Astros' starting rotation and has gone on to lead the team in strikeouts and deliver a sterling 3.03 ERA.
 
 
For beleaguered Astros fans, this was supposed to be the year things started to turn around. And, like McHugh's first start, there were good omens. ESPN ranked Houston's farm system the best in baseball, promising a steady stream of talent. Payroll crept up to $44 million, still the American League's lowest but much higher than before. The Astros made a surprise run at Japanese mega-free agent Masahiro Tanaka. He signed with the New York Yankees for $155 million, but Houston's bid showed that it might finally be ready to open its wallet. Once the season was under way, the team called up two of its heralded young sluggers, George Springer and Jonathan Singleton, to inject power and excitement into a moribund lineup. And for the third year in a row the Astros held claim to the top pick in July's amateur draft—a first in major league history. Given Luhnow's reputation for draft wizardry, this seemed a bit like giving Mike Trout a fourth strike.
After a rough April, something clicked. The Astros put together a seven-game winning streak and played .500 ball in May and June, encouraging for a team that had gone 162-324 (.333) the previous three seasons. Attendance rose. Springer emerged as a Rookie of the Year candidate. In June, Sports Illustrated put him on the cover, cheekily anointing the Astros the "2017 World Series Champs."
And then, suddenly, things went south. On June 30, Deadspin published 10 months' worth of internal Astros trade discussions leaked (or hacked) from Ground Control. Luhnow had to call around the league to apologize. The draft began to seem less like a salvation than a problem. Houston's top choice in 2012, shortstop Carlos Correa, broke his ankle. Last year's top pick, Stanford University pitcher Mark Appel, fell apart, compiling a 2-5 record and 9.74 ERA in Single-A ball.
Also in late June, this year's top pick, a high school flamethrower named Brady Aiken, arrived in Houston with his family expecting to sign a $6.5 million contract and step into the spotlight as the Astros' latest prized acquisition. Nothing happened. A few days later, Aiken quietly left town. As the July 18 signing deadline approached, the Chronicle's Drellich reported that a post-draft physical had shown Aiken to have an unusually small ulnar collateral ligament in his elbow. Technically, he was healthy. But the Astros, citing a heightened risk of injury, cut their bid to $3.1 million, the least they could offer and still retain their right to a compensatory pick in next year's draft if Aiken didn't sign. Aiken's agent, Casey Close, took the rare step of publicly excoriating the team, telling Fox Sports: "We are extremely disappointed that Major League Baseball is allowing the Astros to conduct business in this manner with a complete disregard for the rules governing the drafts." On deadline day, Luhnow made a series of escalating bids that Aiken rejected, becoming the first top pick in 30 years not to sign.

Although this was a huge black eye, Luhnow defiantly insists that losing Aiken won't hurt the team. "Not every move is going to be popular, but we did what we thought was in the best interests of the Astros," he says. "The reality is, we'll get the second pick next year and more money to spend [under baseball's slotting system], so there's a very strong possibility that whoever we take gets to the big leagues faster than Brady would have. So it's hard to say it's any sort of setback at all."
The suspicion around baseball, fanned by Close, is that Luhnow cut his offer not because he worried about Aiken's elbow but because he saw an opportunity to increase his draft haul. The Astros' final bid of $5 million left them just enough money under the league's collective bargaining agreement to sign two additional pitchers, Jacob Nix and Mac Marshall—but only if Aiken accepted. In the end, Luhnow missed out on all three, coming away with nothing but a storm of bad publicity and a grievance filed by the players' association for failing to honor the Astros' offer to Nix. While he insists the team operated in good faith, using coldly rational cutthroat tactics has become the Astros' hallmark.
The attacks on Luhnow and the Astros highlight a big difference between his old job and his new one: Turnarounds at McKinsey didn't play out on as public a stage as baseball's. "One of the reasons people get into this job is that we're intensely competitive," says Stearns, the assistant general manager. "We enjoy the notion that our report card is in the paper every single morning, that success and failure is so easily defined by wins and losses. Where we are right now in our organizational cycle, that report card isn't as flattering as we would like." Nevertheless, Luhnow insists the Astros' project remains on track. "I learned at McKinsey how to have a thick skin," he says, "and that's carried over into baseball." The Astros, he notes, have already surpassed last season's win total.
But there are signs the clock is ticking. Earlier this year, Crane brought in Nolan Ryan, the epitome of old-school baseball toughness, as a special assistant. At the trade deadline, the Astros halted their annual fire sale and kept their best players. And in July, Appel and his 9.74 ERA were promoted to Double-A, leapfrogging more accomplished prospects and squelching the Astros' conceit that the minor leagues should be a meritocracy. Several Astros expressed their displeasure to the Chronicle and let it be known that they felt like lab mice in Luhnow's grand experiment.
They're right, of course.
Back when he was a consultant, Luhnow worked on several long-term projects. "People were always skeptical around change—especially when that change wasn't producing results right away," says David Becker, a friend from those days who has kept up the fantasy league. In the end, the McKinsey folks would pack up and return home to Chicago, leaving someone else to carry out their designs. In Houston, fans will have to wait a little longer to find out if baseball's most controversial general manager can also become its most successful. The plan is in place. And this time, Luhnow and his team aren't going to get on a plane and fly home.
Before it's here, it's on the Bloomberg Terminal.
LEARN MORE