pursuits
Meet 'CiCi' Bellis, Silicon Valley's Tennis Startup
By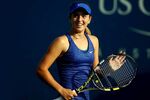 Silicon Valley is hardly wanting for prodigies, but until Tuesday it hadn't produced one on the tennis court. Enter Catherine "CiCi" Bellis, who beat 12-seeded Dominika Cibulkova at the U.S. Open. The win was remarkable because Bellis is only 15 years old and was playing in her first Grand Slam match. The most recent 15-year-old to pull off such a feat was Anna Kournikova—back in 1996, three years before Bellis was born.
In some respects, Bellis's success shouldn't be all that surprising. Where the Williams sisters defied the odds by rising up from the mean streets of Compton, Calif., to become superstars, Bellis comes from a privileged background far more conducive to tennis development. She grew up in Atherton, Calif.— the elite among elite suburbs in Silicon Valley. Gordon Bellis, the youngster's dad, made enough as an investment manager to supply his daughter with a backyard tennis court while wife Lori home-schooled CiCi.
Even by tennis's hoity-toity standards, these were luxe surroundings. The only comparable situation would be the case of Ernests Gulbis, the mercurial Latvian player on the men's tour and son of Ainārs Gulbis, a super-rich investment banker.
If you caught any of Bellis's match play, you saw a player with a level of grit that belies her cushy upbringing. In the third set, Bellis showed moxie by going for big shot after big shot and making the majority of them. By rights, she should have wilted, and the far more-experienced Cibulkova should have taken control. Bellis never eased up long enough for that to happen. Her shots were as deep and penetrating as anyone's on the women's tour.
Decades ago, the women's game welcomed teen sensations with such regularity that the sport had to put rules in place to limit how many matches the girls could play in a year. More recently, though, the physical demands of the sport have made it harder for 15-, 16-, and 17-year-olds to become major forces. In 2009, Melanie Oudin made it to the quarterfinals of the U.S. Open as a 17-year-old and became an instant star. Her subsequent play was lacking, and she's no longer ranked in the top 100. Kournikova, of course, flamed out in spectacular fashion, too.
Bellis plays No. 48, Zarina Diyas of Kazakhstan, in the second round. Given the track record of other out-of-nowhere Valley startups, it would be unwise to bet against her.
Before it's here, it's on the Bloomberg Terminal.
LEARN MORE