Jammed Beijing Clamping Down Fails to Stem Migration
Bloomberg News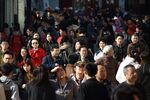 What would Beijing be like with more than twice as many people?
It's a dystopian scenario tormenting Mayor Wang Anshun and local Communist Party chief Guo Jinlong as they plow ahead with a mission impossible: turning people away.
Growing pains in the Chinese capital of 21.1 million are on full display -- from the clogged roads around Tiananmen Square to the brown haze choking its residents. Beijing was the second most-inhospitable international city behind Moscow out of 40 studied by the Shanghai Academy of Social Sciences, according to a report released in February.
Trouble is, the metropolis remains a magnet. The population -- 2.5 times New York's -- surged 53 percent from 2000 to December 2013, the equivalent of adding all the residents of Los Angeles, Chicago and Detroit. Where it took the largest U.S. city more than a century to double to its current size, Beijing did it in within 25 years.
"If you look at large cities around the world, no city has a policy of saying 'OK we have a size cap,'" says Wang Feng, a professor of sociology at the University of California, Irvine, and a senior fellow at the Brookings Institution in Washington. Authorities should be thinking of Beijing as a city of 30 million -- still less than metropolitan Tokyo's 37 million -- or even 50 million people, he said.
Instead, Mayor Wang, 56, who was acting mayor from July 2012 and officially took the role in January 2013, has banned the sub-division of apartments, restricting the supply of low-cost housing. Authorities are maintaining limits on services to those without a municipal residency permit and forcing markets, hospitals and agencies out of the city center.
Squeezed Out
Among those being squeezed out is 37-year-old He Hongjun, a native of Hefei in central Anhui province who runs a women's trouser shop at the Dahongmen wholesale-clothing market, which is earmarked for closing.
"My kid can't go to school here, I can't drive and although I've got the money, I can't buy a flat," said He, who has lived in Beijing for eight years and sends his son to a school back in his home province. "They really discriminate against outsiders."
Beijing broke through its own 2020 population target of 18 million in 2010, just six years after setting it. Superior schools, universities, hospitals and job opportunities continue to lure people from under-serviced provinces.
Flooding In
"Beijing is a victim of its own success," said Lu Jiehua, a professor specializing in demography at Peking University and a delegate to the city legislature. "As the capital, it's directly controlled by the central government so it has a very strong capacity to direct and channel resources into economic investment, hospitals, schools and so on. It's developed very well, so that's why workers have flooded in."
The media office of Beijing's city government responded to phone calls by requesting a fax, which wasn't answered.
To take pressure off Beijing, national authorities have dusted off a long-delayed plan to create a regional super-hub linking the capital with the port city of Tianjin and surrounding province of Hebei. Few specifics have been announced, including how the plan would navigate the regional bureaucracies.
The newest drive to control population growth echoes Mao-era central planning rather than the market model articulated by President Xi Jinping and pursued by authorities in Shanghai, which has seen its population jump 44 percent to 24.2 million since the start of the century.
Shanghai Strategy
While Beijing Mayor Wang's 2014 annual report to the local legislature played up population control, Shanghai Mayor Yang Xiong's report makes just a passing reference to it and focuses more on improving services and boosting efficiency.
Shanghai "has a more pragmatic mentality, which is basically to drive whatever policy comes its way to making it a more important, successful city," said Kerry Brown, director of the China Studies Centre at Australia's University of Sydney. Beijing "is stifled by the heavy presence of central governance and this makes it far less willing to take risks and experiment," said Brown, author of "Shanghai 2020," a book commissioned by the city government to outline a vision for the metropolis's future.
Shanghai last year introduced a system allowing non-locals to accumulate points based on education or professional qualifications to access public services, an initiative designed to attract educated migrants. Beijing has no such measure.
Approach Questioned
Poor planning is a more likely explanation for Beijing's struggles than the weight of its population, according to critics such as the University of California's Wang. Tokyo's density is greater yet it's renowned for its efficiency; southern California has less rainfall without the same water scarcity, said Wang, who wrote a 2013 paper on the city for Brookings' Global Cities Initiative.
The government should use market mechanisms to influence the population and allocate the city's scarce resources more efficiently, said Tao Ran, director of the China Center for Public Economics and Governance at Renmin University in Beijing. He says farmers on the outskirts should be allowed to build housing on their own land, boosting supply, and the government-set price of water should rise to reduce usage and waste.
While Beijing's streets are gridlocked even with limits on cars, Shanghai's system of auctioning license plates, as opposed to Beijing's rationing through a free lottery, has worked better and could also raise money to subsidize public transport, he said. The subway system charges users a flat-fare of 2 yuan (33 U.S cents) regardless of distance traveled; in Shanghai a ticket can cost as much as 15 yuan.
"Beijing's problems are due to poor administration and management," said Tao. "If the government lets people take the initiative and follows market rules, problems will be solved."
— With assistance by Nerys Avery, and Xiaoqing Pi
Before it's here, it's on the Bloomberg Terminal.
LEARN MORE