China's State-Owned Businesses Will Cut Salaries
By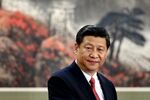 Chinese President Xi Jinping's anti-corruption campaign hasn't been kind to the employees of China's many state enterprises. The senior executives of top public firms including PetroChina and China Resources Group have been publicly investigated for corruption, in a warning that graft must be curtailed. Xi has banned lavish company banquets and even ordered staff to stop giving the traditional gift of moon cakes at next month's annual Mid-Autumn Festival.
Now the latest edition of Caijing magazine reports that employees at government-owned firms could see their salaries slashed dramatically. The financial journal article says that a ceiling of 600,000 yuan ($100,000) will be set on top salaries, citing people knowledgeable about a draft plan by China's labor and finance ministries. The report notes that in 2011 average salaries for top executives at state firms were 720,000 yuan, while those working at China's big four state-owned banks earned more than 1 million yuan.
The Caijing report follows Xi's much-publicized call to curb salaries at government-run companies, made at a meeting in Beijing on Aug. 18. "Unreasonably high incomes at state-owned enterprises" will be adjusted to ensure they are "appropriate" and "reasonable," Xi said, while presiding over a meeting of the Central Leading Group for Comprehensively Deepening Reforms, the agency charged with overall reform that he heads, the official Xinhua News Agency reported on Aug. 19.
The latest move is sure to be popular among many Chinese, who are angry about growing income inequality in China. SOE managers are a particular flash point, not just for their high salaries but also for their "invisible income," the perks that include subsidized transportation as well as the all-important urban hukou, or residency permit, that state-owned companies can provide.
China's state enterprises continue to be the most popular spot for young graduates to land a job, a trend that's been true at least since the global financial crisis. A survey released in late July by human resources company ChinaHR.com found that state-owned companies were the top pick for college students and recent grads seeking employment.
Out of almost 50,000 respondents to an online questionnaire, 36 percent "hoped to work for SOEs [more] than any other type of employer—such as private or multinational enterprises and the government—because they were thought to be more stable and offer a clear career path," reported the English-language China Daily on July 28.
By contrast, about 30 percent chose multinationals, a prized target for Chinese youth as recently as a decade ago. In a 2004 survey selecting China's 50 best companies, foreign-invested firms made up some 70 percent of the total, ChinaHR.com found.
Before it's here, it's on the Bloomberg Terminal.
LEARN MORE