Forget Capital Goods Setback, Watch the Revision
Michelle Jamrisko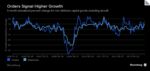 An unexpected drop in July orders for business equipment was a lone blemish in today's U.S. durable goods report. A hearty upward revision to June, coupled with traction in sales of those goods, made it easy to overlook.
Orders for non-military capital goods excluding aircraft fell 0.5 percent in July, according to the Commerce Department. The median projection in a Bloomberg survey of economists called for a 0.2 percent rise.
The decline, though, followed a revision to June that was the biggest upward adjustment since January 2011. Orders for capital goods in the last six months rose at a 14.9 percent annualized pace, the strongest since June 2013. And shipments were similarly robust -- climbing at a 10.8 percent rate over the same period, the best performance since the end of 2011.
"The massive upward revision to June suggests that the pipeline headed into the second half looked pretty good" for capital goods, said Jacob Oubina, senior U.S. economist at RBC Capital Markets LLC in New York, who correctly projected the drop in July business-equipment orders. "It's all consistent with this story that the second half of the year is going to be much better for capex than the first half was."
Orders for all durable goods, designed to last at least three years, vaulted a record 22.6 percent in July, driven by a surge in bookings for Boeing Co. aircraft. What's more, the Commerce Department revised up the June figure to a 2.7 percent increase from a previously reported 0.7 percent gain.
Motor Vehicles
Last month's orders also benefited from the biggest pickup in bookings for motor vehicles and parts in almost five years, raising prospects for capital goods deliveries heading into 2015.
A gauge of unfilled orders for non-defense capital goods excluding aircraft also portends the flurry of activity on factory floors will continue. The two-month gain was the biggest since October 2011 and the second-strongest since April 2007.
Before it's here, it's on the Bloomberg Terminal.
LEARN MORE