Norway Open to Rosneft Expansion as Offshore Spending Slides
Mikael Holter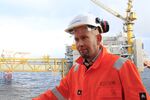 Norway is open to OAO Rosneft deepening its involvement in the Nordic country as western Europe's largest oil and natural gas producer seeks to counter a slowdown in investments and output.
The expansion of Russia's largest oil producer in Norway comes as the country followed the U.S. and the European Union in imposing sanctions over Russia's support of separatists in eastern Ukraine. Restrictions include a ban on technology transfer for deepwater, Arctic and shale oil exploration and production, while U.S. sanctions limit Rosneft's access to financial markets.
"The restrictive measures are directed toward export of goods for use in Russia, and will not be relevant for foreign companies' participation in petroleum activities or licensing rounds" offshore Norway, Oil and Energy Minister Tord Lien said yesterday in an interview in Stavanger, Norway.
Norway is seeking to maintain production as more than 40 years of pumping oil and gas is starting to deplete deposits. The industry is already struggling with costs and stagnant oil prices. Companies including Statoil ASA and Royal Dutch Shell Plc have postponed projects and cut planned investments.
Rosneft in partnership with Statoil is currently drilling its first well offshore Norway, in the Arctic Barents Sea. Statoil is the operator with a 40 percent stake, while Rosneft has 20 percent through its RN Nordic Oil AS unit.
Rosneft Letter
The state-controlled Russian explorer plans to participate in Norway's next licensing round, which will mostly offer blocks in the Barents Sea, it said in a June 5 letter to Norway's Petroleum and Energy Ministry obtained by Bloomberg through a freedom-of-information request.
Statoil's Chief Executive Officer Helge Lund declined to comment on whether his company could partner with Rosneft again in applying for licenses. The company hasn't started the work for the 23rd round yet, he said in an interview today.
The application deadline is scheduled for the second half of 2015 and the awards for the first half of 2016, ministry spokesman Haakon Smith-Isaksen said in an e-mail. The awards, previously planned for next year, have been delayed to allow for seismic surveys, he said.
Statoil, 67 percent government owned, has also signed deals with Rosneft to explore blocks in Russia's Barents Sea and the Sea of Okhotsk, as well as pilot projects for heavy oil in Siberia and shale oil in the Samara region.
Norway Licensing
Statoil CEO Lund said in an interview yesterday that sanctions will affect parts of the cooperation agreement.
"It will clearly, in some areas, lead to a delay," Statoil Chief Executive Officer Helge Lund said at the ONS conference in Stavanger. "It's primarily shale operations and deep water and the Arctic. Some activities will go forward, some will be impacted by this."
In Norway, Rosneft has a stake in one offshore block, which it got through a licensing round last year.
The economic expansion in Scandinavia's richest economy is slowing as offshore investments abate. Oil companies predict investments will drop by as much as 21 percent next year as they grapple with high costs, a survey by Norway's statistics agency showed in June. Norway relies on the oil industry for about 22 percent of its economic output and has built an $880 billion wealth fund from its offshore revenue.
"The restrictive measures apply to activity in Russia," Lien said. "On the Norwegian shelf, we have a set of rules that we expect everyone to follow. That goes for Rosneft and all others."
Before it's here, it's on the Bloomberg Terminal.
LEARN MORE