Little Caesars' Pretzel Pizza Is Unusual on Two Levels
By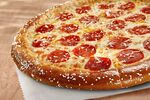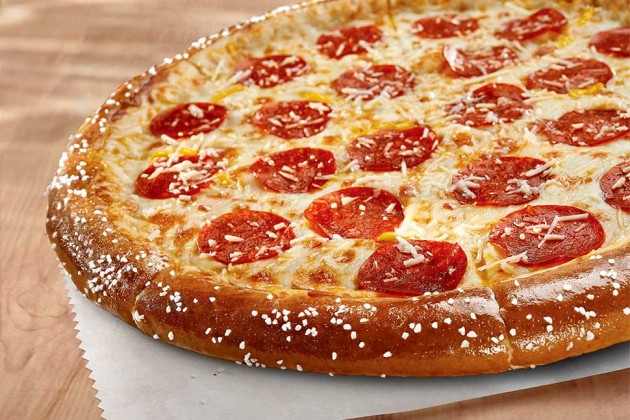 Menu minimalist Little Caesars mostly trades in three things: $5 cheese or pepperoni pizzas, breadsticks, and soda. Unlike its fast-food peers, it doesn't do much in limited time offers or menu innovation. But on Sept. 1, the chain will break from convention and introduce a pretzel-crust pepperoni pizza, its first limited-time pizza launch in a decade.
Pretzels have been popular on fast-food menus recently—from Wendy's pretzel bacon cheeseburger to Sonic's pretzel dogs. Little Caesars first tested a pretzel crust in 2012 and again earlier this year. The test version had mustard drizzled on the crust—you know, because pretzels love mustard—but the chain found consumers didn't quite love it on their pizza.
Little Caesars eventually settled on a pretzel pizza with a cheddar cheese sauce in lieu of red sauce, a total of seven kinds of cheese, and salt sprinkled along the edges. It will be available for $6 at the company's 3,900 restaurants from Sept. 1 to Oct. 26 as a grab-and-go pizza (what the chain calls a Hot-N-Ready) from 4 p.m. to 8 p.m., although customers can order it any time of day during those weeks.
Edward Gleich, senior vice president of global marketing, says, "There are more things in the pipeline." While Little Caesars is committed to keeping operations simple and will not shift to a frequent limited-time offer strategy, "What we're hearing from customers is a little change will not hurt." In 2013, the chain added a deep-dish pizza to its core menu.
Restaurant researcher Technomic estimates that Little Caesars is the country's third-largest pizza chain, with more than $3 billion in U.S. sales in 2013, behind Pizza Hut ($5.7 billion) and Domino's ($3.8 billion).
Before it's here, it's on the Bloomberg Terminal.
LEARN MORE