Why 8 Out of 9 Californians Don't Buy Earthquake Insurance
Alyssa Abkowitz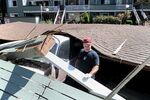 Early estimates suggest the economic losses from Sunday's 6.0-magnitude earthquake in Northern California, the largest quake to hit the Golden State in 25 years, could hit $1 billion. When it comes to rebuilding, much of the cost will come out of people's own pockets.
The percentage of homeowners with earthquake insurance in California and across the U.S. has declined, despite rising estimates of the risk of an earthquake. A survey by the Insurance Information Institute, a nonprofit that's funded by the insurance industry, found that 7 percent of U.S. homeowners have earthquake insurance, down from 13 percent just two years ago. In the West, ground zero for U.S. quakes, 10 percent of homeowners have coverage, down from 22 percent a year ago; in California, about 12 percent do, according to the California Earthquake Authority.
But as fewer people opt for earthquake insurance, the government is upping its assessment of the risk of a sizable shake. Last month, the U.S. Geological Survey updated its seismic hazard maps for the first time since 2008. The update showed an increased earthquake risk for almost half the country. Parts of Washington, Oregon, Oklahoma, and Tennessee, among others, moved into the top two hazard zones. The San Francisco Bay area, for example, shows a 63 percent chance of one or more major earthquakes before 2036, according to the agency.
So why are people buying less earthquake coverage when estimates of risk are growing? Unlike tornadoes, hurricanes, and wildfires, which are typically covered under home insurance policies, earthquake insurance is purchased separately and often comes with a high deductible, in addition to premiums. The average earthquake policy in California in 2013 was $676 a year, according to the California Department of Insurance, and policies often have a deductible of 10 percent or 15 percent.
That means an individual with a $750,000 home in California with a 15 percent deductible would have to pay $112,500 out of pocket before getting any relief. The chief executive of the California Earthquake Authority, the largest market share writer of earthquake insurance, even said as much. "In a high-risk area, [earthquake insurance] is not inexpensive, and that's because the risk is not insignificant," he told Southern California Public Radio in April.
In contrast, flood insurance, which also falls outside of a typical homeowner insurance policy, had average annual premiums in 2013 of $632, according to the Insurance Information Institute. In some policies, there may only be a $1,000 building deductible and a $1,000 contents deductible, making insurance kick in quickly when the average flood claim in 2013 was $26,165.
Nationwide, about 13 percent of homeowners had a flood insurance policy last year, a percentage that's stayed steady since 2009. This is partly because homeowners who live in designated flood zones are required to buy flood insurance as a condition of their mortgage, something that isn't common with earthquake insurance. (That's an unpopular mandate in areas where flood insurance premiums are spiking, such as the Florida coastline.)
After Sunday's quake, one Napa Valley resident, Michelle Kidwell, told the Napa Valley Register, "With high premiums and a low occurrence rate, people on fixed incomes just can't afford that luxury."