Gaza War Could Push Slowing Israeli Economy Into Contraction
Calev Ben-David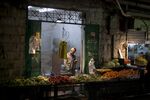 At the Ashkelon factory of Israeli mattress manufacturer Polyron, the sirens set off by militant rocket fire from the Gaza Strip just 8 kilometers (5 miles) to the south are taking a toll.
"Instead of doing 100 mattresses, you do 50 or 60, having to run five or six times a day to the bomb shelter," said marketing executive Alon Zimmerman. As a result, sales in July plunged by a third from the same month in 2013, a shortfall Zimmerman estimates will take a year to make up.
While businesses close to Gaza have been hurt worst by Israel's battle with Hamas and other Palestinian militants groups, the fighting has also deterred tourists and dented consumer spending nationwide. An indicator gauging sentiment among corporate purchasing managers showed economic activity contracted in July for the second month.
Unlike previous conflicts with Hamas or Hezbollah, the Lebanese militant group, Israel entered the fighting in Gaza with an economy already losing momentum: growth slowed in the second quarter as exports slumped due to a strong shekel.
The Bank of Israel, led by Governor Karnit Flug, today reduced its benchmark interest rate by a quarter-point to an all-time low of 0.25 percent, the second consecutive surprise cut. All 21 economists in a Bloomberg survey had forecast the bank would hold the rate after making a surprise cut last month. In that decision the central bank said previous military conflicts of a similar magnitude to the Gaza operation shaved about half a percentage point off gross domestic product.
'Relatively Long'
"Data on real economic activity which became available this month indicate moderation in growth of activity even before" the Gaza operation began, the central bank said today. "Preliminary indicators for July signal further moderation due to the operation, part of which, primarily that related to tourism, is likely to last for a relatively long time."
"We didn't go into this war in such good shape," said Ori Greenfeld, chief economist at Psagot Investment House Ltd. in Tel Aviv. "So the recovery will probably take longer than it did in the past, and we'll see the effects through the end of this year, and probably into 2015."
Growth slowed in the second quarter to 1.7 percent from 2.8 percent in the previous three months, as exports, which account for about a third of the economy, tumbled 18 percent, according to official data released Aug. 17. Since then, the benchmark TA-25 Index of equities has dropped 1.2 percent, compared with a 1.2 percent increase for the MSCI World Index.
Tourism Hit
Complicating the task for policy makers and exporters is a currency that has held near a three-year high since the Gaza conflict escalated in early July. The shekel weakened 1 percent to 3.5676 to the dollar today at 4:48 p.m. in Tel Aviv.
Israeli attacks in Gaza have killed more than 2,100 Palestinians since July 8, including hundreds of civilians, according to Gaza officials. Sixty-eight people were killed on the Israeli side, all but four of them soldiers, as a series of truces collapsed under militant rocket fire and Israeli air strikes.
Tourism, which accounts for about 7 percent of Israel's economy, has been among the hardest-hit industries. The number of visitors declined in July by 26 percent from a year earlier. The conflict has cost the tourist industry at least $566 million, according to the Ministry of Tourism.
Rafi Gozlan, chief economist at Israel Brokerage & Investments-IBI Ltd, said he expects economic output to contract between 1.5 percent and 2 percent in the third quarter.
Hezbollah War
"What's been published so far about July is very reminiscent" of the July 2006 war with Hezbollah, he said in a phone interview last week. The economy contracted 1.4 percent in the third quarter of 2006. Both Hamas and Hezbollah are classified as terrorist organizations by the U.S. and Israel.
Israel's Purchasing Managers Index published by Bank Hapoalim dropped in June to 48.9 from 55.6 in May. Last month, it fell again to 46.8, said the bank, Israel's largest lender by assets.
"We assess that economic activity is experiencing a sort of contraction, that began before the start of the Gaza operation," the bank said Aug. 18. "This contraction will worsen in the current quarter, although some degree of rebound can be expected as soon as the hostilities cease."
The economy may still grow 3.3 percent this year, little changed from 2013, compared with 1.75 percent for the world's top 10 advanced economies, according to economists' estimates on Bloomberg. Israel's economic expansion outstripped the U.S. and the euro area in each of the last four years.
Government Help
The constant disruptions to daily life caused by the rocket fire have had the biggest impact on businesses in the south bordering Gaza. According to a survey by the Israeli branch of Dun & Bradstreet, about 20 percent of businesses in the south, their situation aggravated by the Gaza conflict, are now in danger of closure.
Manufacturers have urged the central bank to cut the base rate to zero and buy enough dollars to keep the local currency at 3.8 per dollar.
Calls are also growing for the government to do more to help. The Finance Ministry has said it will give tax breaks to businesses within 40 kilometers of Gaza, in line with existing guidelines.
That may not be sufficient, according to Polyron's Zimmerman. "Companies have been really hit here, and have had to invest a lot in security measures," he said. "The government should really be doing more."
Before it's here, it's on the Bloomberg Terminal.
LEARN MORE