Why Samsung Is Hoarding Its Cash
By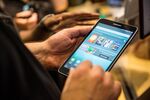 Now that it's selling Nooks to consumers, Samsung Electronics has a new way to compete with Apple and Amazon.com. The Korean company on Wednesday unveiled its new Samsung Galaxy Tab Nook, a 7-inch tablet that uses software for the Barnes & Noble electronic reader.
Nice, but offering an also-ran e-reader won't get Samsung moving in the right direction as competition heats up in the world's biggest market, China, and the fastest-growing, India. Since the start of the year, Samsung's shares have lost 10 percent of their value, while rivals have made big gains. Apple's stock price has jumped 27 percent, and Lenovo is up 26 percent. (Samsung investors can take some solace that the stock isn't doing as poorly as Amazon, which has slumped 15 percent.)
Samsung has lost its No. 1 position in China's smartphone market to Xiaomi and is facing a tough fight in India from local rival Micromax. With Xiaomi, Huawei, Lenovo, and other Chinese brands offering low-cost Android phones, Samsung will probably be a big loser from a shift by Chinese mobile operators to lower subsidies. With the Chinese government encouraging the three state-owned companies to cut their costs, market leader China Mobile last week announced it would reduce by $2 billion, or 38 percent, the amount of money it spends to subsidize pricey smartphones. That's a big incentive for Chinese consumers to give up on Samsung and move to Xiaomi, Huawei, or other lower-priced local brands. Since the Chinese phones run on Android, Samsung is more at risk than Apple, which can at least rely on iOS to differentiate itself from the Xiaomis of the world.
Samsung's funk should encourage executives to make some changes, starting with the way they manage the company's cash. Samsung is facing pressure from both investors and politicians to share some of its war chest, which by the end of June amounted to $60 billion in cash and short-term investments. To encourage Samsung and other companies to stop hoarding money, the Korean government is promoting a plan to impose a 10 percent tax on excessive reserves.
Samsung has been reluctant to part with its cash, in part because execs want the money to fund their response to the Xiaomi threat. When announcing its latest results last month, Samsung disappointed some investors by refusing to raise dividends. Management talked about the need to invest. "In our view, this suggests that the company is looking to components—a segment that needs massive capital spending—to drive its future growth," KDB Daewoo Securities analysts Will Cho, Wonjae Park, and Jonathan Hwang wrote in a report. "We believe the company will reorient growth away from devices and into components" such as chips and displays.
Before it's here, it's on the Bloomberg Terminal.
LEARN MORE