Family Dollar Said Open to Dollar General With Store Concessions
David Welch and Jeffrey McCracken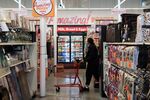 Family Dollar Stores Inc. is willing to consider a $9 billion takeover offer from Dollar General Corp. if it agrees to sell as many stores as regulators would require, said people familiar with the matter.
Dollar General's current proposal to close 700 stores as part of a merger of the two discount retailers probably won't pass antitrust hurdles, Family Dollar said yesterday. The Matthews, North Carolina-based company has already agreed to a sale to Dollar Tree Inc. and doesn't want to abandon that deal - - even for a higher price -- unless it is confident it won't be blocked, the people said, asking not to be identified discussing private information.
It means Dollar General may have to agree to what is colloquially called a "come hell or high water" clause, referring to the company's willingness to do whatever it takes to close a deal once it's struck, the people said. Family Dollar's antitrust analysis, which it will share with shareholders closer to a vote on the merger, predicts Dollar General would have to sell at least several hundred more stores, said one of the people.
While mergers between retailers are rarely blocked by the U.S. Justice Department or Federal Trade Commission, this one may get more scrutiny because dollar-store customers often have limited access to transportation and rely on neighborhood locations for many basic goods, said David Balto, an antitrust lawyer and former policy director for the FTC.
Unique Segment
"The customer base is different than the buyer who goes to Wal-Mart or Target, and doesn't always have access to transportation," Balto said in a phone interview. "So they need additional protection. This is a unique retail segment."
Representatives for Family Dollar and Dollar General declined to comment.
Combining Dollar General and Family Dollar would create a company with almost 20,000 stores and an estimated $28 billion in annual sales.
Dollar General offered $78.50 a share in cash this week, topping Dollar Tree's $74.50 a share cash-and-stock offer made last month. Family Dollar, which has consistently traded above both offers, ended at $79.41 yesterday.
Dollar Tree would have the right to match Dollar General's offer if Dollar General agreed to Family Dollar's request over the antitrust concerns, one of the people said.
Rarely Overturned
After Family Dollar refused the bid, Dollar General Chief Executive Officer Rick Dreiling said "we are confident that we will be able to quickly and efficiently resolve any potential antitrust issues."
Retail deals are rarely overturned on antitrust concerns because it is easy to sell or close stores in any particular market that the government feels is oversaturated by one player, said Erik Gordon, professor at University of Michigan's Ross School of Business.
In the past year, the government has approved the combination of OfficeMax Inc. and Office Depot inc. as well as Men's Wearhouse Inc. and Jos A. Bank Clothiers Inc. without seeking any divestitures.
Before it's here, it's on the Bloomberg Terminal.
LEARN MORE