Dynegy Surges After $6.25 Billion Bet on Power Prices
Jim Polson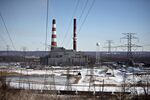 Dynegy Inc. surged the most in more than 17 months after it agreed to buy $6.25 billion of power plants in a bet that electricity prices in the U.S. Northeast and New England will rise.
In two transactions announced today, the Houston-based company said it will almost double its generating capacity by paying $2.8 billion in cash for 11 power plants and a retail sales business owned by Duke Energy Corp. as well as $3.45 billion in cash and stock for units owned by private-equity firm Energy Capital Partners. Dynegy, which has a market value of $3.3 billion, will issue about $5 billion in debt and $1.2 billion in stock to fund the acquisitions.
Chief Executive Officer Robert Flexon, who led the company through a 2012 bankruptcy filing, is snapping up plants that compete on wholesale markets as utility owners like Duke focus on steadier returns from assets that sell power at state-regulated rates. The deals would expand Dynegy's reach in the Northeast and New England, where prices soared last winter on colder-than-normal weather and fuel supply shortages.
"Both markets have improving fundamentals and, as experienced last winter, can experience high price volatility due to tightening supply conditions," Flexon said on a conference call today. "The combined portfolio will now have approximately 60 percent of total megawatts located in these two markets as compared with Dynegy's 18 percent today."
With the acquisition, Dynegy would own about 26,000 megawatts, enough to power about 20.8 million typical U.S. homes. It would move closer to Calpine Corp. in the rankings for the second-largest U.S. independent power producer, with both owning about the same capacity. The largest, NRG Energy Inc., owns plants capable of producing 52,466 megawatts.
Stocks, Bonds
Dynegy climbed 8.8 percent to $32.32 at the close in New York, the most since March 2013. Duke dropped 0.2 percent to $72.87.
Dynegy's bonds tumbled the most in four months, with its $500 million of 5.875 percent bonds maturing in 2023 falling 1.5 cents to 96.50 cents on the dollar at 3:02 p.m. in New York, according to Trace, the bond-price reporting system of the Financial Industry Regulatory Authority. The bonds yielded 6.4 percent.
Driving Consolidation
Today's purchase comes as independent power producers, which don't own regulated utility businesses, seek to expand holdings to capitalize on economies of scale. NRG spent $4.2 billion in 2012 to buy rival GenOn Energy and about $3 billion to buy Edison Mission Energy's assets while the company was in bankruptcy.
Consolidation "remains one of the primary drivers of value in the sector despite what has proven to be a fairly tough power price environment," Julien Dumoulin-Smith, a New York-based analyst for UBS AG, said in a phone interview. He rates Duke and Dynegy at buy and owns neither stock.
The deal extends Dynegy's sales in PJM Interconnection LLC, the largest U.S. wholesale power market, and in New England, where cold weather and a fuel shortage caused electricity prices to surge in January. New England has suffered from a lack of pipeline infrastructure to supply booming natural gas output from the nearby Marcellus Shale.
Dynegy sees the deal boosting free cash flow to $4 a share next year from $1.25 this year, Flexon said. The company may use the cash to buy back stock, he said.
'Market Recovery'
"In addition to significantly increasing Dynegy's earnings and cash flow, these acquisitions will meaningfully increase the company's sensitivity to the market recovery thesis," Chief Financial Officer Clint Freeland said on today's call.
The purchases include plants that burn gas, coal and oil and are located in Massachusetts, Connecticut, Pennsylvania, Illinois and Ohio.
Dynegy will assume no corporate debt in either transaction, said Katy Sullivan, a company spokeswoman. Energy Capital, formed in 2005 by former Goldman Sachs Group Inc. partner Doug Kimmelman, will get cash and $200 million in Dynegy stock, according to the statement.
Duke announced Feb. 17 it would sell the Midwest wholesale business because the plants are no longer a strategic fit as it pursues mores dependable profit from regulated utilities.
Most of the generating capacity Dynegy is buying, 5,053 megawatts, consists of gas-fueled plants. Another 3,793 megawatts of capacity comes from coal-burning plants that are "environmentally compliant," Dynegy said.
Lazard Ltd. and Credit Suisse Group AG advised Dynegy on both transactions. Morgan Stanley was lead adviser on the Energy Capital deal and Goldman Sachs Group Inc. advised on the purchase from Duke, Dynegy said. Citigroup Inc. and Morgan Stanley advised Duke.
(Corrects name of seller to Energy Capital Partners in second paragraph.)
Before it's here, it's on the Bloomberg Terminal.
LEARN MORE