business
An App Maker Hangs On Amid War in Ukraine
By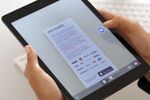 App maker Readdle sounds like a classic success story from Silicon Valley: In 2007, four young techies get together to pioneer business productivity tools for the first iPhone. Their document managers, scanners, and calendars become bestsellers in roughly 200 countries. This August, more than 33 million downloads later, the company celebrates its seventh profitable year since launching its first app.
Except Readdle is a 50-employee Ukrainian company based in Odessa. That's where its founders grew up, studied computer science and applied math, and want to remain despite the country's war with pro-Russian separatists, its struggling economy, and its entrenched bureaucracy. "There is political instability and uncertainty about what's next, but we're in a very favorable position both geographically and because most of our customers are global," says co-founder and Chief Executive Officer Igor Zhadanov.
Product companies like Readdle—those that create their own software—are rare in Ukraine. The country is known for its $1 billion to $2 billion IT outsourcing industry, which employs tens of thousands. "They get the specifications from the customer, do the engineering, then get paid, and that's it," says Zhadanov. Readdle was one of the first to build software products from scratch and improve them based on customer feedback, he says, a "very different mentality than the traditional IT industry."
Andrei Kirilenko, a Ukraine-born finance professor at the MIT Sloan School of Management in Cambridge, Mass., says creative app makers like Readdle, as well as traditional IT outsourcers, are an "important catalyst" to integrate the country into the world economy. "They all speak English, they all can code well, they understand what's valued in education, they don't want to leave, and they want to make things work," he says. "They need highly trained people. They need infrastructure that works. They need intellectual property protection. They need laws that make sense so that they can plan ahead."
Around 80 percent of Readdle's users are professionals in the U.S. and other parts of Europe, the company says. Readdle, which hasn't taken any venture capital, has maintained its place at the top of Apple's charts by acknowledging the "market for paid apps is shrinking" and offering free, slimmed-down versions of its apps, says Denys Zhadanov, Igor's younger brother and the company's marketing director. In addition, businesses from small hospitals to major airlines have asked the company to develop custom versions of its PDF manager. Rather than create individualized versions, Readdle in April 2013 released a subscription-based version of the software that's used by about 250 businesses today, including BMW and Siemens.
Requests from businesses led Readdle to open its first office outside Odessa in July. Having a physical presence in San Francisco means "being able to react faster" and stay on top of trends, says Igor. "We are good friends with most of the really big players on the market," which makes it easier to share information and integrate Readdle's apps with different technologies, a crucial piece of making apps appealing. "Our plan is to get the knowledge from Silicon Valley and apply it to our country and grow into a bigger business than we currently are," says co-founder and Chief Marketing Officer Alex Tyagulsky.
If companies like Readdle choose to stay in Ukraine, it "is an important litmus test for how good the country's prospects are," says Kirilenko. "They could leave at any time and go across the border to Poland or Hungary and be fully operational, and the apps would still sell."
Before it's here, it's on the Bloomberg Terminal.
LEARN MORE