Family Dollar Spurns Dollar General Bid on Antitrust Concern
Matt Townsend and David Welch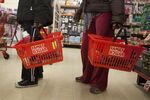 Family Dollar Stores Inc. spurned a $9 billion offer from Dollar General Corp. in favor of a lower bid from Dollar Tree Inc., saying it was concerned the Dollar General deal wouldn't be able to pass antitrust hurdles.
The board rejected the Dollar General proposal and reaffirmed last month's pact to merge with Dollar Tree, according to a statement today from the Matthews, North Carolina-based company. Dollar Tree has agreed to pay about $8.5 billion, excluding debt.
"Our board reviewed, with our advisers, all aspects of Dollar General's proposal and unanimously concluded that it is not reasonably likely to be completed on the terms proposed," Chief Executive Officer Howard Levine said in the statement.
The Dollar General offer, made this week, would merge the two largest dollar-store chains in the U.S., creating a fleet of almost 20,000 stores. While Dollar General planned to sell 700 locations to appease regulators, Family Dollar believes it may have to unload a larger number than that, potentially more than 1,000, according to people familiar with the company's thinking. The two sides also have clashed over how negotiations were handled, making the takeover battle increasingly personal.
Still Interested
Dollar General, which said today that it was still committed to the acquisition, has offered $78.50 a share in cash. That compares with Dollar Tree's bid of $74.50 a share in cash and stock. The deal was expected to generate $550 million to $600 million in annual cost savings. Family Dollar shares fell 0.5 percent to $79.41 at the close in New York, while Dollar General dropped 0.2 percent to $63.61.
"As a shareholder, I wouldn't be happy about the board rejecting a 5 percent premium over Dollar Tree's bid," said Poonam Goyal, a senior retail analyst for Bloomberg Intelligence. "There are more synergies with Dollar General and comparable business models."
Dollar General CEO Rick Dreiling had sought to assuage Family Dollar's concerns in a letter to the board yesterday, saying experienced counsel and an economist had reviewed the antitrust question.
"We are confident that we will be able to quickly and efficiently resolve any potential antitrust issues," Dreiling said in the letter. "We believe that the number of store divestitures contained in our offer letter is more than sufficient to take this issue completely off the table."
'Manageable' Issues
He reiterated that view in his response to the rejected bid today, saying the company was viewing its options.
"Our existing all-cash proposal coupled with manageable antitrust issues continues to make our proposal superior to the current transaction agreement with Dollar Tree," Dreiling said.
Family Dollar wanted Dollar General to agree to take on any antitrust risks before accepting any deal with the company, said the person with knowledge of the matter. That may have involved paying a fee to Family Dollar if regulators blocked the deal, according to the person.
Levine said today that Dreiling's letter did nothing to address the regulatory issues. Dollar General also refused to meet to discuss antitrust concerns during earlier talks in June, Family Dollar said.
Family Dollar's rejection of the Dollar General offer follows growing tensions between the two companies, which have had fruitless talks in the past about a potential merger. In his letter yesterday, Dreiling said he felt misled by previous discussions with Family Dollar, which didn't reveal that it was close to a deal with Dollar Tree.
No Indications
When meeting with Family Dollar in June, Dollar General expressed interest in an acquisition, days before Family Dollar entered exclusive negotiations with Dollar Tree, Dreiling said. Dollar General was given no sign by Family Dollar's Levine that a deal with another buyer was imminent, according to Dreiling. As a result, the company didn't proceed with an offer for Family Dollar until after it learned of the Dollar Tree deal, forcing it to make a higher bid that included paying a $305 million breakup fee to its rival suitor, he said.
"At no time during this meeting did Mr. Levine indicate that there was a process, that there was any urgency to act or that there were discussions with another potential buyer," Dreiling said. "In fact, Mr. Levine's response to specific questions posed by our representatives gave us quite the opposite impression. Had we left the meeting with the belief that a sale of Family Dollar was imminent, we assure you that our course of action would have been different."
June Meeting
Family Dollar took issue with that version of events today, saying that Dollar General representatives weren't interested in a deal during a June 19 meeting.
In describing those talks, Dreiling also suggested that Levine wanted to be CEO of the combined company if a transaction went through. That desire to maintain a management role may have weighed in his decision to proceed with Dollar Tree instead, Dreiling said. Under the terms of the Dollar Tree agreement, Levine will stay on as Family Dollar's CEO. He will still report to Dollar Tree's CEO, though.
"We have presented you with a superior proposal for your shareholders (although perhaps not for Mr. Levine personally)," Dreiling said.
Levine responded today that Dreiling's letter contained "blatant mischaracterizations."
Staying on Top
Dollar General, based in Goodlettsville, Tennessee, needs the Family Dollar deal to maintain its lead in the market. A merger between Family Dollar and Dollar Tree would combine the No. 2 and No. 3 competitors in the industry, creating the largest U.S. dollar-store chain in terms of store count.
A Dollar Tree-led merger would still involve divesting stores to pacify regulators, though the company doesn't expect to have to get rid of more than 500.
The battle for Family Dollar began after activist investors Carl Icahn and Nelson Peltz took large stakes in the retailer and then pushed for a sale. Icahn still owns about 3.6 percent of the shares, while Peltz's Trian Fund Management LP has a 7.3 percent stake.
On his blog this week, Icahn also suggested that Levine's management role promised by the Dollar Tree deal may have kept him from trying to entice other bidders.
"It seems obvious that in a Dollar General/Family Dollar merger, Levine would not have any future role," Icahn said.
Before it's here, it's on the Bloomberg Terminal.
LEARN MORE