Draghi Gets Weaker Euro With Economy Needing It Most
Eshe Nelson and Rachel Evans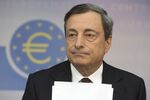 When the European Central Bank's Mario Draghi addresses global policy makers in Jackson Hole, Wyoming, he'll have one thing going for him in an economy that Nobel laureate Joseph Stiglitz labeled a "dismal failure."
European investors facing record-low interest rates are sending the most money overseas in six years, an ECB report showed this week. That has helped push the euro to an almost one-year low versus the dollar, and is supportive of further "downside," according to Goldman Sachs Group Inc.
Draghi has acknowledged the need for a weaker exchange rate to help stave off deflation and make exports more competitive, with data such as Germany's first economic contraction in a year to Italy's plunge back into recession underscoring the urgency. Investors will be listening for further insight as the ECB president speaks on labor markets at the Federal Reserve Bank of Kansas City's annual conference tomorrow.
"I can see the pieces of the jigsaw coming in place for a euro-dollar move toward $1.20 in the next two to three years," Kit Juckes, a global strategist at Societe Generale SA in London, said by phone yesterday.
The common currency, which last touched $1.20 in June 2010, has already depreciated 5.1 percent to $1.3282 as of 12:31 p.m. in New York, from this year's high of $1.3993 in May. The euro rose 6.4 percent in the prior 12 months, defying bears who predicted that lower interest rates, a weak economy and the region's sovereign-debt crisis would weigh on the currency.
Draghi's Pledge
Instead, international investors scooped up the euro as they poured money into high-yielding bonds of nations from Spain to Italy after Draghi pledged in 2012 to do "whatever it takes" to save the currency union.
As part of the plan, Draghi has pushed the region's benchmark rate to a record 0.15 percent from 1 percent when he made the pledge. That pulled down the region's bond yields. At about 1 percent, yields on 10-year German bunds are lower than the 2.42 percent on similar-maturity Treasuries, at almost the biggest gap since 1999. Spain's yields are on a par with what investors can get in the U.S.
The ECB's monetary-policy easing "is driving more euro-zone residents to search for yield abroad," Goldman Sachs analysts including New York-based chief currency strategist Robin Brooks wrote in a research note this week.
Cash Exodus
European investors channeled 167.4 billion euros ($222.8 billion) into overseas equities in the 12 months through June and 178.7 billion euros into offshore debt, the largest financial exodus since August 2008, balance-of-payments data released this week from the region's central bank show. Foreign cash has failed to offset these outflows, with bond investment sliding in three of the four months through June, according to the data.
Euro-area growth stagnated in the second quarter from the prior three months as the region's three biggest economies failed to expand, a report showed last week. Citigroup Inc. cut its 2014 growth forecast yesterday for the euro-zone economy to 0.8 percent from 1.1 percent. Inflation in the euro area is the weakest in almost five years. The region's manufacturing and services activity slowed in August, data showed today.
"The euro is losing momentum," Hideya Kubo, a senior fund manager at DIAM Co., a Tokyo-based asset manager that managed more than $142 billion as of March 31, said by phone yesterday. "Decreasing inflow is weighing on the currency."
Flow Reversal
While international investors demonstrated continued demand for European equities in June, ECB data for July should show a shift, Nomura Holdings Inc. wrote in a report on Aug. 19.
U.S. exchange-traded funds pulled $1.1 billion from European assets last month, the first outflow since April 2013, data compiled by Bloomberg show. Redemptions from Europe equity funds climbed to almost $3.5 billion in the week to Aug. 13, the most in more than two years, according to data provider EPFR Global.
The euro remained strong on a relative basis in June even as the ECB cut rates that month and announced cheap loans for banks to bolster lending.
Almost half of the economists surveyed by Bloomberg last week said they expected the central bank to increase the supply of euros by purchasing bonds in a policy known as quantitative easing this year or next. The U.S. is trimming its QE program. Fed Chair Janet Yellen also speaks in Jackson Hole tomorrow.
Diminishing investor appetite for European assets is good news for Draghi should he need to roll out asset purchases because he won't also have to worry about the euro appreciating, John Normand, head of foreign-exchange and international-rates strategy at JPMorgan Chase & Co. in London, said in a phone interview yesterday.
'Dismal Failure'
"Foreign investors seem to have no significant appetite for European assets just because the ECB might pursue QE," Normand said. The central bank has "a higher likelihood of generating currency depreciation if they do QE in an environment where there is much less value in European assets."
Whether any measures Draghi takes will be enough to turn around the economy was questioned this week by Stiglitz at a conference in the southern German city of Lindau.
Stiglitz, a professor at Columbia University in New York, branded austerity measures designed to tackle the region's debt crisis as a "dismal failure," while the pace of construction of a European banking union was "too slow."
"Monetary policy can't really be a substitute" for fiscal union, he said, pointing to the currency bloc's high unemployment and sluggish growth.
'Disappearing' Demand
More than 25 percent of economists expect the euro-area's outlook to deteriorate during the next four weeks, up from 10 percent in July, according to a Bloomberg News poll of 31 analysts on Aug. 18. That poorer outlook may hamper efforts to get European consumers spending and damp the impact of existing easing measures.
Investors' wagers on a decline in the currency exceeded those on a rally by 128,747 contracts in the week ending Aug. 5, Commodity Futures Trading Commission data show, the most in almost two years.
The total net-short position of $21 billion represented the biggest bearish wager among major currencies, according to the Washington-based CFTC. As recently as May there was a net-long position, totaling 32,551 contracts.
The shared currency will fall to $1.31 by year-end and to $1.28 by the middle of next year, according to the median forecast of more than 50 analysts surveyed by Bloomberg. That's down from $1.32 and $1.29 earlier this month.
"For most of the year, the euro has been supported even if rate expectations were falling," Manuel Oliveri, a foreign-exchange strategist at Credit Agricole SA's corporate and investment banking unit in London, said in a phone interview yesterday. "This was on the back of very positive capital flows, but this demand is now disappearing."
Before it's here, it's on the Bloomberg Terminal.
LEARN MORE