Big Oil Gets a Big Win on Taxes in Alaska
By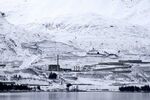 Energy companies will continue to enjoy a favorable tax structure in Alaska following a referendum vote on a state law that has stirred passions about how generous Alaskans should be to their signature industry. Now both supporters and opponents of the law are looking to see if Big Oil companies will boost production, one of the hotly contested points in whether the law was helping or hurting Alaska's economy.
"It's now time for companies to put their money where their mouth is, move those billions of dollars into work for Alaskans," Republican Governor Sean Parnell said at a news conference, after the effort to repeal his 2013 law failed.
The Alaska Oil & Gas Association says the state has fallen to fourth place in U.S. oil output, after Texas, North Dakota, and California. "We need favorable tax policies to remain competitive," the association says on its website. But many say it's not clear that friendly tax bills will prompt any major investment by the likes of energy giants BP, ConocoPhillips, ExxonMobil, and Spain's Repsol, which spent an estimated $14 million to defeat the repeal drive. Those who sought to repeal the law spent about $629,000, the Anchorage Dispatch News reported.
Parnell signed the controversial bill, dubbed the "More Alaska Production" Act, into law in May 2013, saying it would help reverse declining production in Alaska, which had led to lower state revenue. According to the Alaska Oil & Gas Association, Alaska relies on the industry for nearly 90 percent of state revenue and more than half of its annual operating budget.
The new measure lowered the base production tax and ended the state's previous scheme of extracting higher tax payments as oil prices increased. The law took effect Jan. 1 and is projected to cut Alaska's tax revenue by about $2 billion from the 2013 level. The law generated intense debate and anger in Alaska, where many people considered it an unwarranted gift to wealthy oil companies and prompted a ballot effort to repeal the law and revert to the former tax structure, which was enacted in 2007 under former Governor Sarah Palin.
Those who sought the repeal said Alaskan oil production had been declining for years, amid both high and low prices, and that lawmakers did not require any production or other commitments of the oil companies when they passed the law. Opponents of the law printed "Repeal the Giveaway" on bumper stickers and other campaign materials.
Since peaking in the late 1980s at more than 2 million barrels a day, Alaska's oil production has steadily declined to just over 500,000 barrels a day.

A spokesman for the American Petroleum Institute, the energy industry's trade group, referred all questions to the Alaska Oil & Gas Association, which did not immediately reply to a telephone call or e-mail seeking comment.
The ballot effort made for a case of strange political bedfellows, with Democrats seeking Palin's support in touting the former oil industry tax system she had endorsed. In the end, Palin stayed largely out of the campaign, posting a video on her subscription website decrying the new tax law as "crony capitalism," the Wall Street Journal reported.
Before it's here, it's on the Bloomberg Terminal.
LEARN MORE