China Levies Record Antitrust Fine on Japanese Firms
Bloomberg News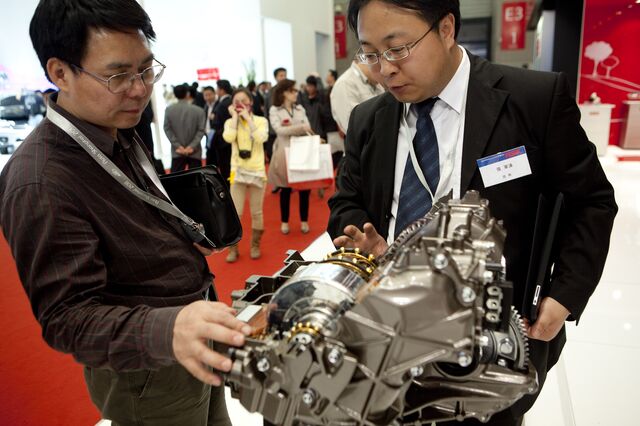 China found a dozen Japanese auto-parts makers guilty of price fixing and doled out the biggest antitrust fines in the country since relevant rules came into effect six years ago.
Total fines amounted to 1.24 billion yuan ($200 million), the National Development and Reform Commission, China's main economic planner, said on its website. Sumitomo Electric Industries Ltd. drew the heaviest fine at 290.4 million yuan -- the biggest-ever antitrust penalty for a single company -- followed by Yazaki Corp.
While China follows the U.S., Europe and Japan in punishing parts makers, the fines come as foreign businesses increasingly voice concerns that an era of heightened regulatory scrutiny is dawning on the world's second-largest economy. Global Car manufacturers, technology companies and food companies have faced antitrust probes in the country since last year.
"This sends a warning to companies engaging in global price-fixing that they should beware of China," said Chen Danzhou, a lecturer specializing in anti-monopoly law at the University of International Business and Economics in Beijing. "The government is getting more aggressive as it tries to make a structural adjustment to the market."
Besides Sumitomo and Yazaki, the NDRC said it found Denso Corp., Aisan Industry Co., NSK Ltd., Hitachi Automotive Systems Ltd., Mitsubishi Electric Corp., Mitsuba Corp., Furukawa Electric Co., Nachi-Fujikoshi Corp., Jtekt Corp. and NTN Corp. guilty of price fixing.
Shares of the Japanese companies were little changed in Tokyo trading, with Furukawa Electric's 0.9 percent drop being the steepest.
Whistle-Blowers
NDRC spokesman Li Pumin said at a briefing in Beijing today that the government isn't targeting foreigners, and reiterated past statements that China will punish any violators of its anti-monopoly law regardless of nationality. A Japan Auto Parts Industries Association representative declined to comment on the Chinese fines.
The investigations covered actions from 2000 to 2011, and involved parts including wire harnesses, alternators and throttles and bearings. Hitachi and Nachi-Fujikoshi were exempted from penalties as they took the initiative in collaborating with authorities, the NDRC said.
The auto components involved in the price fixing were used in more than 20 car models manufactured by Toyota Motor Corp., Honda Motor Co., Nissan Motor Co., Suzuki Motor Corp. and Ford Motor Co., according to the statement.
China's anti-monopoly law, which went into effect in 2008, allows the government to impose fines of as much as 10 percent of a company's annual revenue. Companies that cooperate can get lighter penalties.
Antitrust Enforcers
The NDRC, which has said the probe was meant to ensure market order and protect consumer interests, has primary responsibility for oversight of pricing and is one of three government bodies that enforce antitrust rules introduced in 2008. The Ministry of Commerce assesses the legality of mergers and acquisitions, while other anti-competition cases fall under the State Administration for Industry and Commerce.
This isn't the first time that Japanese component makers have been found guilty of cartel behavior.
Yazaki, a Tokyo-based maker of the wire harnesses that control a car's electrical system, and NSK Ltd. are among Japanese auto parts manufacturers that were punished in other countries for price-rigging.
EU, Japan
Yazaki paid fines of $470 million in 2012 in the U.S. -- a record for a Japanese component maker -- and 136 million euros last year to the European Commission, according to the company. NSK was fined by Japan's antitrust authority last year for fixing prices of bearings.
Prior to today, the highest antitrust penalty imposed in China was Mead Johnson Nutrition Co.'s 203.8 million yuan fine after baby formula makers were found guilty of price fixing last year.
For an industry, the previous record was when China fined six dairy companies including Mead Johnson and Danone a combined 669 million yuan for price fixing after they tried to fix minimum resale prices of their products, limiting competition in the industry, the NDRC said at the time.
Months earlier, regulators fined six display makers from South Korea and Taiwan $56 million for price fixing, the first penalties given exclusively to foreign companies.
Spare Parts
China began looking into possible monopoly violations in the auto and after-sales markets in late 2011. Still, it's only been more recently that state media has cranked up its criticism of prices, particularly those involving spare parts.
Since July, Tata Motors Ltd.'s Jaguar Land Rover, Daimler AG's Mercedes-Benz and Bayerische Motoren Werke AG are among at least seven foreign automakers that have announced price cuts following the NDRC investigation.
The antitrust regulator said Aug. 6 that it will soon announce punishments for violations by Chrysler Group LLC and Volkswagen AG's Audi. Government investigators found evidence of price manipulation by Mercedes-Benz in maintenance services and auto parts, the official Xinhua News Agency reported this week.
Tensions in China's foreign community has escalated after the investigations.
The European Union Chamber of Commerce, which has about 1,800 members in the country, said in an Aug. 13 statement that Chinese investigators were picking on foreign companies, pressuring them into accepting punishments and depriving them of full hearings.
'Real Risk'
Greg Gilligan, chairman of the American Chamber of Commerce in China, called for dialogue with U.S. and Chinese officials about rising concerns among its members.
Investments in China by foreign companies -- excluding financial firms -- fell 17 percent in July, the biggest drop in five years, though the Ministry of Commerce said the drop had no connection with the antitrust probes.
"There's a very real risk that these continued and high profile investigations will have a material impact on the willingness of foreign multinationals to be present in China," said Andrew Foster, a Beijing-based attorney at Skadden, Arps, Slate, Meagher & Flom LLP.
— With assistance by Jie Ma, Alexandra Ho, and Masatsugu Horie
Before it's here, it's on the Bloomberg Terminal.
LEARN MORE