U.K. Inflation Rate Falls More Than Forecast to 1.6%
Scott Hamilton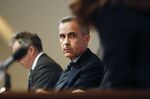 U.K. inflation cooled more than economists forecast in July, giving the Bank of England room to keep its key interest rate at a record low.
The rate of consumer-price growth fell to 1.6 percent from 1.9 percent in June, the Office for National Statistics said today in London. Economists had forecast 1.8 percent, based on the median of 32 estimates in a Bloomberg survey. Separate data showed pipeline inflation pressure eased, with factory-gate prices posting the first annual decline in almost five years.
The BOE kept its key rate at 0.5 percent this month and Governor Mark Carney said it's not yet time to tighten policy. Officials on the Monetary Policy Committee are trying to balance a strengthening recovery against subdued earnings and inflation that's below the 2 percent target as they debate when to begin exiting emergency stimulus.
"The MPC can afford to leave monetary policy quite loose while inflation pressures are extremely weak," said Samuel Tombs, an economist at Capital Economics Ltd. in London, one of only two economists to correctly predict the July reading. "We continue to expect the committee to be surprised by inflation's weakness over the coming months."
The pound extended its decline against the dollar after the data and was trading at $1.6651 as of 11:24 a.m. London time, down 0.5 percent on the day.
Clothes Prices
Today's report extends Britain's stretch of below-target inflation to seven months, exceeding the six-month period that started in June 2009. The BOE cut the key rate to 0.5 percent in March that year and started its quantitative-easing program to battle the fallout from the financial crisis.
In July, the biggest downward effect on inflation came from clothes, as summer discounting by stores took effect later than usual. Overall consumer prices fell 0.3 percent from June, the statistics office said.
Retail-price inflation, a measure used as a basis for the inflation-linked bond market and wage negotiations, slowed to 2.5 percent last month from 2.6 percent.
That means regulated rail fares will increase 3.5 percent on average next year under government rules that allow ticket prices to rise 1 percentage point more than RPI inflation. Chancellor of the Exchequer George Osborne, who faces an election in 2015, limited the increase this year to RPI.
While inflation is below the BOE's target, it continues to outpace wage growth, squeezing consumers. Earnings fell an annual 0.2 percent in the second quarter, the first drop since 2009. The BOE cut its forecast for wage growth last week and Carney said the weakness is adding to uncertainty about the outlook for spare capacity and inflation.
In a sign that upward pressure on inflation may remain under control, the ONS said producer input prices fell 1.6 percent in July from June and dropped 7.3 percent compared with a year earlier. The annual decrease, the biggest since September 2009, was driven by crude oil.
Factory-output prices fell 0.1 percent on the month and the year. The annual decline was the first since October 2009.
Before it's here, it's on the Bloomberg Terminal.
LEARN MORE