Simin Behbahani, Iranian Poet Quoted by Obama, Dies at Age 87
Ladane Nasseri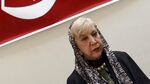 Iranian poet Simin Behbahani, whose politically defiant writing was mentioned by U.S. President Barack Obama in a message aimed at improving relations with the Islamic Republic, has died at the age of 87 in Tehran.
Behbahani died from heart failure at around 1:15 a.m. local time today at a hospital in the Iranian capital, her son, Ali Behbahani, said in a phone interview. She had been in a coma for two weeks and had previously shown signs of Alzheimer's disease and respiratory problems, he said.
Born Siminbar Khalili in Tehran on July 19, 1927, the poet took her first husband's surname, Behbahani, which she kept after their separation and her second marriage.
She began writing poetry from a young age and became one of Iran's most prominent poets, receiving recognition at home and overseas. Behbahani, who graduated from Tehran University with a degree in legal studies, was nominated twice for the Nobel prize in literature and received international awards in countries including the U.S., Norway and Hungary.
Behbahani modernized the traditional Persian ghazal, a form of verse with structural similarities to the sonnet, expanding from themes of love, and the depiction of lovers, to human rights and human dignity, said Farzaneh Milani, who teaches Persian literature at the University of Virginia and has translated some of Behbahani's poems.
"Some of her most famous ghazals are about a woman gone mad with the loss of her son -- a soldier maimed in the Iran-Iraq war -- and a woman being stoned to death," Milani said by phone. "How revolutionary it is to respect the form of a lyrical poem but talk about the stoning of a woman?"
Passport Confiscated
Her words were not always appreciated by Iranian authorities, who censored some of her poems. Under conservative President Mahmoud Ahmadinejad, who left office in 2013, Behbahani was prevented from attending an overseas literary event and her passport was temporarily confiscated, Milani said.
In March 2011, Obama cited lines from Behbahani's "My country, I will build you again" in a video message addressing Iranians on the Persian New Year, two years before ties between the two countries warmed amid talks on Iran's disputed nuclear program.
Obama ended his message with a verse from the poem: "Old, I may be, but, given the chance, I will learn. I will begin a second youth alongside my progeny. I will recite the Hadith of love of country with such fervor as to make each word bear life."
Among Iranians, Behbahani was affectionately known as the "lioness," a reference to her strong personality.
Behbahani "always spoke truth to power," Milani said, describing the poet's deep commitment to "human rights, democracy, and the rights of the individual."
She's is survived by two sons, Ali and Hossein, and a daughter, Omid.
Before it's here, it's on the Bloomberg Terminal.
LEARN MORE