Putin Turns Poles Into Cider Lovers Amid Russia Food Ban
Agnieszka Troszkiewicz and Whitney McFerron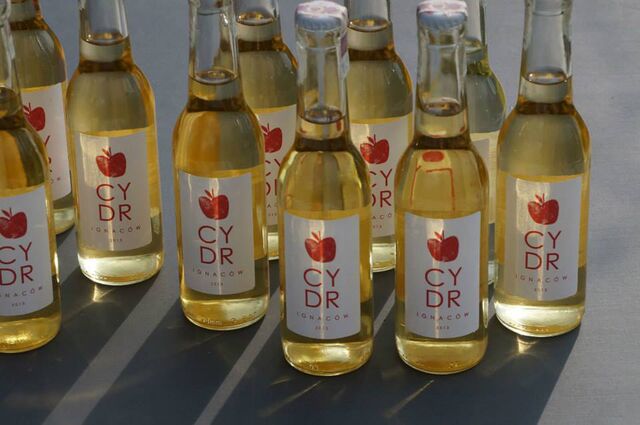 When Tomasz Porowski helped pioneer branded Polish apple cider three years ago, the beverage barely registered in a nation of beer and vodka drinkers.
Today his company, Cydr Ignacow, is helping the nation spite Vladimir Putin's ban on apple imports.
Faced with losing the country's largest market -- as much as 677,000 metric tons in apples meant for Russia and more than half of last year's shipments -- some of the nation's biggest newspapers are urging citizens to eat more fruit and drink more cider. Poland is the world's top apple exporter and growers are among the most affected by Russia's ban on an array of food products from the European Union, U.S. and other countries that supported sanctions against it over the conflict in Ukraine.
Celebrities, politicians and journalists are taking to social media, posting apple-biting selfies on Facebook or Twitter under hashtags #jedzjablka, or #eatapples, after calls from Puls Biznesu, a local business daily, to "stand up to Putin, eat apples and drink cider." The European Commission on Aug. 18 announced support measures of 125 million euros ($166 million) for fruit and vegetable producers, including apple growers.
"We are not pleased about the embargo," said Natalia Skubisz, who estimates that two-thirds of the apples exported from her family's orchards in Dziuchow, 85 kilometers (50 miles) from the Ukrainian border, went to eastern markets including Russia and Ukraine. "It will most definitely affect fruit prices and our profits."
Fruit Exports
EU exports of apples, pears and quinces to Russia last year were valued at 523 million euros, with 272 million euros of the produce coming from Poland, according to the European Commission, the bloc's administrative arm. There are more than 60,000 apple farmers in the country, the Polish Fruit Growers Association estimates.
Apples and pears made up about a quarter of Poland's $1.7 billion in food exports to Russia in 2013, the government estimates. The sanctions will damp the country's economic growth by 0.6 percentage point this year, Deputy Prime Minister Janusz Piechocinski told newspaper Rzeczpospolita on Aug. 1.
Poland is seeking to sell more produce to the U.S. to help ease the burden of excess supplies, Piechocinski said at a news conference today in Warsaw. The U.S. buys more than 30 types of fruit and vegetables from Poland and is reviewing a request by ambassador Ryszard Schnepf to open the market for apples, the U.S. Department of Agriculture said in an e-mailed statement Aug. 15.
Apple Surplus
As the absence of Russian customers leaves a surplus of apples on Poland's domestic market, producers are trying to convert more drinkers to cider.
Cider accounted for less than 1 percent of the country's alcohol sales last year, even after almost tripling to about 2 million liters from 2012. Poles guzzled 3.7 billion liters of beer and 264.3 million liters of vodka in 2013, according to the International Wine & Spirit Research in London.
The country's cider production will surge fivefold this year to exceed 10 million liters, according to the Warsaw-based Polish Council of Winemaking.
Still, demand won't be enough to make up for the lost Russian market. The Brussels-based World Apple and Pear Association estimates that Poland will produce 3.5 million tons of apples this year. One liter of cider uses 1.5 kilograms (3.3 pounds) to 2 kilograms of apples, Cydr Ignacow's Porowski said.
Other Varieties
That means cider makers may consume about 15,000 tons, or less than 1 percent of the country's output, based on the Polish Council of Winemaking estimates. Most Polish apples are dessert varieties and not as suitable for cider as sour and bitter types, Porowski said. Larger-scale producers may be less picky and use concentrate made of other apple varieties instead.
Demand for the beverage has been increasing in recent years after the government lowered taxes on production and new support for the industry may help boost consumption further, said Porowski, a former lawyer who co-founded the company in Ignacow, about 68 kilometers south of Warsaw.
He scours Poland for specific fruit varieties following work with university researchers and shadowing cider makers in Herefordshire and Gloucestershire, traditional producing areas in England. The company, created together with Marcin Hermanowicz, whose family has grown apples for almost two centuries, produces 20,000 liters of cider a year.
Ambra Shares
Ambra SA, a Warsaw-based beverage company that's Poland's biggest cider maker, sold 800,000 liters last year. Bank Millennium SA in a July report forecast the company's sales to reach 4 million to 4.5 million liters in 2014. Ambra's shares gained 4.4 percent this month to 9.20 zloty in Warsaw trading. That compares with a 3.6 percent decline in the WIG-Food Index grouping of 24 Warsaw-listed food-industry companies.
"Spain is the land of wine, not grapes. Poland can be the land of cider," Robert Ogor, chairman of Ambra, which produces cider under the Cydr Lubelski brand, said by e-mail Aug. 14. "The 'eat apples' campaign shows we've got the social support to invest in cider. The embargo is a chance and an impetus for the development of Polish agriculture."
Poland's Agriculture Minister Marek Sawicki asked the finance ministry for a temporary suspension of the tax on cider production, Puls Biznesu reported Aug. 8. Cider should be exempt from restrictions on alcohol advertising in order to boost demand for apples, the Economy Ministry proposed Aug. 11.
Vodka 'Passé'
"I hope the embargo will serve the Polish apple growers well, meaning they will diversify their sales," Porowski said. "It would be great if they weren't so addicted to Russia. Russia will always be a moody customer."
While many Poles historically associated cider with a cheap fruit wine known derogatorily as "jabol," that connotation is becoming weaker, especially to younger drinkers, Agata Andrzejczak, an analyst at the London-based IWSR, said by phone Aug. 13.
"Vodka is really passé," Andrzejczak said. "Young people are walking out on vodka. The cider consumer base is still small so there is further room for growth. If you see the press scream about drinking it, then a lot of people will wonder what it's all about."
Increasing consumption of apples in Europe will be necessary to make up for the extra supplies left by Russia, according to the European Fresh Produce Association, a Brussels-based group known as Freshfel. European exporters will also need to look to other markets, including Asia and the Middle East, said Philippe Binard, general delegate at Freshfel.
"Obviously we are trying to find solutions, which might be supply driven or which might be demand driven," Binard said by phone Aug. 13.
Before it's here, it's on the Bloomberg Terminal.
LEARN MORE