China's First Bond Default in Focus as Debtholders Meet
Bloomberg News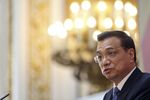 Holders of China's first corporate bond to default onshore met today in Shanghai, as investors look for clues on how the government will balance market liberalization with steps to maintain stability.
There was difficulty assessing the overseas assets of Shanghai Chaori Solar Energy Science & Technology Co. and no specific restructuring plan emerged from the gathering, according to Wang Xuejun, an investor in attendance. The solar-panel maker will issue a statement by tomorrow at the latest, Vice President Liu Tielong said when reached on his mobile phone after the meeting. More than 10 police cars were on the street in front of the company headquarters today around 2:30 p.m. as the gathering took place.
While Premier Li Keqiang said defaults may be unavoidable in some cases after Chaori failed to make a full coupon payment on March 7, the country has averted similar cases since. Widespread bond nonpayments would cause financial market turbulence, which can't be allowed when the economy faces "relatively heavy" downward pressure, according to a front-page commentary in a central bank publication today.
Chaori only paid 4 million yuan ($650,755) of an 89.8 million yuan coupon due in March on its 2017 bonds, becoming the first company to default on a yuan note onshore. Shanghai marked a milestone in corporate bankruptcy in June when a court accepted a restructuring application for the manufacturer.
Court Case
Details about a next debtholder meeting will come in a court statement, the investor Wang said today.
Ding Guixiang, who said she invested more than one million yuan in the Chaori bonds, said outside the meeting today that she had never anticipated any risks with the securities when she bought them.
The Shanghai No. 1 Intermediate People's Court took on the application from Chaori's supplier, Shanghai Yihua Metal Materials Ltd., because the manufacturer can't repay overdue debt, according to a statement posted on the court's website on June 27. As of March, Chaori's liabilities were more than 700 million yuan greater than its assets, according to the statement.
The Shanghai court appointed local branches of law firm King & Wood Mallesons and accounting firm KPMG Huazhen as the administrators, according to a July 10 statement.
'Strengthen Monitoring'
China's broadest measure of new credit plunged last month to the lowest since the global financial crisis, adding risks to growth as the government grapples with a property slump. Aggregate financing slid to 273.1 billion yuan in July, amid recent regulation and financial institutions' enhanced control of risks, the central bank said Aug. 13.
While the decrease in overall funding helps China's leaders as they seek to wean the country from debt-fueled investment, there are signs they are easing up on curbs. More credit should be directed to shantytown development, railways, services, energy-saving industries as well as agriculture and small businesses, the cabinet said in a statement posted on the government's website Aug. 14.
Outstanding credit rose to 206.3 percent of gross domestic product last quarter, according to data compiled by Bloomberg from government releases in July. That's up from 202.1 percent in January-to-March.
Huatong Road & Bridge Group Co., based in the northern province of Shanxi, last month repaid notes it had warned it may fail to repay. Building-materials maker Xuzhou Zhongsen Tonghao New Board Co. averted a default in April after its guarantor paid up.
"To prevent large-scale bond defaults, regulators will strengthen monitoring and supervision to solve crises in a timely manner," according to the commentary today in the Financial News, a publication of the People's Bank of China. The commentary was by Xu Shaofeng, who wasn't identified.
— With assistance by Jing Yang
Before it's here, it's on the Bloomberg Terminal.
LEARN MORE