U.S. Said to Carry Out Airstrikes in North Iraq
Zaid Sabah, Gopal Ratnam and Khalid Al-Ansary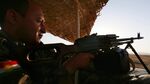 The U.S. carried out airstrikes today on Islamic State targets in northern Iraq to protect Yezidis and prevent damage to a critical dam, according to a U.S. Defense Department official.
The largest deployment of U.S. aircraft since the strikes began earlier this month took part in the attacks on Islamic State positions near Mosul, Iraq's biggest northern city, the official said on condition of anonymity. A mix of drones, Navy F-18s and F-16s hit checkpoints and personnel, the official said.
The attacks are part of a U.S. effort that President Barack Obama announced to halt the advance of the Sunni insurgency. Militants calling themselves the Islamic State have rampaged through OPEC's No. 2 oil producer, seizing border posts, beheading foes and targeting dams whose destruction could flood areas near Baghdad and Mosul.
Zuhair al-Chalabi, head of National Reconciliation Committee in Mosul, said in a phone interview that towns near the dam would need to be captured before Kurdish forces known as the peshmerga could attempt to retake the dam.
"We are making preparations to retake Mosul Dam, but so far we haven't deployed our forces on the ground to do so," Halogard Hikmat, a senior Kurdish peshmerga military official said by phone from Erbil. "The U.S. airstrikes are helping."
Unity Call
Iraq's leader-in-waiting Haidar al-Abadi vowed earlier to seek national unity.
In his first comments since ending a dispute over who will lead the country, Abadi vowed to build an inclusive government. Poised to replace caretaker Prime Minister Nouri al-Maliki, Abadi won backing from Iraq's top Shiite cleric, while Massoud Barzani, president of the largely autonomous Kurdish region, said he'd support the premier-designate in a call for a government that "involves all Iraqi factions," the state-run National Iraqi News Agency reported.
Iraq's population is one of the most religiously and ethnically diverse in the Middle East. Along with the majority Arabs and Kurds, minority ethnic groups include Assyrians, Armenians and Turkmens. Religiously, a majority are Shiite Muslims and about a third Sunnis, while Christians make up about 4 percent of Iraqis, and Yezidis are among the remaining 2 percent, according to Columbia University's School of International and Public Affairs.
Humanitarian Aid
Strengthened with weapons seized from the Iraqi army, the Islamic State, which was previously known as the Islamic State in Iraq and the Levant, has seized oil fields in Iraq and is threatening the two key dams at Mosul and Haditha.
Reports of beheadings and crucifixions of those they defeated have accompanied their advances. At least 700 civilians from the al-Sheetat tribe in eastern Syria's Deir Ezzour province have been executed in past two weeks, the U.K.-based Syrian Observatory for Human Rights said in an e-mailed statement today. The fate of hundreds of other tribe members remains unknown, the group said.
With the European Union agreeing yesterday to increase humanitarian aid to Iraq after some members joined the U.S. in aiding Kurdish forces to stop the military advance of the insurgents in the north, Abadi said he will seek to "accommodate segments of the Iraqi people and unite them to eliminate terrorism," Al-Mada news reported on its website.
Minority Sunnis accuse Maliki of alienating their community and some are backing militants who declared the formation of the Islamic State after an offensive in June.
'Equal Way'
Sunnis want a "Prime Minister that makes them feel that he is different from Maliki by making new policy based on justice, equality and law enforcement in an equal way for all Iraqis," Hamed Al-Mutlaq, a Sunni lawmaker, said by phone. "If Sunnis feel that Abadi's policies are just, there will be no presence for the Islamic State."
Maliki was abandoned by his own party and leaders of Iraq's minorities, who said his eight years of sectarian policies widened ethnic divisions in Iraq. He quit Aug. 14 as his backing at home and abroad crumbled, saying the change of leadership gave a chance to halt Iraq's descent into violence.
Iraq's 2028 bonds gained the most since April after Maliki's resignation, with yields on the securities dropping 23 basis points, or 0.23 percentage point, to 6.92 percent.
As Maliki fought for weeks for the right to a third term after inconclusive elections earlier this year, Islamic State forces pushed into new areas of northern Iraq, seizing towns and oil fields and driving thousands of ethnic Yezidis and Christians from their homes.
'Liberate Baghdad'
In a sign of the challenge facing Maliki's successor, the head of an influential Sunni tribe in western Iraq, Rafei Mishen al-Jumaily, said he would continue to support the Islamic State against the government, which would be "wasting its time" if it made peace overtures.
"We will continue to fight the government until the end and we promise we will liberate Baghdad," Jumaily said by phone.
Abadi's nomination has had the unusual effect of drawing support both from the U.S. and from Iran, which has major influence over its neighbor's Shiites and funds several Shiite militia groups. The EU and the Arab League have also backed Abadi's appointment.
"Iraq must see a smooth transition of power," U.K. Foreign Secretary Philip Hammond said in an e-mailed statement yesterday. The U.K. hopes that Maliki's decision to leave office "will contribute to the quick formation of a unified and inclusive government that can address the serious security, humanitarian and political challenges that Iraq faces."
Troop Withdrawal
Obama's decision last week authorizing the airstrikes marked the first direct intervention by the U.S. military in Iraq since his administration withdrew the last troops from the country in late 2011. He has said he would be more inclined to increase military support to Iraqi forces once there's a new government, and two of the most vocal critics of his Iraq policy said he should now do so quickly.
"This should remove any reason for the Obama administration to delay any further in providing our full support to Iraqis and Syrians who are fighting" the Islamic State, said Republican Senators John McCain of Arizona and Lindsey Graham of South Carolina.
Before it's here, it's on the Bloomberg Terminal.
LEARN MORE