Thousands Enter Islamabad to Seek Ouster of Sharif
Khurrum Anis, Faseeh Mangi and Naween A. Mangi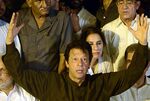 Pakistani opposition leader Imran Khan and a convoy of tens of thousands entered Islamabad seeking the ouster of Prime Minister Nawaz Sharif over allegations of fraud in elections 15 months ago.
Khan's supporters clashed with stone-throwing opponents in the town of Gujranwala about 200 kilometers (125 miles) south of the Pakistani capital yesterday. That led the opposition leader to switch to a new vehicle from an open-top truck enroute to the capital, where he plans to sit in protest.
"I will not leave this place until Nawaz Sharif resigns," Khan said to cheering crowds waving victory signs. "Nawaz Sharif has one option -- that he steps down and paves the way for new elections."
The demonstration is the biggest challenge yet to Sharif as he seeks to revive Pakistan's economy and end a Taliban insurgency that has killed more than 55,000 people since 2001. The benchmark stock index and the rupee fell this week amid concern over the potential for political instability.
While an easing of the tension boosted the KSE 100 Index 3 percent in the past three days, it ended the week 1.6 percent lower. The gauge slumped 4.5 percent on Aug. 11, the biggest decline in more than five years.
The market's advance yesterday was "in anticipation of a peaceful outcome and likely middle way that keeps the larger political set-up intact," Faisal Bilwani of Elixir Securities in Karachi wrote in an e-mail. The KSE 100 has advanced 14 percent this year.
The rupee declined about 1 percent in the past week to 99.9488 do the dollar, its lowest level in five months.
Numbers
"Khan's success depends on how many people come to the streets and how long they stay," Kamran Bokhari, vice president of Middle Eastern & South Asian affairs at Stratfor Global Intelligence, said by phone from Toronto. "His followers are not used to tough conditions and getting beaten up by the police like other parties."
Khan's convoy had about 200,000 people in it, spokeswoman Anila Khawaja said. A parallel march by Tahir-ul-Qadri, a cleric who leads the Pakistan Awami Tehreek political party, had about 100,000 people, Qadri spokesman Qazi Faiz said. The two marches had about 45,000 people in total when they started off in Lahore on Aug. 14, police there said at that time. Police declined to give crowd estimates yesterday.
Pakistan has a population of about 196 million.
The government, which controls 55 percent of parliamentary seats, will allow the protest to reach Islamabad and is ready to accommodate the 1 million people that Khan is seeking to rally, Interior Minister Chaudhry Nisar Ali Khan said Aug. 14.
Phones Cut
Police blocked roads with containers and barbed wire and cut mobile-phone service in parts of Islamabad ahead of the demonstration. Some flights at Islamabad's international airport were canceled.
Some 18,000 law enforcement officials were scheduled to be on duty when the march arrived, according to Sultan Azam Temuri, a spokesman for the Islamabad police, including police officers and paramilitary troops from other provinces.
The convoy began moving toward Islamabad from Lahore, a distance of more than 250 kilometers, on the afternoon of Aug. 14. Protesters traveled on the historic Grand Trunk Road between the two cities rather than the main motorway in order to make it easier for others to join.
"On the one hand, we have the military operation in the north and on the other development projects to take the nation forward, and yet some people are talking about freedom marches and revolution marches," Sharif, 64, said Aug. 14. Earlier this past week, Sharif said he would serve out his five-year term, which ends in 2018.
Fraud Allegations
Sharif, who was ousted in a 1999 coup, has sought to revive Pakistan's finances through a privatization drive and cutting power subsidies since the election in May 2013 that brought him back to office.
Khan, a 61-year-old former cricket star whose party controls about a 10th of parliamentary seats, has said election authorities unjustly dismissed his complaints of fraud in last year's vote. He has rejected Sharif's plans for a commission to probe fraud claims.
Khan told Express News television Aug. 13 that hundreds of thousands of fake ballot papers were manufactured at private printing presses and distributed two days before the election. As many as 70,000 ballots couldn't be verified, he said, and he rejected findings from special election courts that threw out his complaints because of a lack of evidence.
Qadri
Qadri, whose Pakistan Awami Tehreek party has no representation in parliament, led tens of thousands of people in demonstrations before last year's election to demand changes to the electoral system. More than 20 of Qadri's supporters have died in clashes with police since June and thousands more have been detained, Hafeez Chaudhry, a Qadri spokesman, said by phone.
The protest probably will be the biggest in the country since 2009 when Sharif led thousands seeking the restoration of Supreme Court judges who had been removed from office by previous president Pervez Musharraf, said Hasan-Askari Rizvi, a Lahore-based analyst who formerly taught at Columbia University in New York.
"We will protest by sitting on the road in the capital, and we will not get up until our basic demand for the removal of Nawaz Sharif is met, no matter how many days it takes," said Qadri spokesman Shahid Mursaleen.
Before it's here, it's on the Bloomberg Terminal.
LEARN MORE