Obama Seen Not Doing Enough to Ease Tensions in Ferguson
Jonathan Allen and Toluse Olorunnipa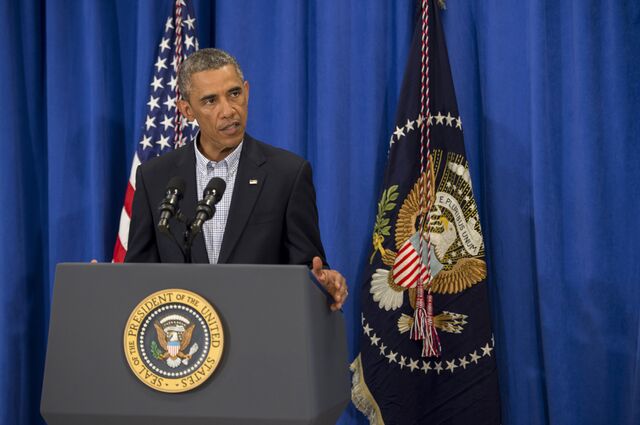 President Barack Obama urged Americans yesterday to "step back" from violent clashes between police and protesters in Ferguson, Missouri, to "think about how we're going to be moving forward."
Obama's measured statement reflects a cautious approach to events that has provided fodder for critics and sometimes confounded even his closest allies.
Obama should "federalize the Missouri National Guard to protect people as they protest," U.S. Representative John Lewis, a Georgia Democrat who was repeatedly beaten during the Civil Rights movement in the 1960s, said yesterday in an interview with MSNBC's Andrea Mitchell.
Unrest sparked by the police shooting death of an unarmed black teenager moved to the center of the national political debate, after images of officers in body armor using tear gas and other crowd-control measures streamed across cable television and the Internet and reporters from the Washington Post and Huffington Post were detained.
Obama, the nation's first black president, has long wrestled with how to handle racially charged incidents that gain national attention. During his 2008 campaign, Obama sought to diminish race as a subject, addressing it directly only after video of an inflammatory sermon by his onetime pastor, Jeremiah Wright, surfaced in the run-up to the Pennsylvania primary that year.
Gates Case
He may have learned a lesson on responding too quickly after Harvard professor Henry Louis Gates Jr. was arrested at his own home after an officer responded to a break-in call in July 2009. Six days days after the incident, Obama said the police "acted stupidly." After a flurry of criticism from Republicans and police unions, Obama backtracked and said he should have "calibrated" his words more carefully.
After the 2012 killing of Trayvon Martin, a black Florida teenager who was shot by a neighborhood watch volunteer, Obama promised the government would "get to the bottom of exactly what happened" and said, "If I had a son, he would look like Trayvon."
It wasn't until a year later, after the man who shot Martin, George Zimmerman, was acquitted of murder charges, that Obama delivered more expansive remarks on the case and the state of race relations in the country.
Activists Unsatisfied
Jamal Simmons, a communications consultant at Washington's Raben Group and a former Clinton administration official, said Obama's response to the Missouri case -- to consult with Attorney General Eric Holder and urge calm -- isn't likely to satisfy political activists.
"The president is in a tough bind because he both has to legitimately look into this, assure his African-American base that he takes it seriously enough, without getting ahead of the facts," Simmons said. "The activists are not reassured yet."
Obama, speaking to reporters on Martha's Vineyard, yesterday appealed for an end to violence.
"Now's the time for healing. Now's the time for peace and calm on the streets of Ferguson," he said. "Now's the time for an open and transparent process to see that justice is done."
Holder met with Obama yesterday to discuss the situation. The Justice Department is continuing to pursue a civil-rights investigation into the shooting and has offered technical assistance to local law enforcement, Holder said in a statement. He condemned "looting and willful efforts to antagonize law enforcement officers" as well as officers who don't "seek to reduce tensions."
Local Authority
U.S. Representative William Lacy Clay, a Democrat who represents Ferguson, said before Obama's remarks that the president, the attorney general and Missouri Governor Jay Nixon had given local authorities too much time to address the killing of Michael Brown and the ensuing violence in the town, which sits just north of St. Louis.
Brown, 18, was shot by a Ferguson police officer. Ferguson Police Chief Thomas Jackson identified him today as Darren Wilson. The chief initially declined to release the name, saying the officer had received death threats.
According to police, Brown tussled with the officer over his weapon. When Brown was shot, his hands were up in a gesture of surrender, residents said.
"They are relying on the St. Louis County authorities to do the right thing. Now the governor realizes that they're not going to do the right thing," Clay said. "We will not get justice for Michael Brown and his family and friends if the St. Louis County police and prosecutor have a say."
Nixon, a Democrat, yesterday designated state highway patrol officers to take over security in Ferguson from their county and local counterparts.
Peaceful Protests
After several nights of tense confrontations and violence between residents and swarms of police dressed in camouflage and armed with automatic weapons, police in their regular uniforms protests in Ferguson took on the atmosphere of a celebration
Cars drove slowly down West Florissant Avenue, their horns honking, and demonstrators seemed to mostly ignore the few troopers on hand. There was little evidence of the taunts hurled at local police by protesters the day before, such as, "Hey hey, ho ho, racist cops have got to go."
Though 67 percent of Ferguson's population is black, the city's police force has just three black officers out of 53. The population in surrounding St. Louis County is 70 percent white.
Sparking Criticism
The military-style tactics used in response to the initial protests sparked criticism that crossed party and ideological lines. Kentucky Senator Rand Paul, a contender for the Republican presidential nomination in 2016, wrote in an op-ed for Time.com that "it is impossible for African-Americans not to feel like their government is particularly targeting them."
Representative Charles Rangel, a founding member of the Congressional Black Caucus and a former federal prosecutor, said it's not fair to criticize Obama for a situation that is out of his control.
Likewise, Lionel Anderson, assistant pastor at Washington Missionary Baptist Church in St. Louis, said Obama's critics are just trying to score political points against the president. Before Nixon announced that the state highway patrol would take control of policing the area, Anderson said the governor was too slow to respond.
"Governor Nixon has been missing in action," Anderson said. "He should've been here a long time ago. When police start pointing guns at people, when you allow that, you're going to have a problem."
Before it's here, it's on the Bloomberg Terminal.
LEARN MORE