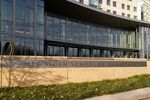 Prosecutors announced that Gabriel Bitran, a former associate dean at Massachusetts Institute of Technology's Sloan School of Management, has agreed to plead guilty to criminal charges of conspiracy to commit fraud for using a hedge fund to secretly funnel investors' cash into Bernard Madoff's Ponzi scheme. His son, Marco, will also plead guilty in the case. Bitran's misdeeds were made public as early as 2009, yet he stayed on Sloan's faculty until 2013.
Bitran and his son paid almost $5 million in April 2012 to settle Securities and Exchange Commission charges that they lied to investors. Years earlier, a Reuters report detailed his fund's involvement in the Madoff scheme. Bitran remained on Sloan's staff until he retired in January 2013, teaching classes on operations and management. His lawyer did not return a call seeking comment.
The elder Bitran was sued unsuccessfully in 1992 for sexual harassment by a woman who worked as an assistant in his office on Sloan's campus. While her case failed, the decision spurred widespread protest and prompted the school to overhaul its policies on such incidents.
After several recent stories of business school students defrauding the public, the Bitran case focuses on a professor, raising questions about why a school that's responsible for teaching business ethics to future managers kept him on staff for so many years after his financial wrongdoing was made public.
While running GMB Capital Management, Bitran and his son "wooed investors to [their hedge fund] with fake claims of success in managing family and friends' accounts using a trading model based on the father's research," Bloomberg News reported on Wednesday. Bitran and his son are also pleading guilty to charges that they falsified documents submitted to the SEC regarding the father's trading history.
"They are not idiots. They know they were misled," Gabriel Bitran wrote to his son, referring to investors the two defrauded, in an e-mail unearthed by prosecutors. "The penalty for this type of action is Full restitution, which obviously we cannot afford." In the fall of 2008, as investors suffered losses of $140 million, father and son recouped $12 million of their own investments in the funds. They reaped a total of $16 million in management fees.
The lawyer representing Gabriel Bitran told Bloomberg News: "Professor Bitran accepts responsibility and is pleased there will be a resolution of this matter."
Last September, Marco, who attended MIT as an undergraduate, tweeted a message urging MIT's class of 2016 to "always take the high road."
Bitran's legal trouble—albeit of a different variety—has roiled the school in the past. The professor's 1992 sexual harassment charge came from an employee of his who accused him of repeatedly kissing her on the lips. Bitran reportedly explained the incidents by saying he kissed the employee only on "special occasion[s]," such as her birthday or the New Year's holiday.
Jurors decided that Bitran's actions didn't fit the state of Massachusetts' definition of workplace harassment, but the scandal reverberated, sparking a campuswide push to reform how MIT treated victims of sexual harassment. Paul Denning, a spokesman for Sloan, confirmed that Bitran retired in January 2013 but declined to discuss the legal case against him.
Like most prominent business schools, Sloan's curriculum includes at least some training on business ethics. The school doesn't list an ethics course as part of the core curriculum on its website, but it does offer elective classes on "Literature, Ethics, and Authority" and "Readings on the Exercise of Power & Responsibility." The website also lists case studies that impart ethical business lessons. B-schools have been criticized nonetheless for failing to provide clear guidelines that students might follow on their way to the boardroom.
Sloan's decision to keep Bitran on for years after the Reuters report, and eight months after he agreed to pay the SEC some $4.8 million, suggests the school did not think the transgressions warranted stronger action against him. Bitran himself felt that what he did was out of step with his expertise and school affiliation.
"A person with experience and knowledge of the financial sector and a veteran professor of MIT should not have engaged in this type of behavior," Bitran told his son in a 2009 e-mail. "I feel very embarrassed."
His embarrassment alone may not satisfy a judge. Bitran faces two to five years in prison.
Before it's here, it's on the Bloomberg Terminal.
LEARN MORE