Hacked Medvedev Tweets Has Premier Yearning for Freedom
Ilya Khrennikov and Olga Tanas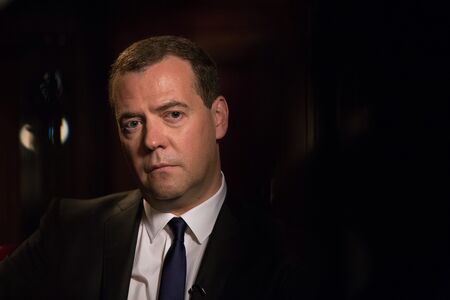 Prime Minister Dmitry Medvedev's Twitter page was hacked today and peppered with posts, later disavowed by the Russian government's press service, that claimed he's resigning in shame and will become a photographer.
The posts began about 10 minutes after the markets opened at 10 a.m. in Moscow. The first read: "I am quitting. Ashamed of the government's actions. Forgive me," echoing the Facebook Inc. post of Deputy Economy Minister Sergei Belyakov who was fired last week after criticizing the government for holding on to pension savings to pad the budget.
The posts also took swipes at President Vladimir Putin, who is locked in a standoff with the U.S. and Europe over the crisis in Ukraine, and plans to impose greater control over the Internet, which the former KGB colonel has called a creation of U.S. spy agencies.
"Medvedev's account was one of the most high-profile because of his status and large number of users," said Sergey Plugotarenko, head of the Russian Association for Electronic Communications. "This won't go unnoticed. I doubt that the Kremlin would fully ban Twitter, but it would surely instruct all to reduce their exposure to social media."
'Not Right'
Medvedev had made innovation a cornerstone of policy during his presidency in 2008 to 2012, visiting the offices of Twitter Inc. and Apple Inc. during a trip to California. He's the top Russian leader to use social media and has posted selfies to his Facebook and Instagram pages, as well as Twitter, and has held an exhibition of his photographs.
Since returning to the Kremlin for his third term amid the biggest protests of his reign, Putin has passed laws requiring popular bloggers to register and holding them accountable for what they publish akin to traditional media. On his orders, the government last week prepared a ban on anonymous access to the Internet in public places.
Google Inc. Chairman Eric Schmidt said last year that Russia was "on the path" toward China's model of Internet censorship.
Posts continued to pop up in Medvedev's hacked account for a half-hour as the government deleted others, calling for a ban on electricity as a "more reliable" measure, asking followers to retweet a hashtag saying "Crimea isn't ours" and addressing the president with a diminutive for Vladimir: "I wanted to say this long ago: Vova, you aren't right."
'Circus Ended'
In the last of the fake missives, Medvedev's account retweeted a post from Shaltay Boltay, the Russian for Humpty Dumpty: "The circus has ended, the clowns have run away. Ban electricity." The post was marked "withheld" in Russia. Last month, Shaltay Boltay published correspondence online that supposedly was from Deputy Prime Minister Arkady Dvorkovich's Gmail account, Vedomosti reported July 22.
Shaltay Boltay, identified on its Twitter page as the press secretary for the Anonymous International group, said today it got access to data from three iPhones and the Gmail account of "a certain prime minister," and started posting photos and texts. Anonymous International has published what it says are leaked Russian government documents.
The press service for Medvedev's government said security is being tightened, according to Interfax. It's e-mail was hacked in June last year, with a fake statement sent out to news media that that the head of Russia's rail monopoly would be replaced.
"We are all drawn into consuming a lot of political information on the Web," Plugotarenko said. "This also reveals insufficient attention to information security among state officials."
Before it's here, it's on the Bloomberg Terminal.
LEARN MORE