Chevron Puts Hawaiian Solar Projects on Ice
By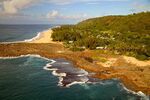 Chevron has taken another step away from its renewable-energy efforts, putting a pair of solar projects at its Kapolei refinery in West Oahu, Hawaii, on "indefinite hold."
The tabled projects, first reported earlier this week by Pacific Business News, include a farm of solar panels that would have spanned almost five acres, supplying as much as 1 megawatt of electricity to the local utility. Chevron also shelved a demonstration solar thermal project, which would have covered about 15 acres and used mirrors to generate steam to help power the Hawaii refinery.
In recent months, Chevron, the second-biggest oil company in the U.S., has quietly been pulling back from renewable-energy endeavors, despite a long-promoted commitment to develop what its corporate website calls "newer, cleaner ways to power the world."
In May, Bloomberg Businessweek reported that Chevron shuttered a business unit that had surpassed internal profit targets by helping to launch large-scale solar and geothermal power projects. In June, we wrote about the sale of its key renewable-energy subsidiary, Chevron Energy Solutions, to Oaktree Capital Management.
Each of the Hawaii projects would have reduced carbon dioxide emissions by about 5,000 tons and contributed to Hawaii's goal of generating 70 percent of its energy from renewable sources by 2030, according to Chevron's filings with the state.
Instead, they're being put on hold as the oil company focuses its resources on other projects, such as its $54 billion liquefied natural gas plant in Australia, a company spokesman told Pacific Business News.
Reached by e-mail, Chevron spokesman Kent Robertson confirmed that the company has put its Hawaiian solar plants on hold.
Chevron's pullback on renewables has come amid increasing concern that climate change and carbon constraints threaten fossil-fuel companies. Many organizations, including the International Energy Agency, estimate that as much as two-thirds of fossil-fuel reserves will need to remain unburned if the world is to avoid the most severe consequences of climate change.
Before it's here, it's on the Bloomberg Terminal.
LEARN MORE