pursuits
Burger King's Satisfries Are Over
By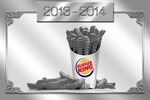 Burger King's "great tasting crinkle-cut, reduced fat, reduced calorie french fries," also known as Satisfries, are being taken off menus in about two-thirds of its restaurants in North America less than a year after they made their debut in September 2013, according to Bloomberg News.
When the item launched, it was marketed as an alternative to McDonald's popular fries. Burger King said in a statement that 100 million guests have ordered Satisfries, but the results were not persuasive enough for restaurant owners to want to continue serving them. Earlier this week, franchisees in North America were given the option to continue offering Satisfries in markets where they perform well, the company said in a statement. Only about 2,500 of 7,371 outlets in North America will keep offering the better-for you fries. The rest have begun phasing them out.
To improve their image, fast-food restaurants have been trying to give their menus healthier makeovers by adding salads, fruits, vegetables, and additional alternatives to the usual fried fare. The end of Satisfries suggests that getting consumers to trade out of such favorite indulgences as french fries is no easy task.
In April, Burger King chief executive Daniel Schwartz said the chain would be rolling out Satisfries in European markets, including Germany, Spain, and the U.K.
While Satisfries required some heavy lifting in terms of product development, the chain is now taking a more minimalist approach to innovation.
Update: A representative for Burger King said Satisfries are still available in the U.K., Germany, and Spain.
Before it's here, it's on the Bloomberg Terminal.
LEARN MORE