Iran Joins U.S. in Backing Replacement for Iraq's Maliki
Kambiz Foroohar and Zaid Sabah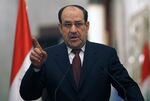 Iran endorsed premier-designate Haidar al-Abadi to lead neighboring Iraq, leaving current Prime Minister Nouri al-Maliki without his strongest international backer as he continued to defy calls to step down.
Ali Shamkhani, secretary of Iran's Supreme National Council, said yesterday in Tehran that he congratulates Abadi on his selection as the next prime minister, the Islamic Republic News Agency reported. The explicit embrace of Abadi was a step beyond an earlier Iranian statement approving of Iraq's "political process."
The move puts Shiite Iran in league with the U.S. -- its frequent nemesis -- the European Union and the Arab League in pressing Maliki to step down to break a three-month political stalemate that has hampered efforts to combat the Sunni insurgents of the Islamic State.
"Once Iran gave its backing to al-Abadi, it was over for Maliki," Paul Salem, vice president for policy and research at the Middle East Institute in Washington, said in an interview. "Maliki has no leverage once his main backers, the Iranians, abandoned him."
Maliki may still negotiate for a cabinet position that would give him a continued power base and for immunity from prosecution, Salem said. He said Maliki's days as premier were numbered once Iranian-backed militias met with groups backing Abadi.
More U.S. Forces
"The next question will be to see if there is Sunni and Kurdish acceptance," Salem said. "Al-Abadi has to send clear signals to other Arab countries that there is some significant Sunni presence in the government."
President Barack Obama, who authorized limited air attacks against the Islamic State last week, has tied expanded U.S. action to the formation of a more inclusive government capable of easing sectarian and ethnic divisions.
U.S. Defense Secretary Chuck Hagel said yesterday that 130 military advisers have arrived in Erbil in northern Iraq to help assess conditions amid a humanitarian crisis. The personnel are Marines and special-operations forces.
"This is not a combat boots-on-the-ground operation," Hagel said in addressing troops at Camp Pendleton in San Diego.
While the new team isn't there to rescue members of the Yezidi religious minority trapped on Mount Sinjar near the Syrian border, part of its mission is to study ways to save them, said a U.S. defense official who asked not to be identified discussing tactical deliberations.
Rescue Options
There are two main options: securing a landing zone and using helicopters to evacuate the Yezidis or creating a corridor that would allow them to escape by land, according to two other U.S. defense officials who spoke on condition of anonymity because no plan has been approved.
The new mission is in addition to about 700 U.S. military personnel already in Iraq for embassy security, to serve as advisers to the Iraq military and to staff joint operations centers in Baghdad and Erbil, according to the Pentagon.
In Baghdad, Maliki met with military officers yesterday in his effort to indicate he won't hand power willingly to Abadi, the successor designated this week by President Fouad Masoum. Maliki, who has called Abadi's appointment "legally worthless," ordered his commanders to keep out of the political crisis.
In the meeting with military officials, Maliki warned that Islamic militants might attempt to take advantage of the political chaos by infiltrating into Baghdad, and told his commanders to purge the armed forces of any suspected conspirators.
'Blind Eye'
Waheed al-Samarae, an aide to former Prime Minister Ayad Allawi, said Maliki as a last resort might "turn a blind eye to terrorists so they can infiltrate to Baghdad to cause more chaos." He said "that will terrify the Shiites and will be his message to them that he's the only one capable to protect them."
Khalid al-Asadi, a lawmaker from Maliki's State of Law parliamentary bloc, said its members "completely back al-Maliki as our only candidate" for prime minister.
"Prime Minister al-Maliki is still the chief of the armed forces in Iraq and he has the full constitutional authority to lead these forces," al-Asadi said in a phone interview.
The U.S. and some Iraqi leaders have said Maliki's alienation of minority Sunnis contributed to the success of the insurgents. The Islamic State, an al-Qaeda offshoot, won the backing of some Sunni tribes opposed to Maliki's Shiite-dominated government.
Oil Fields
French Foreign Minister Laurent Fabius said in a radio interview yesterday that Maliki is "largely responsible for this mess."
The Islamic State, seizing on political drift in Baghdad after April's inconclusive parliamentary elections, grabbed swaths of northern Iraq in a campaign from early June, including the city of Mosul, as well as smaller towns and key oil assets.
Islamic State fighters have captured seven oil fields in Iraq with a total output capacity of 80,000 barrels a day, adding to energy deposits they seized earlier in neighboring Syria, the International Energy Agency said yesterday.
The insurgents grabbed the Ain Zalah and Batma fields in Ninevah province this month, the IEA said in its monthly oil market report.
U.S. Airstrikes
Obama ordered U.S. airstrikes amid the gathering threat to Iraq's northern Kurdish region and reports that the militants had begun a campaign to exterminate northern Iraq's Yezidi minority and, after that, possibly Christian communities in their path.
U.S. military planes continued to attack, striking an insurgent mortar position north of Sinjar, the Pentagon said yesterday in an e-mailed statement. The militants were firing on Kurdish forces defending the displaced Yezidis who were attempting to evacuate, according to the statement.
Iraqi forces retook two villages from the Islamic State in Diyala province north of Baghdad yesterday, military spokesman Qassem Ata said on Iraqiya.
Kurdish military forces, known as peshmerga, have begun receiving small-arms ammunition directly from the U.S. They've been outgunned because the Sunni insurgents have built up their forces with captured armored vehicles and heavy weapons the U.S. gave to the Iraqi army.
"There is an evident imbalance between this horrible terrorist group which has sophisticated weapons and the Kurdish peshmergas, who are courageous but don't have these weapons," Fabius said on France Info radio yesterday. France, Britain and Italy are pushing EU foreign ministers to hold a special meeting to approve arms deliveries to the Kurds, a move Germany has indicated it could support.
(An earlier version of this story was corrected because it had an inaccurate date of publication.)
Before it's here, it's on the Bloomberg Terminal.
LEARN MORE