Rajan Urges Cash for Poor to Dilute Power of India Oligarchs
Unni Krishnan and Anoop Agrawal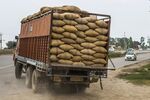 Indian central bank Governor Raghuram Rajan urged the government to directly transfer cash to the poor instead of offering public services, saying the money would liberate millions from corrupt middlemen and politicians.
Cash would empower the poor to choose where to buy goods, providing an alternative to government-run monopolies and creating competition in the private sector, Rajan said in a speech in Mumbai yesterday. Prime Minister Narendra Modi's plan to bring bank accounts to the poor -- set to be unveiled this week -- would facilitate the transfers, Rajan said.
"One of the greatest dangers to the growth of developing countries is the middle income trap, where crony capitalism creates oligarchies that slow down growth," Rajan said. "To avoid this trap, and to strengthen the independent democracy our leaders won for us 67 years ago, we have to improve public services, especially those targeted at the poor."
Overhauling subsidies that have risen fivefold over the past decade would help Modi narrow the budget deficit and aid Rajan's fight against Asia's second-fastest inflation. Only about half of public spending on basic services reaches the people because of inefficiencies in governance and execution, McKinsey & Co. said in a report earlier this year.
"Implementation of this recommendation would improve India's perception among global investors," Manik Narain, a strategist at UBS AG in London, said by phone. "As with every government embarking on major reforms, it'll face vested interests looking to protect the status quo."
Hunger, Malnutrition
India last year allocated 1.25 trillion rupees ($20.4 billion) for its food distribution program, the world's largest. Even so, graft, wastage and theft have prevented record harvests from reaching the hungriest people.
More than two-thirds of India's 1.2 billion people eat less than the minimum target set by the government, leading to the highest rate of malnourished children in the world after East Timor, according to the 2013 Global Hunger Index published by the International Food Policy Research Institute in Washington.
Hunger has long plagued India. During British rule, when millions died of famines, Mohandas Karamchand Gandhi triggered a movement that culminated in independence by marching to a salt deposit to show that Indians would disobey a law that gave the British a monopoly over salt production and pricing.
Two weeks ago, Modi's three-month-old government blocked part of a global trade deal to protect its ability to expand a food subsidy program, a move criticized by the U.S. and Europe. He plans to unveil the plan for financial inclusion on Aug. 15, the anniversary of India's independence in 1947.
Protection, Profitability
The plan will include identifying the poor, creating unique biometric identifiers for them, opening linked bank accounts, and making government transfers into those accounts, Rajan said. The previous administration had invested $550 million in a similar program before accelerating inflation and graft allegations resulted in Modi taking power with the biggest Indian election mandate in 30 years.
More than a third of the 543 members who were elected to parliament face criminal charges, according to Association for Democratic Reforms, an independent New Delhi-based organization that has campaigned for better governance since 1999. More than a fifth have declared "serious" cases, including murder, rape and kidnapping, the report shows.
"Corruption has ruined the country," Press Trust of India reported today, citing Modi's comments in the northern state of Jammu & Kashmir. "I promise that we will fight against corruption with full might."
True Independence
The Reserve Bank of India will also "nudge" banks to offer simple and reliable financial products such as insurance and pensions, Rajan said. These offerings should have low transaction costs, protect inexperienced users and allow banks to make a profit, he said.
"Financial inclusion and direct benefits transfer can be a way of liberating the poor from dependency on indifferently delivered public services, and thus indirectly from the venal but effective politician," Rajan said. "It is not a cure-all but will help the poor out of poverty and towards true political independence."
Before it's here, it's on the Bloomberg Terminal.
LEARN MORE