Barneys Settles Its 'Shopping While Black' Case
By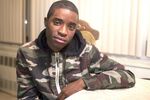 Barneys New York, the Madison Avenue store where "Tuxedo-inspired jogging pants" go for $1,550, has been under investigation by the New York State Attorney General's office for the past nine months for allegations of profiling and racial discrimination. Today the attorney general announced that the store has agreed to pay $525,000 and implement several measures to reduce the chances that African Americans and others will be subject to profiling.
"Profiling and racial discrimination remain a problem in our state, but not one we are willing to accept," Attorney General Eric Schneiderman said in a statement. "This agreement will continue our work to ensure there's one set of rules for everyone in public accommodations, including customers in New York's retail establishments."
The investigation began after two African American shoppers who had been stopped by police after purchasing items at Barneys sued the store and the city. In April 2013, Trayon Christian, then an 18-year-old college student, bought a $350 Ferragamo belt with his debit card and left the store. A block away, two undercover police officers caught up with him and asked to see receipts for what he had in the Barneys bag. Someone from the store had been concerned about the sale, according to court documents. The officers allegedly told Christian "that he could not afford to make such an expensive purchase." Christian later said he had a part-time job and had been saving up for the belt. No charges were filed against him.
After Christian's encounter became public, Kayla Phillips said she, too, had been profiled. She purchased a $2,500 Celine handbag in February 2013 and was surrounded by police after she left the store. Phillips, then a 21-year-nursing student, said she was using money from her tax return to purchase the bag. After she showed the officers her receipt, ID, and debit card, they let her go.
The attorney general found that Barneys maintained inadequate records of stops made by their loss-prevention employees, but despite these lapses, existing records showed a disproportionate number of African American and Latino customers were detained for alleged shoplifting or credit card fraud. Among the requirements of the agreement are that Barneys hire an "anti-profiling consultant;" keep better records on investigations, detentions, and "false stops;" keep tabs on visits by local police officers; and conduct "anti-profiling training" for sales staff.
Barneys already has a Customers' Bill of Rights on its website stating that profiling is an unacceptable practice in the store and will not be tolerated. Macy's, which reached a settlement with actor Robert Brown earlier this summer after he accused the store of profiling him, has the document on its website, too.
Before it's here, it's on the Bloomberg Terminal.
LEARN MORE