Africa's Biggest City Fights 'Wicked Lies' on Ebola Myths
Yinka Ibukun and Chris Kay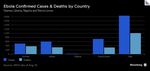 Caleb Akano bought kola nuts for the first time in years, succumbing to a myth that the caffeine-rich fruit used in Nigerian ceremonies will protect him from Ebola.
"We are fighting a disease that does not give you a chance," Akano, a 28-year-old political science graduate who lives in the Nigerian city of Lagos, said Aug. 7. "It doesn't even give you time to panic, so everything has to be on my side."
The local government of Africa's largest city has appointed a "rumor manager" and asked pastors who say they work miracles to dispel "wicked lies" including fake cures about Ebola that are spreading through the city of over 20 million, according to health authorities. They don't want to go the way of Guinea, Sierra Leone and Liberia, where misinformation complicated efforts to contain the viral disease, which has killed more than 1,000 people since December.
Two people in Nigeria have died of the disease that has no known cure or vaccine as President Goodluck Jonathan called it a national emergency last week. The best steps to steer clear of the disease are avoiding bodily contact and washing hands frequently, according to the World Health Organization.
"The rumors themselves can actually cause a lot of damage," Lagos state Commissioner for Health Jide Idris told reporters last week. "People react to rumors by carrying wrong information."
Immune System
Ebola is normally treated by keeping patients hydrated, replacing lost blood and using antibiotics to fight off opportunistic infections. The hope is that a patient's immune system will eventually fight off the virus's aggressive attack. About 60 percent of those infected in this outbreak have died.
A Liberian-American man brought the virus to Nigeria, Africa's most populous nation and largest economy with about 170 million people. The second victim, who died on Aug. 5, was a nurse who tended to him. Eight more cases have been confirmed, all in Lagos, and 177 people are under surveillance, Nigerian Health Minister Onyebuchi Chukwu said yesterday.
Lagos state Governor Babatunde Fashola last week urged Nigerians to increase the frequency of hand washing and to quickly report any suspected cases, after he visited an isolation ward in the city. The government has distributed leaflets, started a social media campaign and sent mass text messages.
Some people have been told incorrectly to consume more salt or drink salt water to prevent the illness, Chukwu said. Chukwu called people spreading these "wicked lies" as "evil-minded."
Ending Nonsense
"This nonsense must stop," Chukwu said on Aug. 8 in Lagos.
Benedict Lukpata, a 30-year-old laundry worker living in the capital, Abuja, isn't taking his chances. Last week he bathed in hot salted water, drank a glass of saline liquid and then called friends and family to recommend they do the same after he was told by a neighbor it would protect him from "the spirit" of Ebola.
"The doctors have just been telling us to wash our hands," Lukpata said. "Can an ill person be cured from washing hands? It's not enough."
Jonathan asked the public last week to stop spreading misinformation about the disease and "unverified suggestions about the prevention, treatment, cure and spread of the virus." The president authorized 1.9 billion naira ($11.7 million) of funding to prevent the spread of Ebola.
Phone companies, including Africa's biggest operator MTN Group Ltd. and Bharti Airtel Ltd., have been sending out text message alerts about Ebola risks, while digital media and marketing companies such as Lagos-based Big Cabal Media have set up websites on how to avoid Ebola.
Taking Precautions
Getting information to Nigeria's more than 250 ethnic groups who speak more than 500 languages is also a challenge, Lori Thicke, co-founder of Danbury, Connecticut-based Translators Without Borders, said by phone. Only 70 percent of the population can be reached using the four main languages of English, Hausa, Igbo and Yoruba, she said. The organization is helping to translate some of the Ebola prevention messages.
Ebola is "a disease of ignorance in a way because there are many precautions and people aren't taking them," Thicke said in a phone interview from Paris.
Seyi Taylor, the 34-year-old co-founder of Big Cabal Media, set up website Ebolafacts.com on July 28 three days after the first person died of the disease in Lagos. Since then it has received 1.5 million hits and his company is now printing fliers. The English-language site will be translated into French, Swahili, Yoruba, Igbo, Hausa and Nigerian Pidgin.
'Hoaxes, Myths'
"We were a bit worried as this government can basically take forever to get something through the door," Taylor said by phone from Lagos. "We're actually updating the website to try and respond to some of the hoaxes and myths that are going around."
When there's no readily available treatment to a disease people sometimes turn to unproven products. During outbreaks of bird and swine flu in the past decade alleged remedies from sauerkraut to herbal tea have been pushed as alternatives globally.
Developers of unproven Ebola drugs today received backing from medical ethics advisers to the WHO to deploy the therapies against the worst outbreak of the deadly disease on record. The decision gives West African countries more confidence to request drugs and may yield valuable information on whether, and how, the medicines work. Finding doses poses an immediate challenge after one drugmaker, Mapp Biopharmaceutical Inc., said yesterday it's already exhausted its supply after sending the remaining stock to two west African countries.
Nigeria applied for access to an antibody cocktail developed by Mapp Biopharmaceutical which was used to treat two infected American health workers. Spain obtained a dose of the drug known as ZMapp, though Miguel Pajares, a priest brought to Madrid from Liberia who had the cocktail, died today.
Liberia's government said today the U.S. has approved its request for sample doses of experimental serum to treat two Liberian doctors. A U.S. government representative will bring the doses to the West African nation later this week.
For now Nigerians like Akano are continuing to turn to unproven remedies to ward off the disease, which can cause bleeding from the eyes and mouth.
"Even if the kola nut cure turns out to be false, thank goodness it's just a fruit or seed," Akano said. "It's not like I'm harming my body."
Before it's here, it's on the Bloomberg Terminal.
LEARN MORE