Putin in Push to Douse New Discord on Russia's Doorstep
Zulfugar Agayev, Sara Khojoyan and Ilya Arkhipov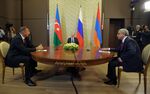 Russian President Vladimir Putin, staring down the deepening unrest in Ukraine, tried the role of peacemaker by brokering the first meeting in nine months between the leaders of Armenia and Azerbaijan following the deadliest clashes between the ex-Soviet republics in 20 years.
The talks, which yielded little beyond a promise of more negotiations, showed Putin playing statesman with a war raging next door in Ukraine, where he's faced accusations of stoking the conflict. Two days of meetings at his retreat in Sochi were marked by another fatality on the frontlines of the disputed region of Nagorno-Karabakh, with an Azeri soldier killed late on Aug. 9 by Armenian fire, according to the Defense Ministry in Baku. That brought the death toll to 24 since July 26.
"No way do they need a war in Karabakh," Thomas de Waal, senior associate at the Carnegie Endowment for International Peace in Washington, said by e-mail yesterday. "Russia has a strong incentive in preventing a new conflict, as it would cause massive instability in its southern tier. It also has treaty obligations to defend Armenia militarily and would therefore also destroy its carefully developed relationship with Azerbaijan."
Failure to break the deadlock threatens to unleash war in a region where companies led by BP Plc have invested more than $40 billion to develop Azerbaijan's oil and gas fields. Russia's role in Ukraine is complicating an effort by Putin to assert his sway in the former Soviet Union, according to Matthew Bryza, the U.S. ambassador to Azerbaijan in 2010-2011.
The government in Moscow has repeatedly denied any involvement in the unrest in eastern Ukraine.
Changing Course
"Until President Putin reverses course in Ukraine, his efforts to reduce military tension in the South Caucasus will lack credibility," said Bryza, who now heads the International Center for Defense Studies, based in Tallinn, Estonia.
The recent clashes between Azerbaijan and Armenia are threatening to ignite another conflict on Russia's doorstep as the worst geopolitical standoff since the Cold War intensifies over Ukraine. Russia, which annexed the Black Sea peninsula of Crimea in March, has demanded urgent humanitarian assistance to areas of eastern Ukraine engulfed by the insurgency as government troops press their offensive there.
Russia, together with the U.S. and France, has led international efforts to resolve the Nagorno-Karabakh dispute.
'Totally Unprecedented'
"The nature of the clashes is totally unprecedented," said Lawrence Sheets, an analyst on the Caucasus region and the author of "8 Pieces of Empire," a memoir that deals with the post-Soviet wars in the region. "What has changed is that over the past weeks, we have seen the first instances of the use of high-caliber weapons, not just small arms as had previously often been the case. The verbal threats have also hit an unprecedented peak."
The meeting between the Azeri and Armenian leaders, Ilham Aliyev and Serzh Sargsyan, was "useful," with both presidents reaffirming their commitment to "seeking a solution exclusively on the basis of a peaceful approach," Russian Foreign Minister Sergei Lavrov told reporters in Sochi.
"Conflict management rather than conflict resolution is best suited for Russia's interests," said Lilit Gevorgyan, senior analyst at IHS Global Insight in London. "The Nagorno-Karabakh conflict is a convenient leverage both on Armenia and Azerbaijan. Therefore ensuring the status quo in the conflict is likely to be the only outcome from the recent Russia-mediated talks."
1994 Truce
The South Caucasus countries, which border Turkey and Iran, signed a cease-fire brokered by Russia in 1994 after more than 30,000 people were killed and more than 1.2 million were displaced.
Armenians took over Nagorno-Karabakh and seven surrounding districts from Azerbaijan in a war after the Soviet breakup in 1991. The truce left 20,000 Armenian and Azeri troops, dug into World War I-style trenches sometimes only 100 meters (330 feet) apart, according to the Carnegie Endowment for International Peace.
The conflict is part of the region's "Soviet legacy," Putin said as he opened negotiations yesterday.
"We must show patience, wisdom and respect for each other to find a solution," he said.
The Azeri and Armenian leaders traded accusations in Putin's presence, blaming each other for violating international agreements on Karabakh. Even so, both presidents said they support a peaceful solution to the conflict and praised Putin for his mediation efforts.
About 700,000 Azeris were forced to leave the districts, 200,000 Azeris left Armenia and more than 360,000 Armenians fled Azerbaijan. The two nations' presidents last met in November in Vienna, the first talks in two years.
'Good Will'
"Any conflict can be solved if there is good will," Putin said. "I think there is such a good will from Azerbaijan's people and from the Armenian people."
With historical and cultural ties to both countries, Nagorno-Karabakh was demarcated as part of the Azerbaijan Soviet Socialist Republic by the Soviets as an Armenian-majority autonomous region. It remains internationally recognized as part of Azerbaijan. Four United Nations Security Council resolutions were passed demanding an Armenian withdrawal from Azeri territory adjoining Nagorno-Karabakh.
The conflict pits landlocked Armenia against its eastern neighbor Azerbaijan, the former Soviet Union's third-largest oil producer and the only route for Caspian energy to western markets that bypasses Russia.
Turkey, Israel
Azerbaijan has forged closer ties with Israel and NATO-member Turkey and increased defense spending 27-fold to $3.7 billion a year in the past decade, outlays that exceed Armenia's annual budget. Armenia hosts a Russian military base in its second-biggest town of Gyumri, near the Turkish border, and Russian troops guard Armenia's borders with Iran and Turkey.
Azerbaijan, which signed a $45 billion contract in December with a BP-led group to pipe natural gas to Europe, has repeatedly threatened to use force to regain control of the territory should peace efforts fail.
Any further escalation risks spillover to neighboring states such as Georgia and would threaten to drag in Russia, Turkey and possibly Iran, according to Sheets.
"With all the current violent upheavals in the world, from Ukraine to Iraq and beyond, unfortunately some are not taking the current major escalation between Azerbaijan and Armenia seriously enough," Sheets said. "This is a war, and we are now only a step away from any of the sides deciding to resort to the use of highly destructive and sophisticated missile systems they have acquired, capable of causing massive casualties and destruction."
Before it's here, it's on the Bloomberg Terminal.
LEARN MORE